Sustainable Nation: Urban Design Patterns for the Future
ISBN: 978-0-470-53717-6
384 pages
January 2018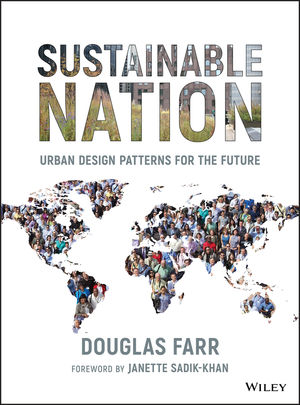 As a follow up to his widely acclaimed Sustainable Urbanism, this new book from author Douglas Farr embraces the idea that the humanitarian, population, and climate crises are three facets of one interrelated human existential challenge, one with impossibly short deadlines. The vision of Sustainable Nation is to accelerate the pace of progress of human civilization to create an equitable and sustainable world. The core strategy of Sustainable Nation is the perfection of the design and governance of all neighborhoods to make them unique exemplars of community and sustainability. The tools to achieve this vision are more than 70 patterns for rebellious change written by industry leaders of thought and practice. Each pattern represents an aspirational, future-oriented ideal for a key aspect of a neighborhood. At once an urgent call to action and a guidebook for change, Sustainable Nation is an essential resource for urban designers, planners, and architects.
See More
Part One Our Default World
Chapter 1: Where We Are
Chapter 2: Case Studies: The Future Ahead of Schedule
Part Two Our Preferred Future
Chapter 3: Where We Want to Go
Part Three Theory of Change
Chapter 4: Theory of Change
Chapter 5: Time
Chapter 6: Acceleration Strategies
Part Four Patterns of Change
Chapter 7: Collective Effervescence
Chapter 8: Self-Governing Neighborhoods
Chapter 9: A Theater of Life
Chapter 10: Vibrant Density
Chapter 11: Mobility in Walkable Places
Chapter 12: Neighborhood Economy
Chapter 13: Urban Waters
Chapter 14: Stranded Carbon
Chapter 15: The New Health, Safety, and Welfare
Index
See More
Douglas Farr (FAIA, LEED AP, CNU-A) is a visionary architect, urbanist, author, and passionate advocate for sustainable design thinking. Doug heads Farr Associates, a Chicago-based firm of optimistic architects and urban designers who plan and design lovable, aspirational buildings and places. With his first book Sustainable Urbanism: Urban Design with Nature, as well as through his role as Co-Chair of LEED-Neighborhood Development, Doug helped to refocus the sustainability movement from the stand-alone building to the robust neighborhood.
A native Detroiter and Fellow of the American Institute of Architects, Doug has served on the boards of urban sustainability organizations including the Congress for New Urbanism, Bioregional, EcoDistricts, and Elevate Energy.
See More
Learn more about