E-book
FERPA Clear and Simple: The College Professional's Guide to Compliance
ISBN: 978-0-470-53858-6
332 pages
August 2009, Jossey-Bass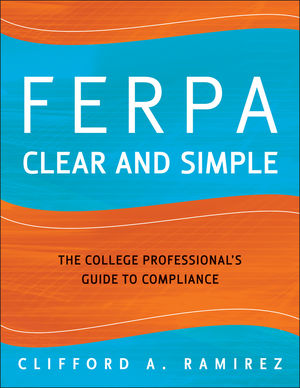 Family Educational Rights and Privacy Act (FERPA) compliance has always been challenging due to complex regulatory language and exposure to risk. However, institutions that do not comply are in jeopardy of losing federal funding. Accessible and user-friendly, FERPA Clear and Simple clarifies the regulations and provides a ready reference for compliance and problem solving. This need-to-have guide offers critical and relevant material (including the 2008 Amendments) from a new perspective to help staff in student affairs, academic departments, and administrative support positions understand and comply with FERPA guidelines.
See More
Preface: A New Approach and Perspective on FERPA.
Acknowledgments.
About the Author.
Chapter One: FERPA and the Regulatory Universe of Privacy.
1. Toward the Codification of Privacy Rights.
2. The Adoption of Fair Information Practices.
3. The U.S. Code of Fair Information Practices.
4. The Privacy Act of 1974.
5. Sector Approach to Privacy.
6. Regulations for Student Records Privacy.
7. Enforcement of FERPA.
8. Applicability of FERPA and Penalties for Noncompliance.
Chapter Two: Understanding FERPA Basics.
1. Student and Eligible Student.
2. Records and Education Records.
3. Directory and Non-Directory Information.
4. Prior Written Consent.
5. Education Officials and Legitimate Educational Interest.
Chapter Three: Understanding the Privacy Rights under FERPA.
1. Annual Notification: Rights under FERPA.
2. Right to Inspect and Review.
3. Right to Seek to Amend.
4. Right of Control over Disclosure.
5. Right to File a Complaint.
Chapter Four: FERPA Exceptions for Parents and Safety.
1. Legal Age and In Loco Parentis.
2. Parents and the Parents of Dependent Students.
3. Notification of Drug and Alcohol Violations.
4. Threats to Health and Safety.
5. Safe Campus.
6. Campus Sex Crimes Prevention Act.
7. USA PATRIOT Act.
Chapter Five: Other Exceptions and FERPA Concerns.
1. Disclosures to Other Educational Agencies and Institutions.
2. Subpoenas and Ex Parte Orders.
3. Redisclosures and Service Providers.
4. Studies and Research.
5. Recordation Requirements for Disclosures.
6. Military Recruiters and the Solomon Amendment.
Chapter Six: Strategies for FERPA Compliance.
1. The Annual Notification.
2. Policy and Procedure.
3. Training Materials.
4. Reports and Other Documentation.
5. Maintaining FERPA Compliance.
Afterthoughts: On the Rights of Postsecondary Students.
Appendix One: FERPA: 34 CFR §99.
Appendix Two: FERPA: 20 USC §1232g.
Bibliography and Resources.
Index.
See More
CLIFFORD A. RAMIREZ is the principal of Cliff Ramirez & Associates, a training and consulting firm founded to support, advance, and facilitate the effectiveness of higher education and other service industry professionals. With 20 years experience in higher education, Cliff has served as president of the Pacific Association of Collegiate Registrars and Admissions Officers (PACRAO), is part of Registrar and Enrollment
Services Consulting for Colleges and Universities (RESCCU), is the FERPA expert for College Parents of America, and founded three professional development institutes. He has authored other FERPA books, including Managing the Privacy of Student Records, which was based upon his critically acclaimed workshop, and he coedited The FERPA Answer Book published by Jossey-Bass.
See More
Learn more about