The Profit Hunter: Beating the Bulls, Taming the Bears, and Slaughtering the Pigs
ISBN: 978-0-470-53874-6
227 pages
May 2010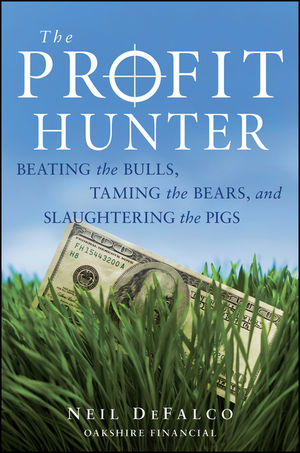 Investors are more sophisticated than ever, and they have to be. The market today is challenging and the old rules of investing simply do not apply. This book is a new breed of investment guide for a savvy public. Oakshire Financial provides quality financial research and advice, written by experts to its 100,000 plus subscribers. Now, readers of this book will receive the same great advice along with a broad review of the best strategies in several sectors of the market. Their tested strategies provide investors with an understanding of the investment process and tactics needed to manage a strong portfolio.
The Profit Hunter provides investors with the comprehensive tools to succeed. Written in accessible, engaging prose, these experienced Wall Street prognosticators outline topics such as:
Trading for gains in the future

Downfalls of the investor's mindset

Diversification

Option strategies

Where and how to trade Single Stock Futures

Strategies in FOREX, and much more.
See More
Preface.
Acknowledgments.
Chapter 1 The Wall Street Revolution Out with the old and in with the New.
The Downfall of the Traditional, Full-Service Brokerage Industry.
The Average Investor's Savior - the Online Brokerage Industry.
Independent Investment Research and Analysis – Wall Street's Biggest Threat.
The Corruption that Caused the Credit Crisis.
The Terrible TARP: Government Failure at its Finest.
Conclusion.
Chapter 2 Options Investing: The Bare Essentials.
Diversification – The Cornerstone of Solid Investing.
Types of Options and Pricing.
Understanding Options Greeks.
Valuing Volatility.
Determining What Options Strategy to Use and when.
Conclusion.
Chapter 3 Beating the Bulls.
Speculation Techniques in Bull Markets.
Hedging Techniques in Bull Markets.
Conclusion.
Chapter 4 Taming the Bears.
Speculation Techniques in Bear Markets.
Hedging Techniques in Bear Markets.
Conclusion.
Chapter 5 Slaughtering the Pigs.
Minding the Spread Width.
Techniques when Bullish on Volatility.
Techniques When Bearish on Volatility.
Conclusion.
Chapter 6 Arbitrage Opportunities Using Options.
Arbitrage Strategies in Options Trading.
Conclusion.
Chapter 7 The FOREX Market Secrets of a Currency Trader.
FOREX Basics — What FOREX Is All About.
Spot FOREX Margin Power: Trading $100,000 with Only A $1,000 Deposit.
Trading Strategies in FOREX: Trading Effectively To Make Money from Currency Fluctuations.
Spot Forex Alternatives:  Other Ways To Profit From the Forex Market.
Conclusion.
Chapter 8 The Commodities Market.
Commodities (Futures) Basics.
Hedgers vs. Speculators.
The Leverage Lion.
Commodities Trading Strategies.
Volatility Re-Visited.
Conclusion.
Chapter 9 Single Stock Futures A New Form for Derivative Investing.
What are SSFs and Where are they Traded?
How to Trade and Value Single Stock Futures.
Using Single Stock Futures to Diversify your Portfolio.
Risks Associated with Single Stock Futures.
Conclusion.
Chapter 10 International Investing China, India and Other Emerging Markets.
International Investing: A Passport to Global Growth.
Emerging Market Opportunities.
How and Where to Trade in Emerging Markets.
Conclusion.
Index.
About the Author.
See More
Neil DeFalco has?participated in almost every aspect of the capital and money markets. He is an expert in fundamental stock and options investing and carries with him a unique understanding of the global markets and economies. He studied financial economics at the University of Maryland and soon after began his career in the trenches of the Wealth Management Division at UBS Paine Webber.? After gaining all of his licenses, he moved on as a money manager for Morgan Stanley and then as an analyst for Ventura Investments. Following several successful years, he decided to start Oakshire Financial in order to help others achieve success in the stock market.
See More