Textbook
Smith, Currie & Hancock's Federal Government Construction Contracts: A Practical Guide for the Industry Professional, 2nd Edition
ISBN: 978-0-470-53976-7
736 pages
March 2010, ©2010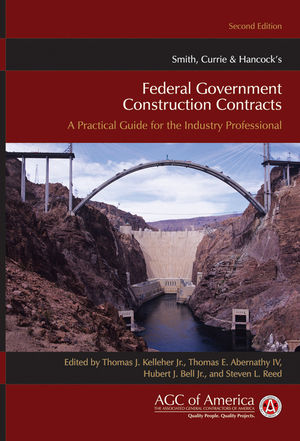 Federal Construction Law for Construction Professionals
Any firm intent on benefitting from the boom in federal government construction contracts must navigate an increasingly complicated and demanding set of laws, regulations, and practices that govern these projects and the contractors performing them. To help guide you through this maze, here is the updated edition of the easy-to-understand guide to the practical reality of these special requirements, and how managers and owners of construction industry firms can use them to effectively avoid pitfalls on current projects and compete successfully for new projects.
Smith, Currie & Hancock's Federal Government Construction Contracts, Second Edition walks the reader through actual federal contracts, highlights critical clauses, and simplifies governmental and legal jargon to provide ease of use by the nonlawyer.
Updates to this Second Edition include:
Coverage of the newly enacted American Recovery and Reinvestment Act of 2009

Specifics of federal government grants to state and local public construction contracts

New insights on Design-Build, Early Contractor Involvement (ECI), BIM, Green Construction, and Web-based project management techniques used by the federal government

A revised look at the increasingly detailed business ethics and compliance program requirements for contractors and subcontractors as mandated by the federal government for its contractors

A unique Web site at www.wiley.com/go/federalconstructionlaw provides the user with a Table of Acronyms and Terms commonly found in federal government contracts, an extensive list of Web sites of interest to federal government construction contractors, checklists, sample forms, as well as specifications related to innovations in project delivery
By making transparent the many rights, risks, and legal responsibilities involved in a federal government construction project, Smith, Currie & Hancock's Federal Government Construction Contracts, Second Edition provides construction industry professionals—from general contractors, subcontractors, and designers to surety bond agents—with the insight and understanding they need to avoid problems and run a successful project from start to finish.
See More
Preface.
Introduction.
Author Biographies.
Chapter 1: Federal Government Contracts and Commercial Contracts: A Brief Comparison.
I. Government Construction Contracting Process - An Overview.
II. Relationship of Commercial and Government Contract Law.
III. Sources of Federal Laws Affecting Government Construction Contracts.
IV. Procurement Integrity and Standards of Conduct.
Chapter 2: Authority to Bind the Government, Contract Financing, and Payment.
I. Authority of Government Employees or Agents.
II. Availability of Funding.
III. Contract Payment Procedures.
IV. Government Setoff/Debt Collection Rights.
Chapter 3: Contract Formation.
I. Basic Principles of Contract Formation.
II. The Government Procurement Process.
III. Competing for the Award.
IV. Bid Guarantees (Bonds).
V. Responsive Bids and Proposals.
VI. The Evaluation Process.
VII. Late Bids and Proposals.
VIII. Relief for Contractor Bid/Proposal Mistakes.
Chapter 4: Contract Types.
I. Introduction.
II. Organization of a Typical Construction Contract.
III. Project Delivery Categories.
IV. Indefinite Delivery Contracts.
V. Pricing Categories.
VI. Options.
VII. Project Delivery & Contract Type Risk Analysis.
VIII. Building Information Modeling.
Chapter 5: Socioeconomic Policies.
I. Introduction.
II. Small Business Contracting Programs.
III. Equal Employment Opportunity and Affirmative Action Programs.
IV. Buy American Act.
V. Labor Standards.
VI. Environmental Laws.
VII. Employee Safety and the Occupational Safety and Health Act.
Chapter 6: Government Contract Interpretation.
I. Importance of Contract Interpretation.
II. Goal of Contract Interpretation.
III. Circumstances Surrounding Contract Interpretation.
IV. Resolving Ambiguities.
V. Allocation of Risks and Obligations.
VI. Standard FAR Clauses Affecting Allocation of Risks and Contract.
VII. Interpretation of Subcontracts under Federal Contracts.
Chapter 7: Differing Site Conditions.
I. Historical Overview.
II. Federal Government Contract Clause.
III. Recovery for a Type I Changed Condition.
IV. Recovery for a Type II Changed Condition.
VI. Factors Affecting Recovery.
Chapter 8: Contract Changes.
I. Purpose of the Changes Clause.
II. FAR Changes Clause.
III. Authority to Issue Changes.
IV. Express Changes: Bilateral and Unilateral.
V. Constructive Changes.
VI. Cardinal Changes.
VII. Value Engineering Changes.
VIII. Prerequisites to Recovery.
IX. Novations.
Chapter 9: Delays, Suspension, and Acceleration.
I. Types of Delay: Basic Principles.
II. Causes of Excusable Delay.
III. Causes of Compensable Delay.
IV. Scheduling and Delays.
VI. Concurrent Delay.
VII. Suspension of Work.
VIII. Time Extensions.
IX. Relationship of Delay Remedies under the Suspension of Work and Changes Clauses.
X. Acceleration.
Chapter 10: Inspection, Acceptance, Commissioning, and Warranties.
I. FAR Clauses Affecting Inspection and Acceptance.
II. Contractor Quality Control Systems.
III. Strict Compliance versus Substantial Compliance.
IV. Government?s Right to Inspect.
V. Limits on Government?s Inspection Rights.
VI. Cost of Inspection.
VII. Acceptance.
VIII. Project Commissioning.
IX. Warranties.
Chapter 11: Contract Terminations.
I. Introduction.
II. Terminations for Default.
III. Government Damages.
IV. Terminations for Convenience.
V. Constructive Terminations.
VI. Termination Settlements.
Chapter 12: Payment and Performance Bonds.
I. Introduction.
II. Miller Act Payment Bonds.
III. Miller Act Performance Bonds.
Chapter 13: Equitable Adjustments and Costs.
I. Overview.
II. Equitable Adjustment Theory.
III. Methods of Pricing Equitable Adjustments and Claims.
IV. Cost and Pricing Data.
Chapter 14: Project Documentation Techniques.
I. Documentation Generally.
II. Notice Obligations in Government Contracts.
III. Notice to Representatives/Agents of Contracting Officer.
IV. Written versus Alternative Forms of Notice.
V. Failure to Give Notice--Consequences.
VI. Coordinating Notice Requirements in Subcontracts and Purchase.
VII. Documentation Recommendations.
VIII. Documenting with Project Management Software.
Chapter 15: Contract Claims and Disputes.
I. Introduction.
II. The Contract Disputes Act.
III. Contractor Claims Under the CDA.
IV. Subcontractors and the CDA Claims Process.
V. Government Claims.
VI. Contracting Officer's Decision.
VII. Contract Disputes and Alternative Dispute Resolution.
VIII. Recovery of Attorneys? Fees in Government Contract Claims.
Chapter 16: Federal Grants Funding Construction Contracts.
I. Overview.
II. Role of Federal Agencies in Grant-Funded Contracting.
III. Administration and Interpretation of Grant-Funded Contracts.
Chapter 17: The American Recovery and Reinvestment Act and Government Construction Projects.
II. Registration and Reporting Requirements.
III. Buy American Requirements.
IV. Accountability and Ethics.
V. Wage-Rate Requirements.
Index.
See More
Buy Both and Save 25%!
Smith, Currie & Hancock's Federal Government Construction Contracts: A Practical Guide for the Industry Professional, 2nd Edition (US $125.00)
-and- Welding For Dummies (US $24.99)
Total List Price: US $149.99
Discounted Price: US $112.49 (Save: US $37.50)
Cannot be combined with any other offers. Learn more.