Sandra Lee Semi-Homemade Weeknight Wonders: 139 Easy Fast Fix Dishes
ISBN: 978-0-470-54024-4
240 pages
October 2009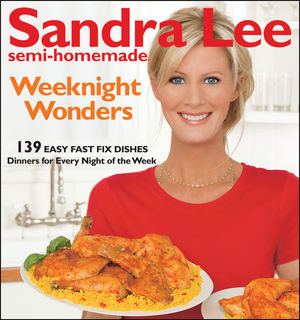 Delicious dinner ideas for every night of the week that taste like they're made from scratch
If you have a family or a full-time job, you know what a chore it can be to come up with new ideas for family dinners five nights a week. In Semi-Homemade Weeknight Wonders, Food Network star and New York Times bestselling author Sandra Lee helps solve the question of what to cook from Monday through Friday with a wealth of ideas that save time using her patented Semi-Homemade combination of fresh and ready-made ingredients.
In each chapter, Semi-Homemade Weeknight Wonders provides entrees and side dishes that can be combined for a complete meal in minutes. Plus, the book includes recipes for appetizers, daytime snacks, and delicious desserts that will satisfy any sweet tooth.
A comfort food section offers quick and easy recipes for hearty classics
Celebrates America's melting pot with new Italian, Asian, Mexican, and other international recipes
Sassy Southern-style cuisine and Midwest classics
Fresh seafood recipes that anyone can make from coast to coast
TV tray snacks and finger foods
Family dinners should be fun and relaxing, not stressful. Sandra Lee has revolutionized how people think of "homemade." Semi-Homemade Weeknight Wonders continues to make mealtimes quick and easy-and will have the family asking for more.
See More
Letter from Sandra.
Simple Sides.
Great Ingredients.
Pantry Essentials.
Baking Basics.
Chocolate Creations.
Quick Nibbles and Sippers.
Easy Entertaining.
Chapter 1: Dinner Delights.
Chapter 2: Asian American.
Chapter 3: Coast to Coast.
Chapter 4: Desserts.
Chapter 5: Sassy Southern Style.
Chapter 6: American Classics.
Chapter 7: Family Snacks and Finger Foods.
Chapter 8: Taste of Italy.
Chapter 9: Amazing Mexican.
Chapter 10: Comfort Food Favorites.
See More
Sandra Lee is host of two popular shows on Food Network, Sandra's Money Saving Meals and the Emmy-nominated Semi-Homemade Cooking with Sandra Lee. A New York Times bestselling author and editor in chief of the Sandra Lee Semi-Homemade magazine, she is the foremost expert on how to make all areas of home life more beautiful and enjoyable for a fraction of the cost and time. For more information and great recipes, please visit the official Sandra Lee website at www.SandraLee.com.
See More