E-book
Wilderness Survival For Dummies
ISBN: 978-0-470-54231-6
480 pages
June 2009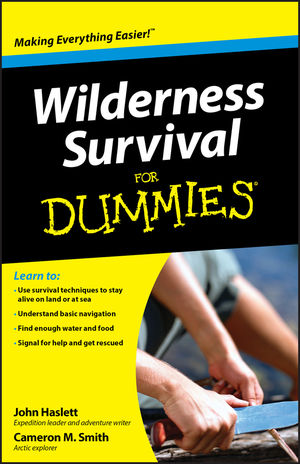 Your one-stop guide to surviving and enjoying the Great Outdoors
Want to know how to stay alive in extreme situations? This practical, accurate guide gives you all the expert, field-tested tools and techniques you need to survive. Whether you find yourself lost in the woods, adrift on a life raft, bitten by a snake, or needing shelter in cold weather, this hands-on resource teaches you how to stay safe (and sane), find rescue, and live to tell the tale!
Know the basics of survival — perform life-saving first aid, make fire and shelter, and find water and food

Manage your emotions — cope with panic and anger, get the "survivor's attitude," and foster cooperation and hope with others

Increase your chances of rescue — signal for help and navigate using a compass or the sky

Practice expert survival methods — tie essential knots, craft your own weapons and tools, and make natural remedies

Gain wisdom for water emergencies — stay afloat when your ship or boat sinks, avoid dehydration and starvation, and make it to shore
Open the book and find:
Common survival scenarios you may encounter

Tried-and-tested advice for individuals or groups

The items you need to stay alive

Basic orientation skills

Ways to keep warm or cool

The best methods for building a fire in any environment

What you can (and can't) eat and drink in the wild

True stories of survival
See More
Introduction 1
Part I: Stayin' Alive: Basic Wilderness Survival Principles 7
Chapter 1: Surviving the Wilderness 9
Chapter 2: Preparing Yourself for a Survival Situation 19
Chapter 3: The Psychology of Survival: Gaining the Upper Hand 33
Chapter 4: Survival Style: Keeping Warm or Cool 45
Chapter 5: Making Fire in the Wilderness 63
Chapter 6: Home, Sweet Hut: Survival Shelters 75
Chapter 7: Liquid Capital: Finding Drinking Water 87
Chapter 8: Gathering and Hunting to Stay Alive in the Wilderness 105
Part II: Eyeing Advanced Survival Techniques 141
Chapter 9: Finding Your Way with Tools: Basic Wilderness Navigation 143
Chapter 10: Looking Up to the Skies: Celestial Navigation 167
Chapter 11: Trekking over Land 177
Chapter 12: Signaling for Rescue 195
Chapter 13: Administering First Aid 219
Chapter 14: Survive or Thrive? Advanced Methods and Tools 249
Part III: Surviving in Extreme Land Environments 269
Chapter 15: Special Considerations for Forests and Jungles 271
Chapter 16: The Big Chill: Enduring in Snowy Places 289
Chapter 17: Staying Alive under the Sun 313
Part IV: Surviving on the Seas, Oceans, and Great Lakes 337
Chapter 18: Staying Afloat and Warm 339
Chapter 19: The Great Drift: Aboard Life Rafts and Disabled Vessels 357
Chapter 20: Food and Drink at Sea 373
Chapter 21: Emergency Travel and Navigation at Sea 397
Chapter 22: First Aid on the Water 413
Part V: The Part of Tens 423
Chapter 23: Ten Ways to Practice Wilderness Survival Skills 425
Chapter 24: Ten Quick Escapes 433
Index 441
See More
John Haslett
is a veteran expedition leader and adventure writer whose articles have been featured in
National Geographic Adventure
.
Cameron M. Smith is an archaeologist at Portland State University. He has traveled the world's wildernesses in some of the most unreasonable ways imaginable.
See More