Bonds Now!: Making Money in the New Fixed Income Landscape
ISBN: 978-0-470-54700-7
Hardcover
195 pages
December 2009
US $29.95

Add to Cart
This price is valid for United States. Change location to view local pricing and availability.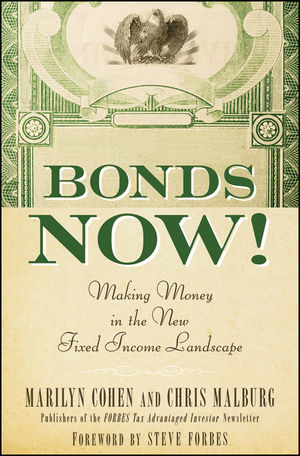 Other Available Formats:
E-book
February 11, 2010
Bonds Now!
Connect with Wiley Publicity
The financial crisis and stock market nosedive resulted in droves of investors flocking to bonds. Everything from Treasuries, T-bill, and municipal bonds to corporate bonds and high-yield bond funds have quickly become the safe haven of choice, but the bond market is not as straight forward as it seems. In fact, according to Marilyn Cohen, founder and CEO of Envision Capital Management and long-time Forbes bond columnist, too many investors had their bond portfolios on cruise control through the 2008/2009 credit crisis. The result: Their portfolio values shrank by a third or more. There is a whole new set of rules on how to buy, what to buy, and when to buy in order to make money in the bond market. In BONDS NOW! (Wiley; December 2009; $29.95; 978-0-470-54700-7; Hardcover), Cohen and financial writer Chris Malburg link the new rules of profiting in the bond market to new survival methods and fresh buy/sell principles so that investors can make smart choices in the post-credit crisis era.
Picking up where basic texts leave off, BONDS NOW! offers such practical advice as:
Avoid Industries with Government Intervention: Never buy a corporate bond with even a hint of government participation, interest, or investment.
Match Your Bonds with Your Risk Tolerance: Invest in a bond only if the underlying rating meets your risk criteria.
Steer Clear of Sub-Debt: Don't buy bank-subordinated debt. The U.S. government demanded conversion of all preferred shares into common stock. This had the effect of moving the preferred stock holders from near the top of the payment ladder to the very bottom.
Balance Any Large Concentrations That Could Severely Damage Overall Performance if the Issuer, Industry, or Geographic Area Suffered: Populate portfolios with a balance of bonds whose maturities, issuers, types, and repayment sources are diversified. The goal is to win the entire war, not just one battle. Limit exposure to any one industry or region to no more than 15 percent.
Pick Your Maturity Position: If the debt maturity is too far out, the company may use all its cash paying other debt issues and could run short by the time your bond comes due.
Keep a Distance from Your Money Manager: Never write a check for an investment directly to and in the name of a money manager. All monies should be paid directly to the third party custodian.
Don't Trust the Ratings: Don't base investment decisions solely on ratings. They may be wrong or be getting ready to issue a downgrade that is months late in coming. Such errors have cost investors tens of billions.
Recession-Proof Your Portfolio: In a recession, go with essential purpose revenue bonds such as tax-exempt bonds issued for large, stable utility systems—water, sewer, and electric—rather than obligation bonds.