E-book
America's Finest Companies 2010: 19th Annual Investment Directory
ISBN: 978-0-470-54796-0
80 pages
September 2009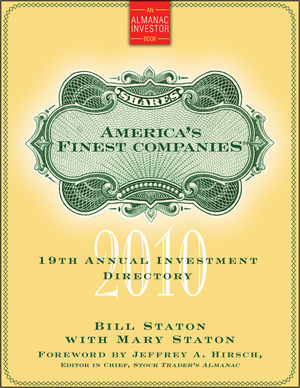 A detailed look at the best American companies to invest in
America's Finest Companies 2010 (now in its 19th annual edition) is a reliable guide to investing, containing every publicly traded company in the United States with at least ten consecutive years of higher dividends and/or earnings per share.
With this detailed directory, Bill Staton—a successful financial advisor and money manager for almost four decades—shares his simple, time-tested way to make your money grow at an above-average rate with substantially reduced risk. The companies found here are well-run and profitable, and with long histories of rising annual dividends and/or earnings, they are sure to boost the bottom line of any portfolio.
Offers essential insights into building a portfolio of American companies with rising annual dividends and/or earnings
Contains new listings and delistings as well as a break down of companies by industry
Filled with thoughtful editorial pieces such as "Dow 30,000 by 2018", "Trends Don't Go On Forever", and "Turning Chaos Into Tremendous Opportunity"
America's Finest Companies 2010 will help you rebuild your portfolio and keep it on sound financial footing for years to come. If you're looking to invest successfully, look no further than America's Finest Companies 2010.
See More
Foreword by Jeffrey A. Hirsch.
Introduction.
How to Beat 75 to 85 Percent of Wall Street's Pros 100 Percent of the Time.
Buying Stocks Direct.
New Listings and Delistings.
America's Strongest Companies: Top 50 Equity-Loaded Balance Sheets.
America's Finest Earnings All-Stars.
America's Finest Dividend All-Stars.
America's Smartest Companies.
The "Super 50" Team.
America's Finest Companies by Industry.
America's Finest Companies Directory 2010.
The Unbeatable Power of Rising Annual Dividends.
Turning Chaos into Tremendous Opportunity.
Dow 30,000 by 2018?
Trends Don't Go On Forever.
Risk Is Grossly Overpriced and Other Subjects.
Plain Money Talk from Charlie Munger: One Who Really Knows.
Just How Risky Is It?
Keep Your Eye on the Ball—It's Easy to Go Broke.
Mary Staton's 10 Rules for Business Success.
About the Authors.
Author's Note.
See More
Bill Staton,
MBA, CFA, began his investment career as a securities analyst with Interstate Securities (now part of Wells Fargo Advisors) in 1971. In 1986 he founded The Staton Institute Inc. and remains its chairman. Bill has helped thousands increase their wealth with a commonsense value approach to investing. A frequent speaker on investing and economic issues, Bill empowers people to take charge of their personal finances through guidebooks, audiocassettes, videos, and WealthBuilding seminars. He also provides customized portfolio management for individuals and small businesses through Staton Financial Advisors LLC. His documented track record of market-beating results makes him one of the nation's top performers and helped him become a multimillionaire by age 35. Staton holds an MBA in finance from the Wharton School and a bachelor's degree from the University of North Carolina at Chapel Hill. He earned his Chartered Financial Analyst certification in 1977. Staton's previous book,
Double Your Money in America's Finest Companies
®
: The Unbeatable
Power of Rising Dividends reveals his
entire simple, do-it-yourself AFC system in clear step-by-step instructions.
Mary Tunstall Staton is CEO of The Staton Institute Inc. and Staton Financial Advisors LLC. She coauthored Worry - Free Family Finances (McGraw - Hill, 2004) with husband Bill and currently writes a free newsletter entitled "Wisdom On Wealth!" (WOW!).
Jeffrey A. Hirsch is Editor in Chief of the Stock Trader's Almanac and Almanac Investor newsletter.
See More
Learn more about