Winning with Customers: A Playbook for B2B
ISBN: 978-0-470-54799-1
464 pages
August 2010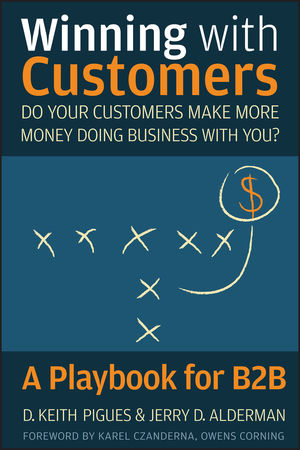 Do Your Customers Make More Money Doing Business With You?
Knowing the answer can help you build measurable and valuable customer relationships, outperform the competition, and unlock profitable growth.
Companies are blind to opportunities for profitable customer relationships without a deep understanding of how they create customer value relative to competitors. With a rigorous and measurable understanding of how customers make more money today and in the future with you, combined with supporting plans and tools to align the entire organization for success, a company can win and win big. Winning with Customers offers a step-by-step playbook to help companies develop this capability for themselves, act on it, build a culture around it and sustain it over time. The playbook includes case studies, interviews, and tools from leading B2B companies who have demonstrated success. Written by recognized business thought leaders and practitioners, this book will guide you to profitable growth. The book also serves as a launch point into a community of like-minded executives that includes a companion website which offers exercises, access to thought leaders, and other tools help you win with customers.
See More
Foreword (
Karel Czanderna
).
Preface.
Acknowledgments.
Introduction (Glenn Dalhart).
Chapter 1 Why We Lose.
Six Reasons Why We Lose.
Is This Boof for You?
Why This Book is Important.
What Will You Learn?
Is Now the Time?
Summary.
Chapter 2 Define Winning.
The Big 6.
Where Does This Book Fit In The World Of Profit Growth Solutions?
Building The Foundation: Does Your Customer Make More Money By Doing. Business With You Relative To Your Competitors?
Revenue, Cost, and Profits.
Summary.
Chapter 3 The Playbook.
Defining the Playbook.
Play 1: Discover.
Play 2: Analyze.
Play 3: Execute.
Play 4: Measure.
Play 5: Certify.
Play 6: CVC Management System.
Key Philosophies.
The Role of Technology.
The Maturity Model.
Summary.
Chapter 4 Winning Metrics.
The History Of Our Metrics.
Developing the Metrics.
The Winning with Customer Metric.
Exploring Differential Value Attributes.
Exploring the DVP %.
Using DVP % on an Aggregated Business Level.
Summary.
Chapter 5 What Does Your Customer Think?
Get on the Field.
The Discover Play.
Do My Customers Care…Will They Talk?
The Discover Process: Prepare.
Let's Prepare.
Who Should You Interview?
Who Conducts the Interview?
The Discover Process: Conduct the Interview.
The Discover Process: Capture Data.
The Discover Process: Customer Follow-Up.
The Discover Process: Quick Wins.
You Will Go Broke Doing What the Customer Says.
Summary.
Chapter 6 Informing Decisions.
What is Analyze?
What You Get.
Generating Actionable Insights.
Interpret One Interview.
Assemble the Data.
Determining Scope.
Identify and Assign Analysts.
Understanding Your Current Differential Value Proposition.
Turning Customer Needs Into Potential Projects.
What Are The Top 10 Investments To Make?
How Can Customers Be Segmented According to Their Needs?
Turning Initiatives Into Investment Decisions.
Setting Value Creation Goals.
Estimating Investment Required.
Setting Value Capture Goals.
Initiatives to Investment Portfolio.
Insights to Decisions.
Connecting Insights to Process Organizations.
Encourage Ad Hoc Analysis.
Empower Resources to Become Analysts.
Benefits of Technology.
Summary.
Chapter 7 Executing Value Creation and Value Capture.
What is Execute?
A Quick Recap and Chapter Setup.
Building a Plan for Your Customer.
Plan Value Capture.
Gain Customer Alignment.
Providing a Technology Assist.
The Vault.
Summary.
Chapter 8 The Scoreboard.
Finding Our Place on the Field.
The Process.
Collecting the Scorecard Data.
Building the Basic Scoreboard.
Advanced Scoreboard Topics.
Measuring CVC Activity For The Scoreboard.
Continuous Improvement.
How Technology Helps.
Summary.
Chapter 9 Getting Started.
Kickoff.
Fielding a Team.
Enrolling the Team: It's How you Do Business.
Without the Customer There Is No Team.
Start Small and Grow.
The First Project.
Summary.
Chapter 10 Sustaining and Scaling: The Maturity Model.
The Hurdles We Faced.
Sticking to it: Maturity Model.
Sustaining and Scaling.
Summary.
Afterword.
In the Beginning.
A Few Highlights.
Get into Action.
About the Authors.
About the Contributors. 
Index.
See More
D. KEITH PIGUES
is a recognized leader of strategic growth and marketing, developing new growth strategies and marketing capabilities, creating valuable brands, building effective global marketing teams, and increasing profitable revenue growth through strategy and marketing excellence. He is Senior Vice President and Chief Marketing Officer at Ply Gem, Inc., responsible for corporate branding, marketing, strategic planning, and international expansion. He has held senior marketing positions with Cemex, RR Donnelley, and ADP, as well as sales positions with IBM and Hewlett-Packard. More about Keith at dkeithpigues.com.
JERRY D. ALDERMAN, a recognized business science thought leader, is coauthor of Beyond Six Sigma (Wiley). He has written numerous white papers, is a frequent speaker on achieving profitable growth through customer value creation, and has led and developed his innovative approach to building corporate competitive advantage through using and executing on unique, deep customer insights. He is founder and CEO of Valkre Solutions, Inc., a product and services company that develops capability with business-to-business (B2B) companies to use deep customer understanding to build and execute customer-driven operating plans. His company has developed these solutions with great partners, including Owens Corning, Kimberly-Clark, Turtle Wax, RR Donnelly, and more. To find out more about Jerry and Valkre go to valkre.com.
See More