Toy Monster: The Big, Bad World of Mattel
ISBN: 978-0-470-54858-5
280 pages
February 2010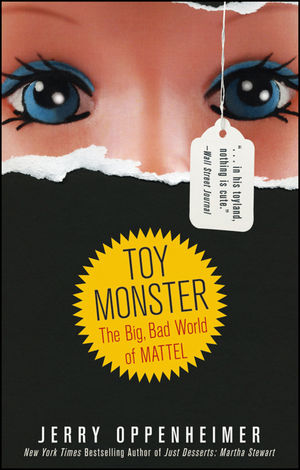 An eye-popping, unauthorized expos? of the House of Barbie
From Boise to Beijing, Mattel's toys dominate the universe. Its no-fun-and-games marketing muscle reaches some 140 countries, and its iconic products have been a part of our culture for generations. Now, in this intriguing and entertaining expos?, New York Times bestselling author Jerry Oppenheimer places the world's largest toy company under a journalistic microscope, uncovering the dark side of toy land, and exploring Mattel's oddball corporate culture and eccentric, often bizarre, cast of characters.
Based on exclusive interviews and an exhaustive review of public and private records, Toy Monster exposes Mattel's take-no-prisoners, shark-infested corporate style. Throughout this scrupulously reported, unauthorized portrait, you'll discover how dangerous toys are actually nothing new to Mattel, and why its fearsomely litigious approach within the brutal toy business has helped their products dominate potential rivals such as Bratz.
Introduces you to the larger-than-life personalities that have shaped Mattel's eccentric world
Offers an inside look- from an experienced author-at the scandals that have been a part of this iconic company
Jerry Oppenheimer is also the author of Madoff with the Money, an in-depth look at Bernie Madoff the man and his billion dollar scam
Engaging and accessible, Toy Monster shows you why today's toy business isn't always fun and games.
See More
Part One: The Barbie War and the Handler-Ryan Era.
Chapter 1: Barbie's Untold Heritage.
Chapter 2: A Shocking Cover-up.
Chapter 3: From Weapons of Mass Destruction to Barbie, and the Knocking Off of a German Doll.
Chapter 4: Putting the "Matt" in Mattel, and How the Toymaker Became a Hotbed of Aggressive Hotheads.
Chapter 5: Real-Life Barbie Dolls.
Chapter 6: Horrific Scandal, Controversy and Indictments.
Chapter 7: A Civil War and a Hollywood Romance.
Chapter 8: A Bloody Tragic Ending.
Part Two: A Drama Princess and the Barad Era.
Chapter 9: "Miss Italian America".
Chapter 10: From "He-Man" to Home Depot.
Chapter 11: A Fearsome and Firing Diva and the Great Whistleblower Debacle.
Chapter 12: The Princess Diana Fiasco, Praying for Success, and Demi Plays Barad.
Chapter 13: Another Whistleblower in the Ranks, Toyland's Worst Acquisition and the End of a Reign.
Part Three: Toy Terror, the Bratz Attack, and the Eckert Era.
Chapter 14: The Processed Cheese Savior.
Chapter 15: Barbie's Aging, Eckert's Making Excuses, and the Bratz Pack Is Booming.
Chapter 16: Toy Terror 2007.
Chapter 17: An Outrageous Apology.
Chapter 18: "Like Something Out of The Exorcist".
Chapter 19: Keep It Out of the News!
Chapter 20: Don't Diss Barbie, and the Toy Trial of the Century - Bratz vs. Barbie.
Author's Notes on Sources.
Selected Bibliography.
Acknowledgments.
Index.
See More
JERRY OPPENHEIMER has written eight biographies of major American icons, from Martha Stewart and Barbara Walters to the Clintons and Kennedys, and has worked in all facets of journalism, from national investigative reporting in Washington, D.C., to producing TV news and documentaries. He's quoted in magazines such as Vanity Fair, and is a frequent guest on national TV interview and syndicated magazine shows, including Good Morning America, Entertainment Tonight, Extra, Anderson Cooper 360, Nancy Grace, BBC News, Fox News, and more.
See More