Personal Finance For Seniors For Dummies
ISBN: 978-0-470-54876-9
Paperback
456 pages
May 2010
US $21.99

Add to Cart
This price is valid for United States. Change location to view local pricing and availability.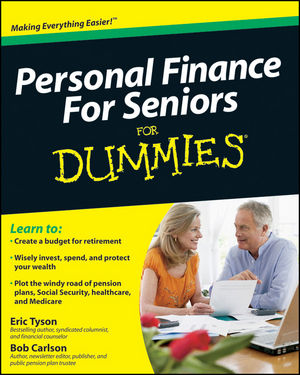 Other Available Formats:
E-book
August 09, 2010
Avoid the Knee-Jerk Annuity
Connect with Wiley Publicity
The recession has been tough on America's seniors. The biggest casualty? Investing confidence. Fearful of the stock market, many retirees or near-retirees are shunning traditional investment vehicles like stocks, mutual funds, and real estate. And now they have a new dilemma: what to do with the money they do have left. According to Bob Carlson, when they turn to their trusted financial advisors, they generally hear one word. Annuities. And too often, they blindly take the plunge.
"I'm not saying there's anything wrong with annuities," says Carlson, coauthor along with Eric Tyson of Personal Finance For Seniors For Dummies® (Wiley, May 2010, ISBN: 978-0-470-54876-9, $21.99) and editor of the monthly newsletter Retirement Watch. "In fact, annuities can help seniors reduce risk. But before you make the move, it's important that you understand what you're signing on for. Don't just take your investment advisor's word for it."
The problem for retirees and near-retirees seeking financial safety is that annuities are difficult to compare, says Carlson. There are many types of annuities, and each type offers vastly different features and options.
"Also, many people begin the annuity investment process the wrong way," says Carlson. "They begin by examining a specific annuity that's been presented to them and then try to decide whether or not to buy it. Actually, it's better to set your goals and then decide on which risks you're willing to take and which you want to avoid.
"Then, after you've done all that, it's time to look for the annuities that fit your profile," he continues. "After selecting a type of annuity, shop among several insurers, because the payouts among insurers vary even for annuities with similar terms."
First things first: What is an annuity, anyway? Well, there are two main types. Deferred annuities let you save and invest money, with taxes deferred on the income and gains. Immediate annuities provide income by making periodic payouts that are guaranteed to last for life or a period of years, whichever the owner selects. Where they differ from other investments, is that they are backed by insurance companies. Under some annuities, if the annuity holder passes away and the annuity account value is lower than the original amount invested, the beneficiaries of the annuity get back the original investment amount.
"Annuities can help meet several goals," explains Carlson. "Foremost, they protect against the common worry of 'outliving your money.' Annuities allow you to receive income for life, no matter how long it is. Most annuities also insulate you from some or all market volatility.
"However, annuities are not without risks," he warns. "You risk missing the high returns of a bull market. You also take the risk the insurer will fail. Should the insurer fail, a state guarantee fund might pay off the annuity. And if interest rates are low at the time you purchase the annuity, you risk locking in a low payout rate."
Those are the general risks and rewards. Specific types of annuities have their own tradeoffs. Here's an overview of the annuity world:
Immediate annuities. These are the traditional, plain vanilla annuities. You deposit an amount with the insurer, and the insurer begins making regular payments. Payments can be monthly, quarterly, or annually. Most immediate annuities make fixed payments, but some offer variable payments. The variable payments can be inflation indexed or be tied to the portfolio of investments selected by the annuity owner.
You can receive payments for your life, the joint life of you and a beneficiary (such as your spouse), a period of years, or life with a guarantee for a minimum period of years. The highest payout is for your life or a period of years shorter than your life expectancy. The other options result in lower initial payouts.
"Studies show that having a portion of your retirement portfolio in immediate annuities reduces the risk of running out of money during retirement," notes Carlson. "Annuities help stabilize a portfolio's value and returns. They also can allow you to take more risk with the rest of your portfolio."
Equity index annuities. These are deferred annuities. The account compounds returns tax deferred until distributions begin. The returns of these annuities are tied to the performance of a stock market index. Usually there is an annual floor or guaranteed return of 2 percent to 3 percent. Many also have an annual cap or maximum return of around 10 percent.
The difficulty when evaluating EIAs is understanding the formula for computing the annual return. The account rarely is credited with the published return of the index. Instead, the insurer uses a formula of its own creation to calculate the return. There are about 29 different formulas in use, and they can credit the account with returns dramatically different from those of an index fund. The account also is credited only with a portion of the calculated return, known as a participation rate, up to the annual cap. For more details on the formulas, subscribe to Retirement Watch.
"EIAs usually guarantee the account against losses," says Carlson. "Sometimes 100 percent of the principal is guaranteed; sometimes only 90 percent or so is guaranteed. EIAs generally are for conservative investors who want a chance at higher returns than traditional conservative investments offer but can't tolerate the risks of stock markets or other growth investments."
Variable annuities. These are mutual funds combined with annuities. The investor selects investments from those offered by the insurer, and the returns earned by those investments compound tax deferred, after subtracting fees and expenses. Most variable annuities are deferred. But some immediate annuities are variable—the annual payouts vary with the returns of investments selected by the insured.
VAs were very popular until the bear market that began in 2000, when investors suffered large losses in their annuity accounts. Insurers are trying to bring investors back to VAs with new features. Many of the VAs now have death benefit guarantees and lifetime withdrawal benefits.
A guaranteed death benefit ensures the policy beneficiary will receive at least a minimum amount when the original owner dies. Some policies guarantee the initial amount invested in the policy. Others guarantee the policy's highest value on the anniversaries of its purchase. A guaranteed lifetime withdrawal allows the insured after a certain age to make annual withdrawals of at least 4 percent to 5 percent of the annual base amount for life. The base amount could be the amount invested in the policy or some other amount.
"The tradeoff in VAs is these features cost money," says Carlson. "The basic VA's fees on average are 2 percent or so of the account's value each year. As these other features are added, the costs increase. There are low-cost variable annuities from Vanguard, Ameritas, and some other financial services firms, but for all of them you have to determine if the benefits are worth the costs. For example, could you achieve similar results yourself by purchasing life insurance or zero coupon bonds with a portion of your portfolio?"
Longevity annuities. These are relatively new. You give the insurer a lump sum. The insurer promises to begin paying you annual income beginning at age 80 or 85, should you live that long. "That ensures you will have income if you live a long life," says Carlson. "If you don't make it that long, the insurer keeps the money. A typical offering today is that $25,000 invested by a 65-year-old female will generate monthly payouts of $1,169 at age 85."
Hybrid policies. Some annuities can be used to pay for long-term care. A typical combo policy will pay up to two or three times the account's value for long-term care over a period of about six years. For example, an annuity's value is $150,000 when the owner needs long-term care. The policy will pay up to $300,000 to $450,000 after a long-term care claim is filed. The annuity does not earn income after a claim is filed, and the account's value for other purposes is reduced.
"There are many annuity features to choose from," says Carlson. "You need to remember that each of these features and protections costs money. They will reduce either your earnings or your payout. The reason to buy an annuity usually is to create a stream of guaranteed retirement income. However, inflation protection is the feature most likely to be worth the cost. Another buying tip: The longer you wait to purchase an immediate annuity and begin income payouts, the higher your lifetime income will be.
"Keep in mind that annuities generally lock you in for the long term," he concludes. "Most annuities charge surrender fees if you want to withdraw your investment within seven years, and some have much longer lock-in periods. Bottom line: Think carefully before you buy."