E-book
The Grand Energy Transition: The Rise of Energy Gases, Sustainable Life and Growth, and the Next Great Economic Expansion
ISBN: 978-0-470-54988-9
288 pages
August 2009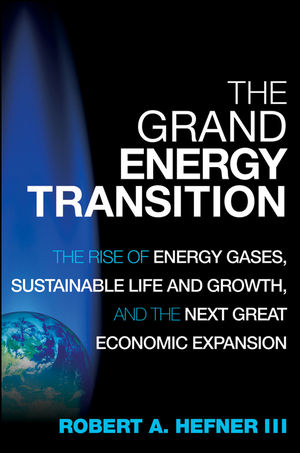 A groundbreaking book on solving our growing energy problems
In this visionary book, leading energy industry executive Robert Hefner puts forth a convincing case about how the world can move beyond its current dependence on oil and toward a new era of clean, renewable energy.
Written with the knowledge and authority of a major player in this industry, Hefner relates how misguided government policies and vested industry interests have contributed to our current energy problems and proposes a variety of measures that could encourage the use of natural gas, solar, wind, and hydrogen.
Convincingly makes the case that natural gas is the essential bridge fuel to a new era of clean, renewable energy sources
Details how natural gas can help break our oil and coal dependency
Offers a sweeping, historic picture of the world energy situation
Presents a compelling and provocative case that natural gas is key to our short-term energy problems
A well-written and engaging book that mixes personal anecdotes and experiences with insightful analysis, The Grand Energy Transition is a powerful argument about how we can best solve our toughest energy problems.
See More
Acknowledgments. Introduction: The Inextricable Link between Energy and the Economy.
Chapter 1
The Beginning.
Chapter 2
The Grand Energy Transition.
Chapter 3
The Conception of the GET and How It Works.
Chapter 4
Rise of the Age of Energy Gases, Decarbonization, and Slowing of the GET.
Chapter 5
How the 1970s Misconception of Natural Gas Scarcity Changed America's Energy Mix for Decades.
Chapter 6
Natural Gas—The Bridge Fuel to Our Sustainable Future.
Chapter 7
Natural Gas Abundance.
Chapter 8
My Historical Grounds for Natural Gas Abundance.
Chapter 9
The
Real
Inconvenient Truth.
Chapter 10
 Our Energy and Climate Challenge—
Los Angeles
, A Case Study.
Chapter 11
 What Won't Work; What Will Work.
Chapter 12
 Policies to Accelerate the GET.
Chapter 13
 The Age of Energy Gases:
America
's and
China
's Opportunity.
Chapter 14
 Crisis and Opportunity. Notes. Glossary. Recommended Reading. About the Author. Index.
See More
Robert A. Hefner III is founder and owner of GHK Exploration (www.ghkco.com), a private natural gas exploration and production firm. He pioneered ultradeep natural gas exploration and production, led the development of innovative technology needed to successfully drill and produce many of the world's deepest and highest pressure natural gas wells, and was a leader in the industry's successful efforts to deregulate the price of natural gas. Hefner is a Fellow of the Royal Geographical Society of London, a Fellow National of the Explorers Club, a member of Singapore's International Advisory Panel on Energy, and a member of the International Council at the Belfer Center at Harvard University. He is an Advisory Director of the Center for a New American Security. Hefner and his wife, MeiLi, initiated and support the Hefner China Fund, which has brought rising young Chinese government officials to study in the fields of energy, culture, and foreign policy at the National University of Singapore's Lee Kuan Yew School of Public Policy and Harvard's Kennedy School of Government. Hefner holds a petroleum geology degree from the University of Oklahoma.
See More