Creating Interdisciplinary Campus Cultures: A Model for Strength and Sustainability
ISBN: 978-0-470-55089-2
240 pages
January 2010, Jossey-Bass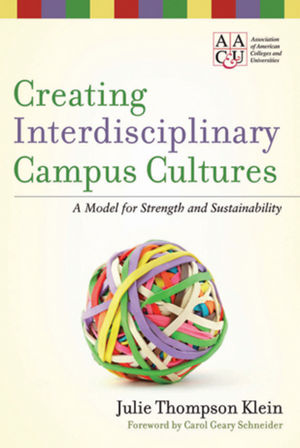 With the increased support from funding agencies and in literature, an interdisciplinary culture is of growing significance. Creating Interdisciplinary Campus Cultures provides an introduction to interdisciplinary change through pragmatic strategies. Sponsored by the Association of American Colleges and Universities, this unique resource is the only book focused on creating and sustaining institutional support for interdisciplinary work. Since an interdisciplinary culture is of increasingly importance in higher education, this book gives administrators and faculty the tools they need to ensure their work is successful and sustainable.
See More
The Author xi
Foreword xiii
Acknowledgments xix
Introduction: A Model for Interdisciplinary Change 1
1 Mapping National Drivers of Interdisciplinary Change 15
2 Bridging National and Local Maps 37
3 Platforming Interdisciplinarity 67
4 Fostering Programmatic Strength and Sustainability 99
5 Monitoring the Interdisciplinary Career Life Cycle 127
Conclusion: Countering Myths and Situating
Practices 153
Resources 161
Glossary for a Core Vocabulary 181
References 183
Index 199
See More
Julie Thompson Klein is a professor of humanities in English and interdisciplinary studies at Wayne State University in Detroit, Michigan. She is past president of the Association for Integrative Studies (AIS) and former editor of the AIS journal, Issues in Integrative Studies. Klein consults widely both nationally and internationally and is the author and editor of many books, including Interdisciplinarity: History, Theory, and Practice; Crossing Boundaries; and Humanities, Culture, and Interdisciplinarity. She is also associate editor of the forthcoming Oxford Handbook on Interdisciplinarity.
The Association of American Colleges and Universities (AAC&U), headquartered in Washington, D.C., is the leading national association concerned with the quality, vitality, and public standing of undergraduate liberal education. Founded in 1915 by college presidents, AAC&U now represents the entire spectrum of American colleges and universities—large and small, public and private, two-year and four-year. AAC&U comprises more than 1,200 accredited colleges and universities that collectively educate more than seven million students every year.
See More
Learn more about