Value Optimization for Project and Performance Management
ISBN: 978-0-470-55114-1
336 pages
April 2010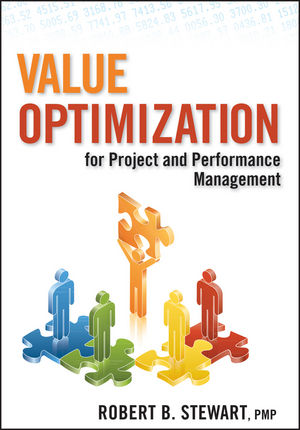 Discover the proven process for maximizing the potential value of any project.
Showing readers how to apply value optimization techniques to project and performance management, dramatically increasing results and efficiency, Value Optimization for Project and Performance Management is written to compliment the Project Management Body of Knowledge, the guidance published by the Project Management Institute (PMI®), making it readily applicable for any project manager.
Presents methodology applied with hundreds of clients across a range of industries
Filled with practical facilitation and implementation tips
Presents a cohesive theory, structured framework, and diverse toolset
Walks you through the value optimization process, showing you how to transform the way a product or process is perceived
Brimming with examples, Value Optimization for Project and Performance Management provides a link to a free software demo for you to get started in applying value optimization in your own organization.
(PMI is a registered mark of Project Management Institute, Inc.)
See More
Preface ix
About the Cover xiii
Acknowledgments xv
CHAPTER 1 Introduction 1
Today's Challenges 2
Value Methodology 4
Why Use Value Methodology? 5
Project Management and Value Methodology 7
Value Methodology and Teamwork 8
History of Value Methodology 10
SAVE International 13
Current VM Applications 14
Summary 19
CHAPTER 2 Value 21
The Concept of Value 22
Value Theory 24
Reasons for Poor Value 36
Summary 46
CHAPTER 3 Value Methodology Job Plan 47
The Value Methodology Job Plan 48
Value Metrics 56
Summary 58
CHAPTER 4 Preparation 59
Preparation Phase 60
The Value Team 78
Summary 79
Appendix 4A: Case Study 80
CHAPTER 5 Information 87
Information Phase 88
Gather and Analyze Project Scope Information 89
Gather and Analyze Project Schedule Information 91
Gather and Analyze Project Cost Information 94
Life Cycle Costing 99
Gather and Analyze Project Risk Information 108
Conduct Value Study Kick-Off Meeting 111
Conduct Site Visit 130
Summary 130
Appendix 5A: Case Study 131
CHAPTER 6 Function 145
Function Phase 146
Defining Functions 146
Classifying Functions 150
Evaluating Functions 155
Summary 179
Appendix 6A: Case Study 180
CHAPTER 7 Speculation 183
Speculation Phase 184
Creativity 184
Roadblocks to Creativity 186
Creativity Techniques 191
Summary 196
Appendix 7A: Case Study 198
CHAPTER 8 Evaluation 199
Evaluation Phase 200
The Evaluation Process 200
Evaluation Techniques 207
Selecting Ideas for Development 211
Summary 213
Appendix 8A: Case Study 213
CHAPTER 9 Development 217
Development Phase 218
Develop Value Alternatives 218
Review Value Alternatives 232
Summary 233
Appendix 9A: Case Study 233
CHAPTER 10 Presentation 247
Presentation Phase 248
Selling Change 248
Assess Value—Value Metrics 251
Conduct Exit Briefing 256
Prepare and Submit Value Study Report 260
Summary 260
Appendix 10A: Case Study 261
CHAPTER 11 Implementation 269
Implementation Phase 270
Managing Change 270
Review and Assess Value Alternatives 273
Resolve Value Alternatives 274
Develop Implementation Plan 277
Track and Audit Results 278
Summary 278
Appendix 11A: Case Study 279
CHAPTER 12 Value Leadership 281
Value Leadership 282
Characteristics of Value Specialists 291
Value Methodology Professionals 293
Professional Standards of Conduct 295
Summary 296
Notes 299
Suggested Reading 305
About the Author 307
Index 309
See More
ROBERT B. STEWART,CVS, FSAVE, PMP, is President of Value Management Strategies, Inc., a consulting firm specializing in the application of value methodology to projects and business processes. He has led over 300 value studies for clients in private and public sectors and trained thousands of individuals worldwide in value optimization techniques. He is a Fellow of SAVE International and serves as a Director on the Lawrence Delos Miles Value Foundation, a nonprofit organization established to promote and fund the development of educational programs, new applications, and a research library for the study of Value Methodology (VM).
See More