Textbook
Developing Practice Competencies: A Foundation for Generalist Practice
ISBN: 978-0-470-55170-7
420 pages
January 2011, ©2011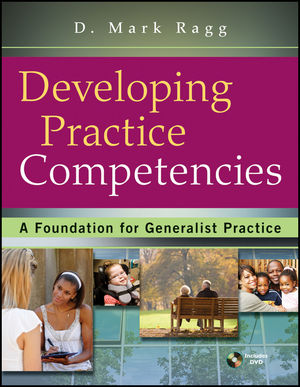 Praise for
Developing Practice Competencies
A Foundation for Generalist Practice
"This is the textbook I have been waiting for. The author engages the reader from the very beginning. It includes comprehensive coverage of EPAS standards and practice behaviors that any social work instructor would be delighted with. Mark Ragg's explanation of social work concepts and practice skills is very readable and well illustrated. This textbook will enhance social work students' self-confidence in their skills as beginning practitioners. This is an author who clearly knows how to engage and excite social work students about contemporary social work. Strongly recommended for generalist practice programs!"
—Mary Fran Davis, LCSW
Austin Peay State University, Clarksville, Tennessee
An applied, experiential introduction for the development of generalist practice skills in the helping professions
Designed to help students in social work and human services programs establish a solid skill foundation for professional practice, Developing Practice Competencies holistically organizes this content knowledge through a consistent framework integrated throughout the book.
Developing Practice Competencies explores:
How to build on current interpersonal skills to develop a professional identity and a specialized repertoire of intervention skills

How to work competently with diverse client groups taking into account the cultural and social contexts of each client situation

Ways to engage individuals and larger client systems in focused work toward client-specific goals

Successfully managing the nuances and challenges of the helping relationship

Combining specific skills for use in evidence-based models
Filled with rich examples, role-plays, and exercises, Developing Practice Competencies covers the foundation competencies necessary for students preparing to work with individuals, families, groups, organizations, and communities on behalf of underserved and socially compromised people.
An accompanying DVD offers video of the practice skills in action and electronic versions of exercises for classroom discussions.
See More
Integration of EPAs Core Competencies xv
Acknowledgments xvii
About the Author xviii
Introduction xix
Section I Building the Professional Self 1
Chapter 1 Professional Self-Awareness 3
Importance of Self-Awareness 3
Self-Awareness as an Element of Interactive Practice 4
Socialization, Self-Awareness, and Initial Skill Sets 5
Process of Socialization 5
Socialization Influence on Response Systems 7
The Cultural Context of Socialization 9
Exercise 1.1: Exploring Cultural Influences 11
Knowing Your Socialized Background 13
Family Genograms 13
Exercise 1.2: Exploring Your Genogram 15
From Socialization to Professional Development 18
Toward a Professional Self 18
Considerations for Digital Communicators 19
Exercise 1.3: Understanding Your Socialized Foundation 20
Toward a Lifelong Learning Approach 24
Critical Chapter Themes 24
Online Resources 25
Recommended Reading 25
Chapter 2 Conscious Self-Control and Ethical Behavior 27
Toward a Professional Code of Behavior 27
Socialization Challenges 27
Considerations for Digital Communicators 27
Professional Values 28
Comparative Values Among the Helping Professions 28
Importance of Professional Ethics 31
Relationship Among Values, Ethics, and Legal Expectations 32
Ethical Principles 33
Ethical Principles and Human Dignity 33
Ethical Principles and Client Determination 36
Ethical Principles and Professional Responsibility 37
Ethical Principles and Human Conditions 39
Exercise 2.1: The Street Kid 41
Legally Mandated Assumptions and Duties 41
Legally Protected Assumptions 41
Legal Duties of Helping Professionals 42
Ethics, Duties, and Diversity 44
Exercise 2.2: The Women's Shelter 45
Resolving Ethical Dilemmas 46
Ethical Priorities 46
Weighting Alternatives 48
Exercise 2.3: The Women's Shelter 48
Critical Chapter Themes 49
Online Resources 49
Recommended Reading 49
Chapter 3 Professional Thinking and Knowledge 51
Developing Our Professional Thinking 51
Socialization and Thinking Styles 51
Professional Knowledge Base 54
Role of Theory 54
Role of Research 58
Exercise 3.1: Peter and His Residential Problems 60
Toward Evidence-Based Practice 61
Using Research to Form Practice Decisions 61
Toward Applied Thinking 64
Linear Thinking 64
Exercise 3.2: Peter's Escalation 66
Nonlinear Thinking 67
Exercise 3.3: Peter's Discharge Plan 69
Building Professional Thinking Skills 70
Interrupting Old Thinking Habits 70
Developing New Thinking Habits 71
Exercise 3.4: Helping Peter 72
Critical Chapter Themes 73
Online Resources 74
Recommended Reading 74
Chapter 4 Assessment and Service Contracting 75
Professional Affiliation and the Assessment Focus 75
Understanding the Professional Role 75
Working With Multifactorial Causality 77
Assessment Process 79
Phase 1: Data Collection 80
Phase 2: Data Weighting 87
Phase 3: Formulating the Dynamic Assessment 92
Exercise 4.1: Working With Information to Infer Influence 94
Phase 4: Identifying Service Direction 95
Developing the Service Contract 98
Establishing Service Goals 98
Exercise 4.2: Assessing Goal Statements 101
Forming Objectives From Goals 102
Critical Chapter Themes 104
Online Resources 104
Recommended Reading 104
Section II Developing the Helping Relationship 107
Chapter 5 Tuning In and Empathic Engagement 109
Tuning In and the Empathic Connection 109
Empathy and the Working Alliance 109
Tuning In: The Relational Foundation 112
Preliminary Tuning In 112
Tuning In to Client Concerns About Service 114
Vulnerability Concerns 115
Responding to Client Service Concerns 115
Exercise 5.1: Identification of Client Concerns 119
Professional Ethics and Negotiating the Helping Relationship 122
Exercise 5.2: Preliminary Tuning In and Engagement 123
Interactive Engagement 124
Socialization Challenges to Interactive Engagement 124
Exercise 5.3: Interactive Engagement 127
Socialization, Culture, and Interactive Responding 128
Interactive Engagement With Larger Client Systems 129
Exercise 5.4: Problem Identification and Reframing 130
Maintaining Interactive Engagement 131
Critical Chapter Themes 133
Online Resources 134
Recommended Readings 134
Chapter 6 Questioning Skills 135
Power of Questions: Socialization and Culture 135
Socialization and Questioning 135
Questioning Formats to Avoid 136
Toward a Professional Use of Questions 140
Purpose of Questions 140
Building a Professional Questioning Skills 144
Question Setups 144
Exercise 6.1: Linking to Client Statements 145
Exercise 6.2: Setting Up the Question 147
Question Delivery 148
Questions for Larger Client Systems 151
Exercise 6.3: Delivering the Question 153
Bringing It All Together 154
Critical Chapter Themes 154
Online Resources 155
Recommended Readings 155
Chapter 7 Reflective Responding Skills 157
Use of Reflection in Professional Practice 157
Power of a Reflective Response 157
Using Reflective Responses 158
Components of Reflection 160
Step 1: Selecting the Elements for Reflection 161
Exercise 7.1: Identifying Critical Elements 163
Step 2: Setting Up the Reflection 164
Step 3: Delivery of the Reflection 166
Exercise 7.2: Setting Up and Delivering a Reflective Response 169
Using Reflection With Larger Client Systems 170
Exercise 7.3: Reflecting With Larger Client Systems 172
Culture, Socialization, and Reflection 173
Culture and Social Power 173
Socialization and the Use of Reflection 174
Bringing It All Together 175
Critical Chapter Themes 176
Online Resources 176
Recommended Readings 176
Chapter 8 Observing and Describing Skills 179
Challenges to Nonverbal Communication 179
Socialization Challenges 179
Observation and Brain Functioning 180
Professional Education Complications 181
Social and Cultural Considerations 182
Using Observation in Professional Practice 183
Observing Nonverbal Patterns 183
Observing Content Patterns 185
Exercise 8.1: Observing Client Wording and Presentation 187
Observing Interactive Patterns 187
Exercise 8.2: Client Disclosure 189
Describing Observations 190
Power of Describing Observations 190
Deciding to Share an Observation 191
The Challenge of Describing 191
Using Description to Promote Client Work 193
Accessing the Observation 193
Forming a Descriptive Response 194
Exercise 8.3: Sharing Observations 195
Sharing Observations and Larger Client Systems 195
Bringing It All Together 196
Critical Chapter Themes 197
Online Resources 197
Recommended Reading 197
Chapter 9 Providing Direction 199
Need for Direction 199
Evidence-Based and Directive Practice 199
Toward a Balanced Direction 200
Activity-Based Intervention 201
Activities That Provide Information 202
Activities That Challenge Thinking Patterns 203
Activities That Influence Affective Processing 204
Activities That Influence Skills and Behavior 209
Activities That Alter Problem Contexts 210
Toward Developing Directive Skills 211
Working From a Socialization and Cultural Perspective 212
Professional Facilitation Skills 214
Facilitating Activities 214
Exercise 9.1: Placing Mother 216
Prompting Skills 217
Coaching Skills 219
Integrating Direction 222
Exercise 9.2: Preparing Mother 222
Cultural Considerations 223
Critical Chapter Concepts 224
Online Resources 224
Recommended Reading 224
Section III Using the Working Alliance to Promote Change 225
Chapter 10 Integrating Direction Through Transitional Responding 227
Power and Influence in the Helping Relationship 227
Types of Power and Professional Ethics 227
Toward a Professional Use of Influence 230
Toward Transitional Responding 231
Transitional Responding Process 233
Maintaining a Goal Focus 233
Transitional Tracking 234
Exercise 10.1: Identifying Elements That Promote Goals 235
Inserting Direction 236
Activating a Client Response 241
Establishing an Interactive Rhythm 242
Exercise 10.2: Proposing a Group Program 243
Socialization Challenges 244
Transitional Responding With Larger Client Systems 246
Larger Systems and Self-Regulation 246
Cultural and Social Considerations 248
Monitoring Influence 248
Critical Chapter Themes 248
Online Resources 249
Recommended Readings 249
Chapter 11 Motivating Change Within an Empathic Working Alliance 251
Toward a Change Focus 251
Socialization Challenges to Motivating Others 251
Motivation in the Working Alliance 252
Service Entry, Autonomy, and Client Motivation 252
Toward Understanding Motivation 254
Internal Versus External Motivation 254
Affective Orientation 256
Accessing Motivating Emotion 259
Integrating Motivating Feelings Into the Alliance 259
Allying With Motivating Feelings 261
Developing Affective Tension 262
Managing Ambivalence 264
Promoting Autonomy 265
Exercise 11.1: Communicating Motivation 266
Enhancing Motivation Through the Working Alliance 267
Deepening the Alliance 267
Seeding Change 269
Providing Focus 271
Exercise 11.2: Making Demands for Work 274
Motivation in Larger Client Systems 274
Cultural Considerations 275
Critical Chapter Themes 277
Online Resources 277
Recommended Reading 277
Chapter 12 Building Multisystemic Working Alliances 279
Collaborative Models, Evidence-Based Practice, and Community Partners 279
Systems of Care Breakdowns and Solutions 280
Toward Collaborative Practice 280
Building Multiple Alliances 281
Alliances and Helping Systems 281
Multisystemic Alliances and Informal Supports 281
Informal Support Networks 282
Using Informal Supports 283
Multisystemic Alliances With Formal Supports 284
Working With Formal Service Networks 284
Skills of Multisystemic Alliances 286
Socialization Challenges to Multiple Alliances 287
Skill Adaptations for Multiple Alliances 288
Organizational Challenges in Multisystemic Alliances 291
Multisystemic Overload 291
Service Gaps 294
Unresponsive Service Providers 295
Exercise 12.1: Working Across Organizations 297
Professional Ethics and Multisystemic Work 299
Professional Ethics and Informal Supports 299
Exercise 12.2: Supporting Multiple Alliances 300
Critical Chapter Themes 301
Online Resources 302
Recommended Reading 302
Chapter 13 Managing Threats to the Working Alliance 303
From Resistance to Alliance Considerations 303
Alliance Ruptures 303
Socialization Challenges 305
Cultural and Social Considerations 307
Identifying Threats to the Alliance 308
Alliance Ruptures 308
Assessing the Rupture 309
Practitioner-Related Alliance Threats 309
Subjugation-Based Ruptures 310
Confrontational Threats 310
Disengagement Threats 311
Exercise 13.1: Dealing With Worker-Related Problems 313
Collaborator Threats 314
Working With Collaborator Threats 314
Responding to Collaborator Ruptures 315
Exercise 13.2: Navigating Client Challenges to the Alliance 319
Larger Client System Alliances 320
Alliance Threats in Larger Systems 320
Responding to Larger System Threats 321
Critical Chapter Themes 321
Online Resources 321
Recommended Reading 322
Chapter 14 Ending the Working Alliance 323
Socialization Challenges to Endings 323
Learned Patterns of Ending 323
Experience of Ending 324
Time Orientation and Life Organization 324
Impact of Ending the Working Alliance 326
Ending-Related Disorientation 327
Managing the Ending Process 328
Timing the Introduction 328
Pacing the Ending Process 330
Managing Relational Histories 331
Past to Present Endings 331
Exercise 14.1: Responding to the Past 333
Processing Present Endings 334
Validating Progress 334
Exercise 14.2: Present-Oriented Responding 337
Developing the Future Orientation 338
Future Oriented Tasks 338
Exercise 14.3: Future-Oriented Responding 340
Critical Considerations 341
Premature Termination 341
Cultural and Social Considerations 342
Endings and Evidence-Based Practice 342
Critical Chapter Themes 343
Online Resources 343
Recommended Reading 343
References 345
Author Index 371
Subject Index 381
About the DVD 393
See More
D. MARK RAGG is a Professor at Eastern Michigan University's School of Social Work, teaching in both the BSW and MSW programs, with a focus on practice and child/family courses. His current research focuses on issues of evidence-based practice, sustainability in community settings, adapting practices to achieve a cultural/ethnic fit, working with families and youth, and developing effective interpersonal practice competencies.
See More
"Through chapter content on theory, evidence, practice literature and case examples, D. Mark Ragg has demonstrated great ability to clarify and simplify complex concepts. In this text, Ragg demonstrates his aptitude for integrating theoretical models, research findings, social work practice literature and the development of core competencies. This text is constructed in a way that is accessible, understandable and extremely valuable to social work students."
—
James C. Piers
, PhD, LMSW, Professor and Social Work Program Director Hope College
"A masterful practice text that provides students with a comprehensive presentation of social work skills and concepts. Throughout, students are guided to employ critical thinking in every aspect of their skill attainment, and with the multiple systems of engagement they will face. Each topic is clearly defined and illustrated with precise examples and case vignettes in a pedagogically effective integration of the art and science of social work practice."
—Professor Mitchell Kahn, BSW Program Director Ramapo College of New Jersey
"Mark Ragg has written an excellent book that is easy to read and yet maintains a particularly high level of applicability. He has broken down the concepts we use in generalist practice and explained them in terms that are easy to visualize and make sense. Students will find the textbook accessible, meaningful and very applicable to their work in this field."
—Debashis Dutta, M.S.W. (R.S.W.),Coordinator, Human Services Foundation Program, Conestoga College, Kitchener Ontario, Lecturer, School of Social Work, Renison University College/University of Waterloo, Waterloo Ontario
See More
"Through chapter content on theory, evidence, practice literature and case examples, D. Mark Ragg has demonstrated great ability to clarify and simplify complex concepts.  In this text, Ragg demonstrates his aptitude for integrating theoretical models, research findings, social work practice literature and the development of core competencies. This text is constructed in a way that is accessible, understandable and extremely valuable to social work students."
--James C. Piers, PhD, LMSW, Professor and Social Work Program Director, Hope College
 "A masterful practice text that provides students with a comprehensive presentation of social work skills and concepts. Throughout, students are guided to employ critical thinking in every aspect of their skill attainment, and with the multiple systems of engagement they will face. Each topic is clearly defined and illustrated with precise examples and case vignettes in a pedagogically effective integration of the art and science of social work practice."
-- Professor Mitchell Kahn, BSW Program Director, Ramapo College of New Jersey
 "Mark Ragg has written an excellent book that is easy to read and yet maintains a particularly high level of applicability. He has broken down the concepts we use in generalist practice and explained them in terms that are easy to visualize and make sense. Students will find the textbook accessible, meaningful and very applicable to their work in this field."
--Debashis Dutta, M.S.W. (R.S.W.), Coordinator, Human Services Foundation Program, Conestoga College, Kitchener Ontario, Lecturer, School of Social Work, Renison University College/University of Waterloo, Waterloo Ontario 
See More
Instructors Resources
Request a print evaluation copy
Contact us

Contact your Wiley Representative
Find Your Rep

See More
See Less