Textbook
Advancing Executive Coaching: Setting the Course for Successful Leadership Coaching
ISBN: 978-0-470-55332-9
544 pages
November 2010, ©2011, Pfeiffer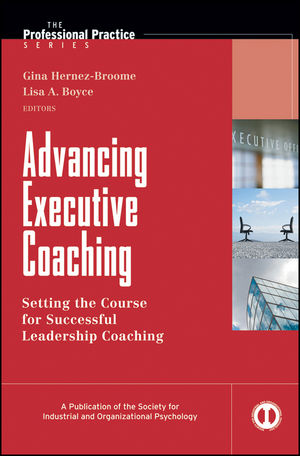 Praise for Advancing Executive Coaching
"Rich in content, this book is an impressive and varied review of the field of coaching from a notable assembly of authors. It is thought provoking yet practical, and represents an important contribution to a fast-moving field. A must read for anyone interested in executive coaching and all organizations that want to implement coaching "
—Marshall Goldsmith, executive coach and author of the New York Times best-sellers, MOJO and What Got You Here Won't Get You There
"This excellent book on executive coaching takes the reader on an exciting journey of discovery and explores the link between practice and research. A great resource for HR professionals and coaches."
—Professor Stephen Palmer, Ph.D., director of the Coaching Psychology Unit, City University, London, United Kingdom
"If you are looking for a solid evidence-based book on leadership and executive coaching – look no further. From tools and techniques, to theoretical frameworks and practice advice on how to implement and measure leadership coaching – it's all here. A must-have for the novice and experienced executive coach alike. Enjoy!"
—Anthony M. Grant, Ph.D., director, Coaching Psychology Unit, University of Sydney
"The book offers both tested strategies and techniques and an exploration of emerging issues and new directions."
—Cindy McCauley, Ph.D., senior fellow at the Center for Creative Leadership
"The editors have compiled an 'all-star' roster of authors who tackle issues from implementing and evaluating coaching programs to maximizing the effectiveness of individual coaching relationships. This book will be a must have for anyone interested in world-class executive coaching."
—Kurt Kraiger, Ph.D., 2010 SIOP President, Professor and Director of the Industrial and Organizational Psychology Program at Colorado State University
See More
Foreword xiii
Allen I. Kraut
Preface xvii
Gina Hernez-Broome and Lisa A. Boyce
The Editors xxiii
The Contributors xxv
Introduction: State of Executive Coaching: Framing Leadership Coaching Issues xliii
Lisa A. Boyce and Gina Hernez-Broome
Section One: Your Traveling Companions: Coach, Client, and Organizational Issues 1
1. Activating the Active Ingredients of Leadership Coaching 3
Sandra L. Davis and D. Douglas McKenna
2. The Coach: Ready, Steady, Go! 31
Brian O. Underhill
3. Learning to Coach Leaders 47
Robert J. Lee and Michael H. Frisch
4. Good to Great Coaching: Accelerating the Journey 83
David B. Peterson
5. The Client: Who Is Your Coachee and Why Does It Matter? 103
Anna Marie Valerio and Jennifer J. Deal
6. Maximizing Impact: Creating Successful Partnerships Between Coaches and Organizations 123
Erica Desrosiers and David H. Oliver
Section Two: The Journey: Processes and Practices of Leadership Coaching 149
7. Building the Coaching Alliance: Illuminating the Phenomenon of Relationship in Coaching 151
Travis Kemp
8. Coaching Programs: Moving Beyond the One-on-One 177
Lorraine Stomski, Janis Ward, and Mariangela Battista
9. Ethics in Coaching 205
Jonathan Passmore and Lance Mortimer
10. Tools and Techniques: What's in Your Toolbox? 229
Ann M. Herd and Joyce E. A. Russell
11. E-Coaching: Accept it, It's Here, and It's Evolving! 285
Lisa A. Boyce and David Clutterbuck
Section Three: "Recalculating" Directions: Evaluating the Effectiveness of Leadership Coaching 317
12. Evaluating the Effectiveness of Coaching: A Focus on Stakeholders, Criteria, and Data Collection Methods 319
Katherine Ely and Stephen J. Zaccaro
13. Evaluating the ROI of Coaching: Telling a Story, Not Just Producing a Number 351
Merrill C. Anderson
14. The Coaching Impact Study™: A Case Study in Successful Evaluation 369
Derek Steinbrenner and Barry Schlosser
15. What Clients Want: Coaching in Organizational Context 401
Douglas Riddle and Natalie Pothier
16. New Directions: Perspective on Current and Future Leadership Coaching Issues 431
Paul Tesluk and Jeffrey Kudisch
Name Index 455
Subject Index 463
See More
Gina Hernez-Broome
is a professor in Organizational Leadership at the University of the Rockies. She is a former program manager for the Design and Delivery Faculty team and was lead researcher for coaching research and evaluation efforts at the Center for Creative Leadership.
Lisa A. Boyce is a Colonel in the United States Air Force Reserves with over 20 years of Industrial/Organizational Psychology research, teaching, consulting, and coaching experience for the United States and Australian militaries, as well as private and non-profit organizations. Currently, Lisa is the Reserve Scientist and Deputy Site Commander of the European Office of Aerospace Research and Development in London, where she employs her years of research and practitioner experience by evaluating and funding behavioral science research grants and conference sponsorships.
About SIOP A division of the American Psychological Association and established in 1945, the Society for Industrial and Organizational Psychology is the premier association for professionals charged with enhancing human well-being and performance in organizational and work settings. They have more than 7,000 members.
See More
More in this series