Textbook
Foundations of College Chemistry, Student Solutions Manual, 13th Edition
ISBN: 978-0-470-55492-0
308 pages
July 2010, ©2011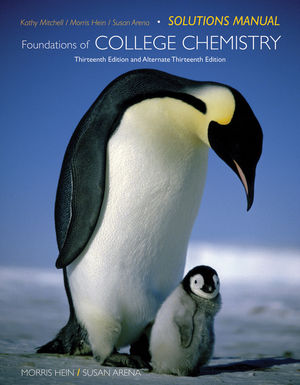 Learning the fundamentals of chemistry can be a difficult task to undertake for health professionals. For over 35 years, this text has helped them master the chemistry skills they need to succeed. It provides them with clear and logical explanations of chemical concepts and problem solving. They'll learn how to apply concepts with the help of worked out examples. In addition, Chemistry in Action features and conceptual questions checks brings together the understanding of chemistry and relates chemistry to things health professionals experience on a regular basis.
See More
•     Chapters 1-4 restructured for smoother start
•     Previous chapter 3 content(physical states, classification of matter) has been moved to chapter 1 to provide a stronger emphasis on matter
•     New section added to Chapter 3 to provide a clear framework for problem solving.
•     New Problem Solving Strategy boxes to highlight how to think about working chemistry problems.
•     New Rules boxes added to emphasize the procedures used in chemistry nomenclature and mathematics.
•     Examples have be rewritten using the new overall approach to problems solving and incorporate the use of the Problem solving Strategy boxes. 
•     15-20% new of the end of chapter problems
•     Additional Catalyst problems added to end of chapter problems to highlight the connection of the text to on-line study materials
•     Updated molecular art and glassware
•     More macro-molecular art, where appropriate
See More
•     Clear and logical explanations of chemical concepts
•     Step-by-step approach to problem solving
•     Varied levels of questions and problems
•     Worked-out examples relating to the real world
See More