E-book
Best Practices in Talent Management: How the World's Leading Corporations Manage, Develop, and Retain Top Talent
ISBN: 978-0-470-55523-1
336 pages
December 2009, Pfeiffer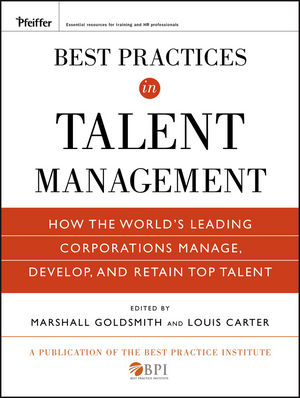 Praise for Best Practices in Talent Management
"This book includes the most up-to-date thinking, tools, models, instruments and case studies necessary to identify, lead, and manage talent within your organization and with a focus on results. It provides it all—from thought leadership to real-world practice."
Patrick Carmichael
head of talent management, refining, marketing, and international operations, Saudi Aramco
"This is a superb compendium of stories that give the reader a peek behind the curtains of top notch organizations who have wrestled with current issues of talent management. Their lessons learned are vital for leaders and practitioners who want a very valuable heads up."
Beverly Kaye
Founder/CEO: Career Systems International and Co-Author, Love 'Em or Lose 'Em
"This is a must read for organization leaders and HR practitioners who cope with the today's most critical business challenge—talent management. This book provides a vast amount of thought provoking ideals, tools, and models, for building and implementing talent management strategies. I highly recommend it!"
Dale Halm
Organization Development Program Manager, Arizona Public Service ?
"If you are responsible for planning and implementing an effective talent and succession management strategy in your organization, this book provides the case study examples you are looking for."
Doris Sims
Author, Building Tomorrow's Talent
"A must read for all managers who wish to implement a best practice talent management program within their organization"
Fariborz Ghadar
William A. Schreyer Professor of Global Management, Policies and Planning Senior Advisor and Distinguished Senior Scholar Center for Strategic and International Affairs Founding Director Center for Global Business Studies
See More
Introduction (Louis Carter).
Acknowledgments.
How to Use This Book.
1 Avon Products, Inc. (Marc Effron).
Introduction.
A Success-Driven Challenge.
The Turnaround.
The Talent Challenge.
Execute on the "What," Differentiate with "How".
From Opaque to Transparent.
From Complex to Simple.
From Egalitarian to Differentiated.
From Episodic to Disciplined.
From Emotional to Factual.
From Meaningless to Consequential.
The Results of a Talent Turnaround.
Measuring the Talent Turnaround's Success.
2 Bank of America (Brian Fishel and Jay Conger).
Introduction.
Leadership Development Activities for Executive Leaders.
Lessons for Designing On-Boarding for Executive Leaders.
3 Corning Incorporated (Richard A. O'Leary, Gary Jusela, and Heath N. Topper).
Introduction.
The Business Case for the Accelerated Development of Corning Program Managers.
The Design Flow: Two Weeks of Experiential Learning with an Interim. Period of Coaching and Mentoring.
Outcomes and Next Steps for Growing the Talent Pipeline of Program Leaders.
Next Steps.
4 Customer and Enterprise Services Division (CES) (Michael Schecter, John Parker, and Judy Zaucha).
Business Background and Challenges.
The Roots of the CES Transformation: Leadership and Process.
Diagnosing and Designing the Whole System Transformation: The Leadership Alignment Event.
Implementing the Whole System Transformation: The Waves.
Supporting and Reinforcing the Whole System Transformation.
Evaluation of the CES Whole System Transformation
5 Ecolab, Inc. (Robert C. Barnett, Michael L. Meyer, Sarah J. Murphy, and Susan M. Metcalf).
Introduction..
Company Background
Ecolab's 2002–2007 Strategic Plan.
Culture Is Critical.
Ecolab's Talent Management Philosophy.
The Ecolab Talent Pipeline.
The Importance of Individual Development.
Introducing the Pipeline Model to Ecolab.
Supporting Successful Implementation.
Keeping the Pipeline Full.
Results.
Conclusion.
6 GE Money Americas (Tammy Grisham and D. Zachary Misko).
Introduction.
Company Background and Environment.
The Challenge and Approach.
The Technology.
Strategy Sourcing.
LEAN Methodologies.
Expansion.
Conclusion.
7 Internal Revenue Service (Susan Clayton, Victoria Baugh, and Mathew J. Ferrero).
Introduction.
Company Background and Current Leadership Environment.
The 21st Century IRS.
Leadership Succession Planning—The Challenges.
LSR Website and Infrastructure.
Results.
Indicators of Success.
Evaluation.
Next Steps.
Conclusion.
8 Kaiser Permanente Colorado Region (Margaret Turner).
Introduction.
Design.
Process.
Implementation.
Support and Reinforce.
Evaluation.
Next Steps.
Conclusion.
9 McDonald's (James Intagliata and Neal Kulick).
Context for Global Talent Management Initiatives.
Evolution of the Talent Management System: Key Initiatives and Enhancements.
Overall Summary.
10 Microsoft Corporation (Shannon Wallis, Brian Underhill, and Carter McNamara).
Introduction.
What Led Microsoft SMSG to Make the Change.
Expo Leaders Building Leaders—The New High-Potential Development.
Experience.
The Process of Redesigning the High-Potential Development Experience.
Coaching as a Primary Development Component for HiPo Development in SMSG.
Learning Circles as a Primary Development Component for HiPo Development in SMSG.
Conclusion.
11 Murray & Roberts Limited (Zelia Scares).
Introduction.
Design and Alignment.
Implementation.
Evaluation.
Summary.
12 Porter Novelli (Greg Waldron).
Introduction.
Program Implementation.
Performance Management System Development
Evaluation
13 Southern Company (Jim Greene).
Introduction.
Background.
Initial Improvements.
The Leadership Action Council.
Competency Model.
Leadership Assessment.
Succession Planning.
Identification of Potential Successors and High-Potential. Individuals.
Leadership Database.
Development Activities.
Evaluation and Lessons Learned.
14 Whirlpool Corporation (Kristen Weirick).
Introduction.
The Business Challenge.
Design and Approach.
Evaluation.
Next Steps.
Summary.
Conclusion.
Epilogue (William Rothwell).
Index.
About Best Practice Institute.
About the Editors.
See More
Marshall Goldsmith, Ph.D., is one of a select few advisors who have been asked to work with over 120 major CEOs and their management teams. A prolific author, his book What Got You Here Won't Get You There was ranked as the #1 best-selling business book by the The New York Times and The Wall Street Journal. For ten years, he served as a member of the Board of the Peter Drucker Foundation.
Louis Carter is the Founder and CEO of the Best Practice Institute, and a world-renown leadership and organization change advisor. He is the author of over nine books on best practices including Change Champion's Fieldguide and Best Practices in Leadership Development and Change.
Best Practice Institute (BPI) is an association of executives and leaders who share and pioneer best methods of organizational change. Best Practice Institute produces online learning sessions, webinars, Benchmark Research Groups, publications, and certification programs. (www.bpiworld.com)
See More