Organic Syntheses, Volume 86
ISBN: 978-0-470-55614-6
Hardcover
403 pages
December 2009
US $82.95

Add to Cart
This price is valid for United States. Change location to view local pricing and availability.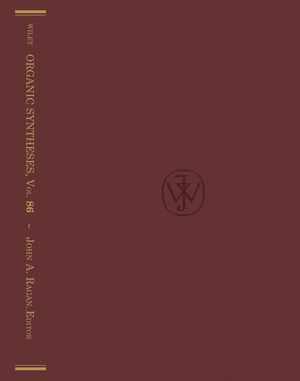 Preparation of (3,5-Dimethoxy-1-Phenyl Cyclohexa-2,5-Dienyl)-Acetonitrile Through Birch Reductive Alkylation (BRA) (
Raphael Lebeuf, Muriel Berlande, Frédéric Robert, and Yannick Landais)
.
Synthesis of Tert-Butyl (1S,2S)-2-Methyl-3-Oxo-1-Phenylpropylcarbamate By Asymmetric Mannich Reaction (Jung Woon Yang, Subhas Chandra, Pan, and Benjamin List).
Synthesis of Pyrazolo[1,5-a]Pyridines Via Azirines: Preparation of 2-(3-Bromophenyl)-6-(Trifluoromethyl)Pyrazolo[1,5-a]Pyridine (Stephen Greszler and Kirk L. Stevens).
Benzyl Alcohol as an Alkylating Agent Using the Ruthenium-Catalyzed Borrowing Hydrogen Strategy (Tracy D. Nixon, Paul A. Slatford, Michael K. Whittlesey and Jonathan M. J. Williams).
2-(2,2-Dibromoethenyl)-Benzenamine (Christopher Bryan, Valentina Aurregi and Mark Lautens).
(S)-(-)-2-Allylcyclohexanone (Manfred Braun, Panos Meletis, and Mesut Fidan).
Preparation of 4-Spirocyclohexyloxazolidinone By C-H Bond Nitrene Insertion (Kim Huard and Hélène Lebel).
Preparation of (S)-4-Isopropyl-N-Propanoyl-1,3-Thiazolidine-2-Thione (Erik Gálvez, Pedro Romea, and Felix Urpi).
Stereoselective Synthesis of Anti α-Methyl-ß-Methoxy Carboxylic Compounds (Erik Gálvez, Pedro Romea, and Fèlix Urpi).
Synthesis of 2-Arylindole-4-Carboxylic Amides: [2-(4-Fluorophenyl)-1H-Indol-4-YL]-1-Pyrrolidinylmethanone (Jeffrey T. Kuethe and Gregory L. Beutner).
Palladium (II) Acetate-Butyldi-1- Adamantylphosphine Catalyzed Arylation of Electron-Rich Heterocycles. Preparation of 5-Phenyl-2-Isobutylthiazole (Anna Lazareva, Hendrich A. Chiong, and Olafs Daugulis).
Mild and Efficient One-Pot Curtius Rearrangement: Preparatino of N-Tert-Butyl Adamantanyl-1-YL-Carbamate (Olivier Leogane and Hélène Lebel).
Enantioselective Oxidation of An Alkyl Aryl Sulfide: Synthesis of (S)-(-) Methyl p-Bromophenyl Sulfoxide (Carmelo Drago, Emma-Hane Walker, Lorenzo Caggiano and Richard F. W. Jackson).
Protection of Diols with 4-(tert-Butyldimethylsilyloxy)Benzylidene Acetal and Its Deprotection:(4-((4R,5R)-4,5-Diphenyl-1,3-Dioxolan-2-YL) Phenoxy) (Tert-Butyl)Dimethylsilane (Hiroyuki Osajima, Hideto Fujiwara, Kentaro Okano, Hidetoshi Tokuyama, and Tohru Fukuyama).
Synthesis of 2-[3,3'-DI-(Tert-Butoxycarbonyl)-Aminodipropylamine]-4,6,-Dichloro-1,3,5-[Tris-Piperazine]-Triazine As a Core for the Large Scale Syntehsis of Melamine (Triazine) Dendrimers (Abdellatif Chouai, Vincent J. Venditto, and Eric E. Simanek).
Large Scale, Green Syntehsis of a Generation-1 Melamine (Triazine) Dendrimer) (Abdellatif Chouai, Vincent J. Venditto, and Eric E. Simanek).
The Direct Acyl-Alkylation of Arynes. Preparation of Methyl 2-(2-Acetylphenyl) Acetate (David C. Ebner, Uttam K. Tambar, and Brian M. Stoltz).
Convenient Preparation of 3-Ethoxycarbonyl Benzofurans From Salicylaldehydes adn Ethyl Diazoacetate (Matthew E. Dudley, M. Monzur Morshed, and M. Mahmun Hossain).
Preparation of (S)-Tert-Butylphon (Michael R. Krout, Justin T. Mohr, and Brian M. Stoltz).
Preparation of (S)-2-Allyl-2-Methylcyclohexanone (Justin T. Mohr, Michael R. Krout, and Brian M. Stoltz).
Phosphine-Catalyzed [4+2] Annulation: Synthesis of Ethyl 6-Phenyl-1-Tosyl-1,2,5,6-Tetrahydropyridine-3-Carboxylate (Kui Lu and Ohyun Kwon).
Syntehsis of Polyynes by In Situ Desilylative Brominatino and Palladium-Catalyzed Coupling: (7-(Benzyloxy)Hepta-1,3,5-Triynyl) Triisopropylsilane (Soonho Hwang, Hee Ryong Kang, and Sanghee Kim).
Enantioselective Preparation of Dihydropyrimidones (Jennifer M. Goss, Peng Dai, Sha Lou, and Scott E. Schaus).
One-Pot Multicomponent Preparation of Tetrahydropyrzaoloquinolinones and Tetrahydropyrazoloquinazolinones (Toma N. Glasnov and C. Oliver Kape).
(3R,7aS)-3-(Trichloromethyl)Tetrahydropyrrolo[1,2-C]Oxazol-1(3H)-One: An Air and Moisture Stable Reagent For the Synthesis of Optically Active α-Branched Prolines (Gareld D. Artmann III, Ryan J. Rafferty, and Rovert M. Williams).
Vinylation with Inexpensive Silicon-Based Reagents: Preparation of 3-Vinylquinoline and 4-Vinylbenzophenone (Scott E. Denmark and Christophe R. Butler).
Low Pressure Carbonylation of Epoxides to ß-Lactones (John W. Kramer, Daniel S. Treitler, and Geoffrey W. Coates).
Tetrakis(Dimethylamino)Allene (Alois Fürstner, Manuel Alcarazo, and Helga Krause).
Efficient One-Pot Synthesis of Bis(4-Tert-Butylphenyl)Iodonium Triflate (Marcin Bielawski and Berit Olofsson).
Pd(0)-Catalyzed Diamination of Trans-1-Phenyl-1,3-Butadiene with Di-Tert-butyldiaziridinone As Nitrogen Source (Haifeng Du, Baoguo Zhao, and Yian Shi).
Synthesis of Ethyl 2-Ethanoyl-2-Methyl-3-Phenylbut-3-Enoate (Taisuke Fujimoto, Kohei Endo, Masaharu Nakamura, and Eiichi Nakamura).
Synthesis of 4,5-Dimethyl-1,3-Dithiol-2-One (Perumalreddy Chandreasekaran and James P. Donahue).
B-Protected Haloboronic Acids For Iterative Cross-Coupling (Steven G. Ballmer, Eric P. Gillis, and Martin D. Burke).
Rhodium-Catalyzed Enantioselective Addition of Arylboronic Acids to In Situ Generated N-Boc Arylimines. Preparatin of (S)-Tert-Butyl (4-Chlorophenyl) (Thiophen-2-YL)Methylcarbamate (Morten Storgaard and Jonathan A. Ellman).
Magnesiation of Weakly Activated Arenes Using tmp2Mg 2LiC1:Synthesis of Tert-Butyl Ethyl Phthalate (Christoph J. Rohbogner, Andreas J. Wagner, Giuliano C. Clososki, and Paul Knochel).
ERRATA.
1,4-BIS(Trimethylsilyl)Buta-1,3-Diyne (Graham E. Jones, David A. Kendrick, and Andrew B. Holmes).
Buy Both and Save 25%!
Organic Syntheses, Volume 86 (US $82.95)
-and- Organic Syntheses, Volume 88 (US $72.95)
Total List Price: US $155.90
Discounted Price: US $116.92 (Save: US $38.98)
Cannot be combined with any other offers. Learn more.