E-book
White Space Revisited: Creating Value through Process
ISBN: 978-0-470-55689-4
280 pages
December 2009, Pfeiffer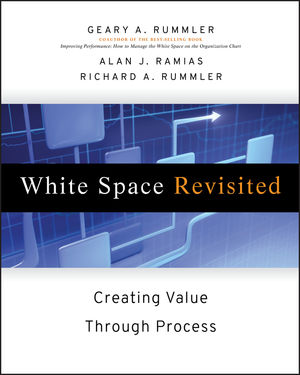 When
Improving Performance: Managing the White Space on the Organization Chart
was published in 1990, it was lauded as the book that launched the Process Improvement revolution. This was the book that first detailed an approach that bridged the gaps between organization strategy, work processes and individual performance. Two decades later,
White Space Revisited
goes beyond a mere revision of that groundbreaking book and refocuses on the ultimate purpose of organizations, which is to create and sustain value.This book picks up where Improving Performance left off and shares what we have learned about process in the past 15 years since it was published and how the reader (primarily practitioners) can capitalize on these notions in their own pursuit of process excellence.
White Space Revisited is a comprehensive resource that offers process and performance professionals a conceptual foundation, a thorough and proven methodology, a set of remarkable working tools for doing process work in a more significant way, and a series of candid observations about the practice of Business Process Management (BPM). The book's time-tested methods, models, tools, and guidelines serve to align people, process, and technology
White Space Revisited includes information on a wealth of vital topics and
Describes the difference in impact of focusing on single processes vs. large scale improvements
Provides an integrated step-by-step blueprint for designing, implementing, and sustaining process management
Offers a detailed methodology for strategic and tactical process definition and improvement
Spells out how to leverage the power of IT to optimize organizational performance
Shows how to integrate the energy and value of Six Sigma, Process Improvement and Process Management into an effective Process Excellence Group
See More
List of Figures and Tables ix
Foreword by Paul Harmon xiii
Preface by Geary A. Rummler xvii
Acknowledgments xix
About the Authors xxi
Introduction 1
PART ONE White Space Revisited 5
1 The Silver Anniversary of Process 7
2 Process in a Value Perspective 23
3 The Value Creation Hierarchy 39
4 Developing the Value Creation Architecture of a Business 77
5 Process Management in the Value Creation Context 97
PART TWO Designing or Improving the Value Machine 117
6 A Framework and Methodology for VCS Design 119
7 RPM Project Walk-Through: Align, Analysis, Design 141
8 RPM Project Walk-Through: Commit, Build, Enable, Adopt 177
9 Other RPM Applications 187
10 Designing Improvement Capability 199
PART THREE Implications 209
11 Process and the IT Department 211
12 Summary 229
Afterword 235
List of Acronyms 237
Notes 239
Index 245
About Performance Design Lab 251
See More
The Authors
GEARY A. RUMMLER (1937–2008) was the founding partner of the Performance Design Lab and of the Rummler-Brache Group, president of the Kepner-Tregoe Group, and cofounder and director of the University of Michigan's Center for Programmed Learning for Business. He was coauthor of the best-selling Improving Performance and Serious Performance Consulting According to Rummler. He was inducted into the HRD Hall of Fame and received the Distinguished Professional Achievement Award from ISPI, the Enterprise Reengineering Excellence Award, the Distinguished Contribution Award for Workplace Learning and Performance from ASTD, and the Lifetime Achievement Award from the Organization Behavior Management Network.
ALAN J. RAMIAS is a partner with Performance Design Lab with 25 years experience in performance improvement and organization effectiveness. As a member of the team that founded Motorola University, he was the first person to introduce Rummler's pioneering concepts in process improvement and management to business units within Motorola. He became a partner and managing director of consulting services at the Rummler-Brache Group, and was responsible for selecting, training, and managing RBG's consultant teams.
RICHARD A. RUMMLER is a partner with Performance Design Lab. He brings more than 15 years of consulting experience with organizations in Asia, Europe, and North America to achieve improvements in organization performance. Rick's experience includes a wide range of interventions, including process improvement and reengineering, organization redesign, and measurement and management system design. These projects have addressed various business subsystems, such as customer acquisition, manufacturing, product development, and customer service.
See More