Upgrading and Fixing Computers Do-it-Yourself For Dummies
ISBN: 978-0-470-55743-3
340 pages
September 2010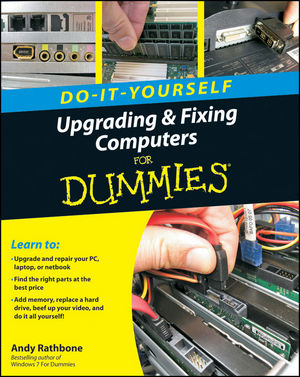 An illustrated, step-by-step guide to repairs and upgrades
Whether you want to prepare your computer for Windows 7, avoid investing in a new one, or just "go green", this fully illustrated guide has what you need. You'll learn how to add printers and new keyboards, boost your PC's performance and increase memory, improve power consumption, rev up your multimedia capacity, and much more. Step-by-step instructions are accompanied by photos that show you exactly what you should see at every stage.
Learn to perform basic upgrades and prepare your PC for high-speed Internet connections, network connections, and added security, all with fully illustrated instructions
Find out how to expand memory, enhance speed, and update your computer's power supply
Prepare an old computer for Windows 7 and beef up your capacity for multimedia
Upgrading & Fixing Computers Do-It-Yourself For Dummies is a show-and-tell course in making your PC happy, healthy, and green.
See More
Introduction.
Part I: Getting Ready to Upgrade.
Chapter 1: Start Here First.
Chapter 2: Assembling Your Tools.
Part II: Making Your Computer Work Better.
Chapter 3: Keyboards, Mice, Game Controllers, and Monitors.
Chapter 4: Printers and Scanners.
Chapter 5: Adding More Memory.
Chapter 6: Adding or Replacing a Hard Drive.
Chapter 7: Adding a DVD Drive.
Chapter 8: Fine-Tuning Your Computer's Sound.
Chapter 9: Beefing Up Your Computer's Video Card.
Chapter 10: Replacing the Power Supply or Laptop Battery.
Part III: Teaching an Old Computer New Tricks.
Chapter 11: Creating a Home Theater with Windows 7's Media Center.
Chapter 12: Upgrading a Computer for Editing Movies.
Chapter 13: Repurposing an Old Computer.
Part IV: Communications.
Chapter 14: Adding or Replacing a Modem.
Chapter 15: Linking Computers with a Network.
Chapter 16: Filtering Out Evil with Firewalls.
Part V: Introducing Parts to Windows.
Chapter 17: Hiring the Right Driver for Windows.
Chapter 18: Installing or Upgrading to Windows 7.
Chapter 19: Troubleshooting and Fixing Windows 7.
Chapter 20: Moving from the Old Computer to the New Computer.
Part VI: The Part of Tens.
Chapter 21: Ten Ways to Find Help Online.
Chapter 22: Ten Cheap Fixes to Try First.
Appendix: The Rathbone Reference of Fine Ports.
Index.
See More
Andy Rathbone is a bestselling author of computer reference books including Windows For Dummies, which has sold millions of copies in its several editions. Andy has also covered consumer technologies such as TiVo and MP3 players.
See More