E-book
Teach Yourself VISUALLY iLife '09
ISBN: 978-0-470-55940-6
432 pages
April 2011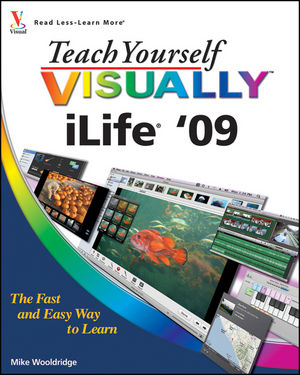 Make the most of your iLife with this full-color guide to Apple's exciting new digital lifestyle suite
Every Mac computer comes preloaded with iLife, which consists of iPhoto, iWeb, iMovie, iDVD, and GarageBand,. With iLife, you can turn a home movie into an Oscar-worthy film, compose and record original music, create Web sites and blogs, and do so much more. Full-color throughout, this book captures the essence of iLife and gets you up to speed on all the new features of the latest release.
Packed with helpful examples, straightforward tasks, and step-by-step instructions, Teach Yourself VISUALLY iLife '09 encourages you to learn each application within iLife '09 at your own pace. You'll discover how to organize, manage, and share your digital content like never before.
iLife allows you to do more with your movies, music, and photos than ever before, and this introduction walks you through all the essentials of this digital lifestyle suite
Enhance, edit, and present images using iPhoto; create and update a Web site in no time with iWeb; record, edit, and arrange songs with GarageBand
Full-color screen shots, easy-to-follow instructions, and helpful examples serve to get you started using each application immediately
Whether you're looking to organize and share photos, edit and enhance home movies, or record music using software instruments, this useful book is an ideal introduction to iLife '09.
See More
chapter 1 Getting Started with iLife '09.
chapter 2 Exploring iLife '09 on the Mac.
chapter 3 Importing and Viewing Photos.
chapter 4 Organizing Photos.
chapter 5 Editing Photos.
chapter 6 Sharing Photos.
chapter 7 Importing and Organizing Movies.
chapter 8 Editing Movies.
chapter 9 Adding Audio to Movies.
chapter 10 Adding Special Effects to Movies.
chapter 11 Sharing a Movie.
chapter 12 Editing and Mixing Music.
chapter 13 Recording Music.
chapter 14 Sharing Music.
chapter 15 Learning to Play Music.
chapter 16 Setting Up a Web Site.
chapter 17 Content.
chapter 18 Adding Custom Features to a Web Site.
chapter 19 Publishing a Web Site.
chapter 20 Creating a DVD Project.
chapter 21 Editing a DVD Project.
chapter 22 Sharing a DVD Project.
See More