Cognitive Behavior Therapy: Core Principles for Practice
ISBN: 978-0-470-56049-5
464 pages
July 2012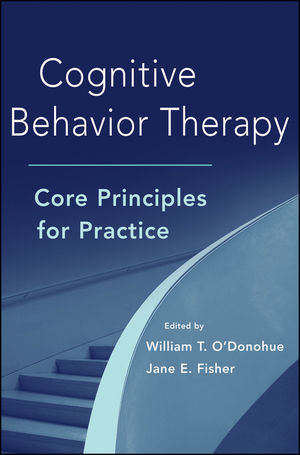 Learn and apply the 14 core principles of cognitive behavior therapy
In this invaluable guide, clinicians will find—identified and summarized by leading researchers and clinicians—fourteen core principles that subsume the more than 400 cognitive behavioral therapy (CBT) treatment protocols currently in use, so they may apply them to their everyday practice. This unique contribution to the field provides practitioners with a balance of history, theory, and evidence-based applications.
Edited by renowned experts in the field, Cognitive Behavior Therapy explores the core principles behind all CBT protocols including:
Clinical functional analysis
Skills training
Exposure
Relaxation
Cognitive restructuring
Problem solving
Self-regulation
A straightforward introduction to CBT principles with guidance for all mental health professionals seeking to improve the lives of clients spanning a range of psychological problems, Cognitive Behavior Therapy is designed for both new and experienced clinicians alike who want to deepen and broaden their understanding of CBT principles.
See More
Acknowledgments vii
Contributors ix
CHAPTER 1 THE CORE PRINCIPLES OF COGNITIVE BEHAVIOR THERAPY 1
William T. O'Donohue and Jane E. Fisher
CHAPTER 2 CLINICAL FUNCTIONAL ANALYSIS: UNDERSTANDING THE CONTINGENCIES OF REINFORCEMENT 13
Clair Rummel, Christina Garrison-Diehn, Casey Catlin, and Jane E. Fisher
CHAPTER 3 SKILLS TRAINING 37
Michael P. Twohig and John P. Dehlin
CHAPTER 4 EXPOSURE THERAPY: PROMOTING EMOTIONAL PROCESSING OF PATHOLOGICAL ANXIETY 75
Alyson K. Zalta and Edna B. Foa
CHAPTER 5 RELAXATION 105
Holly Hazlett-Stevens and Douglas A. Bernstein
CHAPTER 6 COGNITIVE RESTRUCTURING 133
Robert L. Leahy and Simon A. Rego
CHAPTER 7 PROBLEM SOLVING 159
Arthur M. Nezu and Christine Maguth Nezu
CHAPTER 8 SELF-REGULATION 183
Paul Karoly
CHAPTER 9 BEHAVIORAL ACTIVATION 215
Jonathan W. Kanter and Ajeng J. Puspitasari
CHAPTER 10 SOCIAL SKILLS 251
Joanna E. Strong Kinnaman and Alan S. Bellack
CHAPTER 11 EMOTION REGULATION AND CBT 273
Anthony Papa, Matthew Boland, and M. Todd Sewell
CHAPTER 12 COMMUNICATION 325
Justin A. Lavner and Thomas N. Bradbury
CHAPTER 13 PRINCIPLES OF POSITIVE PSYCHOLOGY 353
Jeana L. Magyar-Moe
CHAPTER 14 ACCEPTANCE AND COGNITIVE BEHAVIOR THERAPY 377
Kelly G. Wilson, Maureen K. Flynn, Michael Bordieri, Stephanie Nassar, Nadia Lucas, and Kerry Whiteman
Author Index 399
Subject Index 425
See More
WILLIAM T. O'DONOHUE, PhD, Professor of Clinical Psychology at the University of Nevada, Reno, is also a licensed clinical psychologist widely recognized in the field for his knowledge of empirically supported cognitive behavioral therapies. He has edited over twenty books, written thirty-five book chapters, and published more than seventy-five articles in scholarly journals. Dr. O'Donohue is a national expert in training clinicians in integrated care and developing quality improvement projects in integrated care.
JANE E. FISHER, PhD, is Professor of Psychology and former director of clinical training at the University of Nevada, Reno. Her research interests include aging and behavioral health; applied behavior analysis; and the integration of evidence-based behavioral healthcare in primary and long-term care settings.
See More