Behind the Berkshire Hathaway Curtain: Lessons from Warren Buffett's Top Business Leaders
ISBN: 978-0-470-56062-4
Hardcover
178 pages
April 2010
US $24.95

Add to Cart
This price is valid for United States. Change location to view local pricing and availability.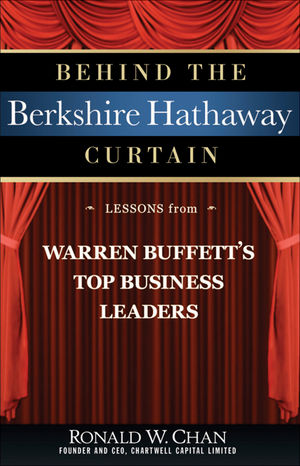 Other Available Formats:
E-book
April 26, 2010
Behind the Berkshire Hathaway Curtain
Connect with Wiley Publicity
Warren Buffett is a legend primarily for his philosophy on investing. He isn't concerned about the intricacies of the market, instead, he focuses on the quality of the companies Berkshire Hathaway stands behind. But how much do we know about the leaders of the companies that Buffett handpicks? In BEHIND THE BERKSHIRE HATHAWAY CURTAIN: Lessons from Warren Buffett's Top Business Leaders (Wiley; May 2010; $XX), author Ronald Chan—the founder and CEO of Chartwell Capital—offers an inside look at the leaders who have contributed to Berkshire's great success.
Through exclusive interviews with top executives and CEOs, author Ronald Chan takes us behind the scenes to learn about the early career and life decisions made by the executives at Berkshire Hathaway. Chan explores the career courses these individuals charted, what valuable learning experiences they gained along the way, and how they became part of the world's most dynamic conglomerate.
Filled with practical insights and advice, this invaluable resource:
*Contains lessons that's both executives and employees can use to improve their performance and leadership skills
*Provides in depth interviews with Berkshire Hathaway executives and CEOs, including David Sokol of MidAmerican Energy, Walter Scott Jr. of Level 3 Communications, Cathy Baron Tamraz of Business Wire, Brad Kinstler of See's Candies, and many more
*Offers a wide range of business philosophies, strategies, and mindsets from people at the top of their fields.
With BEHIND THE BERKSHIRE HATHAWAY CURTAIN, Chan has brought to life how an exceptional group of managers have contributed to a culture of achievement and how their lessons can be applied—in both the workplace and life—for great career success and personal fulfillment.