E-book
Leading the Virtual Workforce: How Great Leaders Transform Organizations in the 21st Century
ISBN: 978-0-470-56189-8
192 pages
October 2009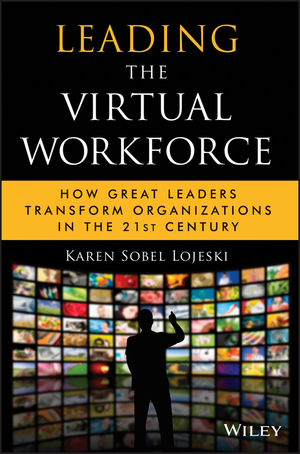 Leading the Virtual Workforce
How Great Leaders Transform Organizations in the 21st Century
Praise for Leading the Virtual Workforce
"Strong leadership in the best of times is difficult to achieve, but in today's rapidly changing business environment, leaders are tested in many new ways. Once again, Lojeski has a fresh take on what it takes to lead today's widely dispersed workforce."
—Ellen Pearlman, former editor-in-chief, CIO Insight magazine
"Karen Lojeski has distilled the essence of the leader's role in 'managing' virtual teams. Her very relevant case stories illustrate that to be successful, the authentic leader must be able to create context and a collaborative lexicon for virtual knowledge sharing and must work diligently to build the social capital that is so vital to the success of virtual work groups. Karen's key contribution in this and her previous book, Uniting the Virtual Workforce, is the 'discovery' and clear articulation of her theory of the Virtual Distance Index, which leaders can use to measure and manage the process of virtual teamwork."
—Dave Davison, Chairman, Virtual Visuals Inc.
"I agree entirely with Karen when she says that today, more than ever, effective leaders are desperately needed. She skillfully defines the dislocation and demarcation of leaders from followers through the 'Virtual Distance,' and yet paradoxically calls leaders to 'stoke the flames of innovation and cooperation in a complex, interwoven world.' This gives rise to her exploration of the Virtual Distance Leader. As Karen points out, the twenty-first-century leader must, amidst the conditions of pressure, change, and transformation, bring human endeavor and action to value and meaning for others."
—Adrian Machon, Director, Executive & Leadership Development, GlaxoSmithKline
See More
Microsoft Executive Leadership Series: Series Foreword ix
Preface xi
About the Interviewees xxi
Acknowledgments xxxiii
Chapter 1 1
A Whole New World
Chapter 2 17
A Brief History of Leadership
Chapter 3 33
Creating Context
Chapter 4 49
Cultivating Communities
Chapter 5 61
Co-Activating New Leaders
Chapter 6 77
Techno-Dexterity
Chapter 7 93
The Virtual Distance Leadership Model
Chapter 8 113
The Future of Leadership As We Know it
Chapter 9 123
A Different View of Leadership Altogether
Appendix A 141
The Virtual Distance Model
Index 151
See More
Karen Sobel Lojeski, PhD, is a Professor at Stony Brook University in the Department of Technology and Society, author, and founder of Virtual Distance International (VDI), an advisory firm specializing in virtual teams, leadership, innovation and learning in the new millennium. Prior to launching VDI and joining Stony Brook, Karen spent eighteen years in corporate America. She held leadership positions at Chase Manhattan Bank N.A., Mercer Consulting Group, and Stratus Computer, Inc. She was Chief Operating Officer for Prolifics, a JYACC company, and Vice President of North America for Xansa. She is a popular speaker on Virtual Distance and other unintended consequences of technology in the wired workplace, school systems, families, and society as a whole.
See More
More in this series