Web Sites Do-It-Yourself For Dummies, 2nd Edition
ISBN: 978-0-470-56520-9
352 pages
January 2010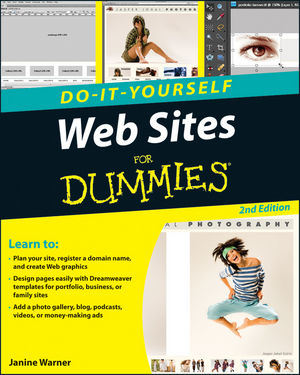 A step-by-step guide to creating your first Web site
Everybody's building cool web sites, but how? Web Sites Do-It-Yourself For Dummies, 2nd Edition, shows you how, with simple, step-by-step instruction that will build your confidence as you build your site.
You'll learn to plan your site and secure a domain name, how to use Dreamweaver for site construction, and how to test and publish your site. You'll also learn about designing a blog, creating a podcast, adding Flash, and even how to make money with your Web site. Dummies makes it easy and fun!
Perfect for those who've never attempted a Web site before, including small-business owners, the family historian, amateur genealogists, and travel buffs
Explains using Web site creation tools including Dreamweaver, Photoshop Elements, Flash, and WordPress
Shows how Web pages work, how to plan and design your site, and what to look for in Web hosting services
Covers editing and creating Web graphics and text, how to customize a site for different purposes, testing, and publishing your site
Provides information on blogs, podcasts, adding Flash, and making money from your site
Web Sites Do-It-Yourself For Dummies, 2nd Edition shows you how to create a Web site you'll be proud of.
See More
Introduction.
Part I: Laying the Groundwork.
Chapter 1: Exploring the Best Ways to Create Web Sites.
Chapter 2: Planning Makes Web Design Easier.
Chapter 3: Securing a Domain Name and Web Host.
Chapter 4: Understanding Web Design.
Part II: Putting the Pages Together.
Chapter 5: Editing and Creating Web Graphics.
Chapter 6: Getting Started with Dreamweaver.
Chapter 7: Creating a Profi le or Portfolio Site.
Chapter 8: Creating a Business Web Site.
Chapter 9: Creating a Family, Vacation, or Hobby Site.
Chapter 10: Testing and Publishing a Web Site.
Part III: Going Web 2.0.
Chapter 11: Designing a Blog.
Chapter 12: Podcasting Your Own Show.
Chapter 13: Multimedia: Adding Flash, Audio, and Video.
Chapter 14: Making Money with Your Site.
Part IV: The Part of Tens.
Chapter 15: Ten Cool Services for Your Site.
Chapter 16: Ten Ways to Promote Your Site.
Index.
See More
Janine Warner is a best-selling author whose books and videos on Web design have won her an international following and earned her speaking and consulting engagements around the world. She runs a Web design and consulting firm and offers tutorials, books, and training videos at www.DigitalFamily.com.
See More