Evidence-Based Treatment Planning for Anger Control Problems Facilitator's Guide
ISBN: 978-0-470-56844-6
72 pages
April 2011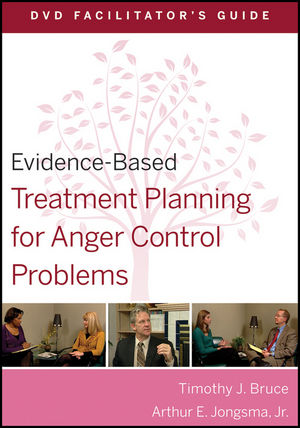 This DVD Facilitator's Guide to the Evidence-Based Psychotherapy Treatment Planning for Anger Control Problems (DVD sold separately) is designed to help teachers or trainers conduct lectures or training sessions on the content of the DVD. The guide follows each section of the DVD, providing succinct summaries of key section content, section review test questions and answers, and test-style questions and answers covering key concepts. Online links are provided to client homework exercises consistent with the therapeutic techniques described and demonstrated on the DVD. References to empirical work supporting the treatments, clinical resource materials, and training opportunities are also cited. The DVD, Companion Workbook, and Facilitator's Guide are designed so that instructors can cover only the content of the DVD or springboard into further coverage of any of the concepts. Optional topics for further discussion, with talking points, are provided in each chapter of the Facilitator's Guide.
Designed to be used in conjunction with the DVD and its Companion Workbook, this guide includes:
Summary highlights of content shown in the DVD
Chapter review questions and answers summarizing key concepts
Test-style questions and answers on selected chapter concepts
Optional topics for further discussion, with talking points
Scripts and critiques of the role-played scenarios demonstrating selected aspects of the ESTs
References to empirical support, clinical resources, and training opportunities for the treatments discussed
Online links to client homework exercises consistent with the therapeutic techniques described and demonstrated
Explanations of correct and incorrect answers to the test-style questions from each chapter
See More
Introduction v
Chapter 1 What Are Anger Control Problems? 1
Chapter 2 What Are the Six Steps in Building a Treatment Plan? 5
Chapter 3 What Is the Brief History of the Empirically Supported Treatments Movement? 7
Chapter 4 What Are the Identifi ed Empirically Supported Treatments for Anger Control Problems? 12
Chapter 5 How Do You Integrate Empirically Supported Treatments Into Treatment Planning? 16
Chapter 6 What Are Considerations for Relapse Prevention? 43
Closing Remarks and Resources 45
Appendix A A Sample Evidence-Based Treatment Plan for Anger Control Problems 47
Appendix B Chapter Review Test Questions and Answers Explained 51
See More
Timothy J. Bruce, PhD, is Professor and Associate Chair of the Department of Psychiatry and Behavioral Medicine at the University of Illinois College of Medicine in Peoria, Illinois, where he also directs medical student education. He is Executive Director of the Center for Evidence-based Mental Health Practices, a state- and federally funded initiative to disseminate evidence-based psychological and pharmacological practices across Illinois.
Arthur E. Jongsma, Jr., PhD, is the Series Editor for the best-selling PracticePlanners®. Since 1971, he has provided professional mental health services to both inpatient and outpatient clients. He was the founder and director of Psychological Consultants, a group private practice in Grand Rapids, Michigan, for twenty-five years. He is the author or co-author of over forty books on Treatment Planning and has conducted training workshops for mental health professionals around the world.
See More