Design Thinking for Interiors: Inquiry, Experience, Impact
ISBN: 978-0-470-56901-6
320 pages
August 2011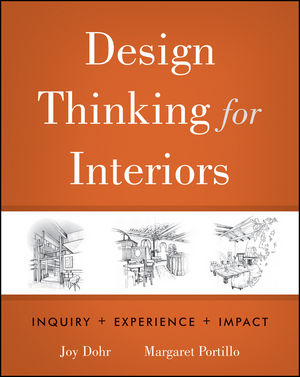 Take a holistic approach to contemporary interior design.
The interior design process is changing. In order to create truly engaging work, designers are developing a deeper and broader understanding of how design theory, research, and existing practice can help them make better decisions. This inquiry provides answers on how design is experienced, and its impact over time.
At the same time, the profession is becoming increasingly collaborative. Designers today work closely with other professionals—such as architects, landscape designers, product designers, anthropologists, and business consultants—in new ways, engaging an expanding network of experts in the design process more than ever before.
Written by renowned scholars Joy Dohr and Margaret Portillo, the book brings interior design theory and research to life utilizing a narrative inquiry approach that offers highly accessible coverage of the interior design world as it exists today. By looking at real-life stories that demonstrate what makes a memorable design, coupled with photographs and drawings to further illustrate these concepts, this book is a must-read for anyone interested in keeping abreast of interior design in the twenty-first century.
See More
Preface
ix
Acknowledgments xv
List of Narratives xvii
Chapter 1 Introduction to Design Engagement 1
A Starting Point 1
Design Engagement Framework 4
Design Engagement as Relational Explained Further 8
From Framework to Markers of Impact 9
Schools of Thought 16
Looking Back . . . Looking Forward 20
Summary 21
Chapter 2 Why Narrative Inquiry? 27
Arriving at Narrative 27
Defining Narrative Inquiry 29
Guiding Narrative Structure 30
Holistic Systems Approach 32
Supporting Evidence-Based Design 35
Premises of Design Narratives 37
Types of Design Narratives 39
Anecdotal Stories 40
Initiating Narratives 42
Research Narratives 44
Visual Communication Narratives 48
Narrative Inquiry for Design Learning, Research, and Practice 52
Summary 53
Chapter 3 Impact Marker: Process of Engagement 57
Engaging the Self 66
Ways of Seeing 66
Ways of Design Thinking 67
Creative Thinking 67
Critical Thinking 69
Consequential Thinking 70
Visualizing, Forming, and Construction 71
Engaging as a Design Team 71
Committing to a Common Purpose 77
Mutual Accountability 79
Understanding Design Tensions 80
Summary 82
Chapter 4 Impact Marker: Contextual Civility 85
Introducing Contextual Civility 85
Related Themes from the Literature 92
Security and Safety 106
Community Service, Nonprofits, and Service Learning 111
Final Thoughts on Contextual Civility 116
Summary 117
Chapter 5 Impact Marker: Empathy 121
Origins of Empathy 122
Related Themes from the Literature 137
Design Sensibilities 142
Final Thoughts on Empathy 149
Summary 150
Chapter 6 Impact Marker: Place Identity 153
Exploring Place Identity 153
Range of Authenticity 159
Vernacular Design 161
Related Themes from the Literature 163
Place Identity beyond Geographic Context 164
Exploring Historically Significant Places 168
Place Identity in Thematic Design 173
Summary 176
Chapter 7 Impact Marker: Innovation 179
Exploring Innovation 179
Related Themes from the Literature 185
Leaps and Adaptations 188
Forms of Creative Engagement 194
Individual Creativity and Innovation 196
Team Creativity and Innovation 197
Environments for Creativity and Innovation 198
Summary 203
Chapter 8 Impact Marker: Maturation 207
Origins of Design Maturation 207
Users and Public Influence 222
Developmental Issues for Beginning Designers 226
Summary 230
Chapter 9 An Epilogue Integrating Impact Markers 233
Where Do We Go from Here? 233
Summing Up Impact Markers 234
Achieving Balance while Embracing Opposites 237
Emerging Issues and Gaps 238
Summing Up Design Thinking 242
Ten Ways of Advancing the Discipline 243
Summary 245
Chapter 10 Using a Narrative Approach 249
Review of Narrative Types 250
Finding a Topic 257
Criteria for Case Selection 258
Employing Mixed Methods 259
Crafting Well-Grounded Narratives 261
Critically Engaging the Literature 264
Summary 265
Endnotes 269
Bibliography 275
Index 285
See More
JOY DOHR, PhD,
is Professor Emeritus at the University of Wisconsin, Madison, where she also was chair of design studies and an associate dean of academic affairs. Dohr presents, writes, and consults on interior design education at graduate and undergraduate levels. She is past president and a Fellow of the Interior Design Educators Council, and has served on the boards of CIDA, the IIDA Foundation, and InformeDesign, among others. She is a recipient of numerous awards recognizing leadership and excellence in design education.
MARGARET PORTILLO, PhD, is Research Foundation Professor and Chair of the Department of Interior Design at the University of Florida in Gainesville. Portillo is Editor in Chief of the Journal of Interior Design (JID). As guest editor for a special issue of the journal, she helped introduce the JID readership to the potential of narrative inquiry in the field of interior design. As chair of the FIDER Research Council, Portillo spearheaded a major study exploring creativity, leadership, and technology strategies vis-à-vis narratives of designers, clients, and key stakeholders. She is a member of the Interior Design Educators Council and has served on the CIDA Standards Committee. Dr. Portillo is the author of Color Planning for Interiors, published by Wiley.
See More
Instructors Resources
Digital evaluation copy available for this title
Request Copy

See More
See Less
Buy Both and Save 25%!
Design Thinking for Interiors: Inquiry, Experience, Impact (US $75.00)
-and- Manual Drafting for Interiors (US $60.00)
Total List Price: US $135.00
Discounted Price: US $101.25 (Save: US $33.75)
Cannot be combined with any other offers. Learn more.
Learn more about