The Art of Capital Restructuring: Creating Shareholder Value through Mergers and Acquisitions
ISBN: 978-0-470-56951-1
600 pages
June 2011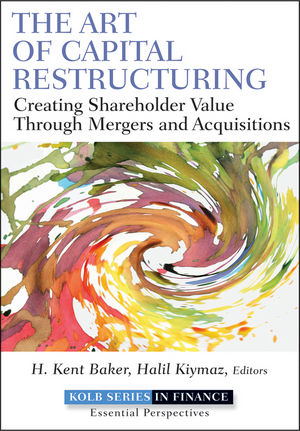 The most up-to-date guide on making the right capital restructuring moves
The Art of Capital Restructuring provides a fresh look at the current state of mergers, acquisitions, and corporate restructuring around the world. The dynamic nature of M&As requires an evolving understanding of the field, and this book considers several different forms of physical restructuring such as divestitures as well as financial restructuring, which refers to alterations in the capital structure of the firm.
The Art of Capital Restructuring not only explains the financial aspects of these transactions but also examines legal, regulatory, tax, ethical, social, and behavioral considerations. In addition to this timely information, coverage also includes discussion of basic concepts, motives, strategies, and techniques as well as their application to increasingly complex, real-world situations.
Emphasizes best practices that lead to M&A success
Contains important and relevant research studies based on recent developments in the field
Comprised of contributed chapters from both experienced professionals and academics, offering a variety of perspectives and a rich interplay of ideas
Skillfully blending theory with practice, this book will put you in a better position to make the right decisions with regard to capital restructuring in today's dynamic business world.
See More
Acknowledgments ix
1 Mergers, Acquisitions, and Corporate Restructuring: An Overview 1
H. Kent Baker and Halil Kiymaz
PART I Background
2 Merger Waves 17
Jarrad Harford
3 Takeover Regulation 39
Marina Martynova and Luc Renneboog
4 Corporate Governance and M&As 57
Fei Xie
5 Ethical and Social Issues in M&As 71
Robert W. McGee
6 Theoretical Issues on Mergers, Acquisitions, and Divestitures 87
Abdul H. Rahman
7 The Short-Term and Long-Term Performance of M&As 105
Shantanu Dutta and Samir Saadi
PART II Valuation
8 Standard Valuation Methods forM&As 127
Pablo Fernandez
9 Real Options and Their Impact on M&As 151
Hemantha Herath and John S. Jahera Jr.
10 The Law and Finance of Control Premiums and Minority Discounts 169
Helen Bowers
11 Cross-Border Valuation Effects in Developed and EmergingMarkets 185
Wenjie Chen
PART III The M&A Deal Process
12 Sources of Financing and Means of Payment in M&As 205
Marina Martynova and Luc Renneboog
13 Cultural Due Diligence 223
Ronald F. Piccolo and Mary Bardes
14 Negotiation Process, Bargaining Area, and Contingent Payments 243
William A. Grimm
15 Merger Negotiations: Takeover Process, Selling Procedure, and Deal Initiation 261
Nihat Aktas and Eric de Bodt
16 Postacquisition Planning and Integration 281
Olimpia Meglio and Arturo Capasso
17 Organizational and Human Resource Issues in M&As 297
Siddhartha S. Brahma
PART IV Takeovers and Behavioral Effects
18 Takeover Strategies 323
Shailendra (Shail) Pandit
19 Defensive Strategies in Takeovers 339
Christian Rauch and Mark Wahrenburg
20 The Impact of Restructuring on Bondholders 359
Luc Renneboog and Peter G. Szilagyi
21 Behavioral Effects in M&As 385
Jens Hagendorff
PART V Recapitalization and Restructuring
22 Financial Restructuring 401
Otgontsetseg Erhemjamts and Kartik Raman
23 Going Private and Leveraged Buyouts 419
Onur Bayar
24 International Takeovers and Restructuring 437
Rita Biswas
PART VI Special Topics
25 Joint Ventures and Strategic Alliances: Alternatives to M&As 461
Tomas Mantecon and James A. Conover
26 Fairness Opinions in M&As 483
Steven M. Davidoff, Anil K. Makhija, and Rajesh P. Narayanan
27 How Initial Public Offerings Affect M&A Markets: The Dual Tracking Phenomenon 495
Roberto Ragozzino and Jeffrey J. Reuer
28 The Diversification Discount 511
Seoungpil Ahn
29 Partial Acquisitions:Motivation and Consequences on Firm Performance 527
Pengcheng Zhu and Shantanu Dutta
Answers to End-of-Chapter Discussion Questions 545
Index 581
See More
H. Kent Baker, PhD, CFA, CMA
, is University Professor of Finance and Kogod Research Professor at the Kogod School of Business at American University, Washington, D.C. He has published extensively in leading academic and professional finance journals including the
Journal of Finance, Journal of Financial and Quantitative Analysis, Financial Management, Financial Analysts Journal,
and
Journal of Portfolio Management.
He has also published more than a dozen books including several corporate finance textbooks. Recognized as one of the most prolific authors in finance during the past 50 years, Professor Baker has consulting and training experience with more than 100 organizations.
Halil Kiymaz is Bank of America Chair and Professor of Finance at the Crummer Graduate School of Business at Rollins College. He holds the Chartered Financial Analyst (CFA) designation and has served as a grader for the CFA Institute. Professor Kiymaz maintains an extensive research agenda focusing on everything from international M&As to the financial management of multinationals, and has published more than 50 articles in scholarly and practitioner journals. He is the recipient of several research awards, including the McGraw-Hill Irwin Best Paper Award and Outstanding Research Award at the Global Conference on Business and Finance.
See More
More in this series