Complying with Sarbanes-Oxley Section 404: A Guide for Small Publicly Held Companies
ISBN: 978-0-470-57255-9
368 pages
April 2010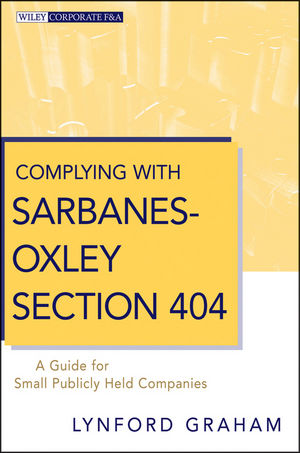 A step-by-step approach for planning and performing an assessment of internal controls
Filled with specific guidance for small-business compliance to SEC and PCAOB requirements relating to Sarbanes-Oxley 404, Complying with Sarbanes-Oxley Section 404: A Guide for Small Publicly Held Companies provides you with specific guidance on working with auditors to achieve benefits and cost reductions.
This practical guide helps you knowledgeably interpret and conform to Sarbanes-Oxley 404 compliance and features:
Clear, jargon-free coverage of the Sarbanes-Oxley Act and how it affects you

Links to current guidance online

Specific guidance to companies on how to work with auditors to achieve benefits and cost reductions

Coverage of IT and IT general controls

Examples and action plans providing blueprints for implementing requirements of the act

Easy-to-understand coverage of the requirements of the SEC and PCAOB

Discussion of the requirements for assessing internal control effectiveness

A look at how the new guidance will reduce your costs

In-depth explanations to help professionals understand how best to approach the internal control engagement

Practice aids, including forms, checklists, illustrations, diagrams, and tables
Continuing to evolve and bring about business and cultural change, this area of auditing and corporate governance is demystified in Complying with Sarbanes-Oxley Section 404: A Guide for Small Publicly Held Companies, your must-have, must-own guide to SOX 404 implementation and an effective tool and reference guide for every corporate manager.
See More
Preface ix
Acknowledgments xi
About the Author xiii
CHAPTER 1 Introduction and Company Requirements 1
Chapter Summary 1
Lessons Learned 1
Management's Evaluation of Internal Control 4
SEC Company Requirements 8
Working with the Independent Auditors 23
CHAPTER 2 The COSO Internal Control Framework 25
Chapter Summary 25
Need for Control Criteria 25
The Triangle of Efficiency 26
COSO Internal Control Integrated Framework 27
Information and Communication 50
Internal Control for Small Businesses 54
Information Technology Controls 58
Control Objectives and Assertions: The Building Blocks of Controls Documentation 64
Example Control Objectives by COSO Component 65
Appendix 2A: Understanding and Awareness of Control Responsibilities 71
Appendix 2B: Management Antifraud Programs and Controls: An Element of the Control Environment 73
Appendix 2C: Blue Ribbon Committee on Improving the Effectiveness of Corporate Audit Committees 95
CHAPTER 3 Project Scoping 97
Chapter Summary 97
Introduction 97
Does "In Scope" Imply Extensive Testing? 100
Review Obvious Information Sources 103
A Process for Risk Assessment 116
Appendix 3A: Summary of Scoping Inquiries 133
Appendix 3B: Understanding Fraud Risk Assessment 137
CHAPTER 4 Project Planning 143
Chapter Summary 143
Objective of Planning 143
Information Gathering for Decision Making 144
Structuring the Project Team 147
Consider Project Tools and Software 153
Consider a Pilot Project 163
Coordinating with the Independent Auditors 167
Documenting Your Planning Decisions 169
CHAPTER 5 Documentation of Internal Controls 173
Chapter Summary 173
Importance of Documentation 173
Assessing the Adequacy of Existing Documentation 175
Documentation Supporting the Control Environment 177
Documenting Activity-Level Controls 182
Finding Control Activity Control Objectives 208
Appendix 5A: Sample Control Objectives for Major Control Activities 210
Appendix 5B: Linkage of Significant Control Objectives to Example Control Policies and Procedures 223
CHAPTER 6 Testing and Evaluating Entity-Level Controls 231
Chapter Summary 231
Overall Objective of Testing Entity-Level Controls 231
Testing Techniques and Evidence 234
Evaluating the Effectiveness of Entity-Level Controls 252
Documenting Test Results 257
Appendix 6A: Conducting Interviews: Gathering Internal Control Information 259
Appendix 6B: Example Practice Aids Gathering Internal Control Information 267
Appendix 6C: Example Inquiries of Management Regarding Entity-Level Controls Gathering Internal Control Information 274
CHAPTER 7 Testing and Evaluating Activity-Level Controls 281
Chapter Summary 281
Introduction 281
Confirm Your Understanding of the Design of Controls First 281
Assessing the Effectiveness of Design 286
Assessing Operating Effectiveness 288
Evaluating Test Results 304
Documentation of Test Procedures and Results 305
Interactions with the Independent Auditors 305
Appendix 7A: Sample Size Tutorial 307
Appendix 7B: Example Inquiries 310
CHAPTER 8 Evaluating Control Deficiencies and Reporting on Internal Control Effectiveness 313
Chapter Summary 313
Control Deficiencies 313
Evaluating Control Deficiencies 314
Annual and Quarterly Reporting Requirements 326
Reporting on Management's Responsibilities for Internal Control 332
Required Company and Auditor Communications 333
Reporting the Remediation of Weaknesses 337
Coordinating with the Independent Auditors and Legal Counsel 337
Appendix 8A: Action Plan: Reporting 339
Appendix 8B: Assessing the Potential Magnitude of a Control Deficiency 341
KEY RESOURCES 345
Final Rule: Management's Report on Internal Control over Financial Reporting and Certification of Disclosure in Exchange Act Periodic Reports 345
Index
See More
LYNFORD GRAHAM, CPA, PhD, CFE, is coeditor of Accountants Handbook, Eleventh Edition; Internal Controls: Guidance for Private, Government, and Nonprofit Entities; and contributing author to Montgomery's Auditing, Twelfth Edition, all published by Wiley. He is also the author of Information Technology Audits. Dr. Graham consults on professional accounting and auditing matters, focusing on multidimensional problem solving requiring "leading-edge" thinking and "hands-on" management. With diversified experience as author, executive, consultant, auditor, and educator, he has a solid record of accomplishments, having served on the AICPA Auditing Standards Board.
See More
Buy Both and Save 25%!
Complying with Sarbanes-Oxley Section 404: A Guide for Small Publicly Held Companies (US $90.00)
-and- The Essential CFO: A Corporate Finance Playbook (US $65.00)
Total List Price: US $155.00
Discounted Price: US $116.25 (Save: US $38.75)
Cannot be combined with any other offers. Learn more.