Textbook
Tools of Engagement: Presenting and Training in a World of Social Media
ISBN: 978-0-470-57394-5
280 pages
September 2010, ©2010, Pfeiffer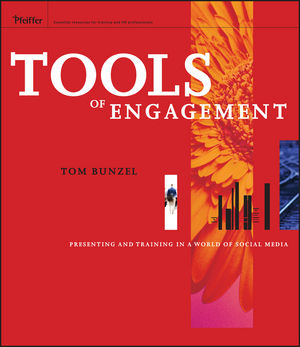 PRAISE FOR Tools of Engagement
"The main takeaway in this thorough and accessible book is the idea that today's business and educational environments require a mash-up mentality. It takes a constantly changing blend of tools, techniques, and strategies to achieve direct, immediate, and effective communication."
—ROBERT L. LINDSTROM, former editor, Presentations and Multimedia Producer magazines; author, The BusinessWeek Guide to Multimedia Presentations
"If ever there were a person to really dive into the trenches and discuss the practical implications of the social media revolution, it's Tom Bunzel."
—RICK ALTMAN, author, Why Most PowerPoint Presentations Suck; president, The Presentation Summit www.BetterPresenting.com
"Tom Bunzel has had his pulse on the new social technology and its impact on communication and entertainment and writes about it effectively and with conviction."
—VICTOR HARWOOD, president, Digital Hollywood, Inc.
"Clear and cogent. Tom Bunzel's gift is translating what can be dry and difficult material into something that I can learn and use immediately."
—LESLIE LUNDT, M.D., author, You Can Think Like a Psychiatrist and 40 Cases
"Takes a topic as dynamic as social media and makes it understandable and relevant."
—JIM ENDICOTT, president, Distinction Communication Inc. www.distinction-services.com
"Tools of Engagement is a powerful addition to every presenter and meeting planner's bookshelf."
—JOYCE SCHWARZ, keynote speaker/moderator and author featured on E Entertainment TV, CBS Radio, and other media
"Tom Bunzel has been very helpful to my business as we continue to grow into this new media paradigm."
—KIM CALVERT, editorial director, Singular Magazine
See More
List of Figures and Tables.
Acknowledgments.
1 Introduction.
2 How the Presentation World Has Changed.
3 Engaging with Social Media.
4 The New Tools of Engagement.
5 Major Social Networks: Twitter and Ning.
6 Crafting a Visual Message.
7 Meeting in Real Time: Using the Power of Now.
8 What Lies Ahead in Global Communication.
Glossary.
About the Author.
Index.
See More
TOM BUNZEL has appeared on Tech TV's Call for Help and has been a featured speaker at InfoComm and PowerPoint LIVE, as well as working as a technology coach for corporations. He is the author of numerous books and articles, including Master Visually Microsoft Office, Solving the PowerPoint Predicament, Teach Yourself PowerPoint 2003 in 24 Hours, and How to Use Ulead DVD Workshop.
See More
Instructors Resources
Request a print evaluation copy
Contact us

Contact your Wiley Representative
Find Your Rep

See More
See Less