The CRB Commodity Yearbook 2010
ISBN: 978-0-470-57477-5
Hardcover
384 pages
June 2010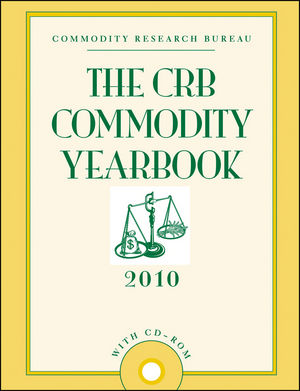 This title is out-of-print and not currently available for purchase from this site.
The essential commodity reference for analysts, traders, and portfolio managers
Commodities can play an important role in a portfolio. But in order to make the most of these investments, you need to have a solid understanding of what they offer. That's why you need The CRB Commodity Yearbook 2010.
The single most comprehensive source of commodity and futures market information available, the Yearbook is the book of record for the Commodity Research Bureau, which is, in turn, the organization of record for the commodity industry itself. Its sources-reports from governments, private industries, and trade and industrial associations-are authoritative, and its historical scope is second to none.
Contains worldwide supply/demand and production/consumption data for all the basic commodities and futures markets-from A(luminum) to Z(inc), including all the major markets in interest rates, currencies, energy, and stock index futures
Features over 900 tables, graphs, and price charts of historical data, many of which show price history dating back to 1900
A fact-filled CD-ROM provides you with valuable commodity information in an easy-to-use electronic format
For its wealth of information and the authority of its sources, The CRB Commodity Yearbook 2010 stands alone as the guide to intelligent trading in commodities and futures.