E-book
Community-Based Health Interventions
ISBN: 978-0-470-57508-6
240 pages
February 2010, Jossey-Bass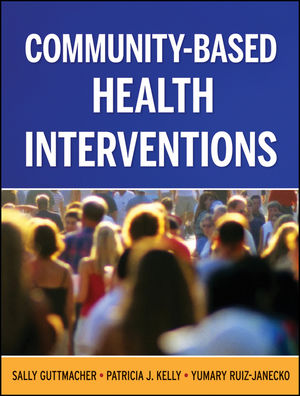 Community-Based Health Interventions covers the skills necessary to change health in a community setting through the reduction of disease, disease conditions, and risks to health, as well as create a supportive environment for the maintenance of the behavior changes. The first section provides background information about why interventions in communities are important, the history of several major community interventions, ethical issues in the design and implementation of interventions and the different types of interventions. The second section covers planning and activities needed to complete an intervention, along with the theoretical basis of interventions. The third section shows how to assess the needs and strengths of a particular community, gain community support, define the goals of an intervention and get started. This section also contains information on obtaining material and financial support and on strategies for continuing the intervention beyond its initial phase. The final section examines current work and problems encountered as well as projecting future trends. Each chapter includes practice exercises or activities useful to students learning to develop interventions at the population or community level, such as public health, social work and nursing.
See More
Tables, Figure, and Exhibit. Preface. The Authors.
PART ONE: INTRODUCING COMMUNITY-BASED INTERVENTIONS.
1 IMPROVING HEALTH IN COMMUNITY SETTINGS.
Defining Community. Ecological Theory and Levels of Prevention.
2 A BRIEF HISTORY OF COMMUNITY-BASED HEALTH INTERVENTIONS.
Community-Based Health Interventions: An Instrument for Change. Early Community-Based Health Interventions. The Evolution of Community-Based Health Interventions.
3 ETHICAL ISSUES IN COMMUNITY INTERVENTIONS.
The Integration of Ethics into Public Health Practice. Institutional Review Boards. Vulnerable Populations. Permission and Consent. Protection for Research Participants. Ensuring Research Quality. Maintaining the Integrity of Research.
4 LEVELS AND TYPES OF COMMUNITY INTERVENTIONS.
An Ecological Focus on Types of Prevention. Selecting a Goal for the Intervention. Examples of Interventions at Different Levels of Prevention.
PART TWO: DEVELOPING THE INTERVENTION.
5 A FRAMEWORK FOR DESIGNING COMMUNITY INTERVENTIONS.
Theoretical Guidance for Health Interventions. Examples of Theories Used at the Four Ecological Levels.
6 COLLECTING AND MANAGING DATA.
Data: A Crucial Component of Research. Collecting Quantitative Data. Collecting Qualitative Data. After Data Collection.
PART THREE: WORKING THROUGH THE INTERVENTION.
7 ASSESSING COMMUNITY NEEDS.
Basic Components of a Community Assessment. Strengthening Your Findings.
8 PLANNING A COMMUNITY-BASED INTERVENTION.
Intervention Content and Format. A Logic Model as an Organizing Strategy. Sample Community Assessment: Adolescent Tobacco Use.
9 IMPLEMENTING A COMMUNITY-BASED INTERVENTION.
Implementation at the Four Ecological Levels. Interventions at the Community or Policy Level
10 EVALUATING A COMMUNITY-BASED INTERVENTION.
Reasons for Evaluation. Preparing for an Evaluation. Designing the Evaluation. Flexibility: An Essential Skill in Evaluation.
PART FOUR: LEARNING FROM THE PAST AND ADAPTING TO THE FUTURE.
11 FUNDING AND SUSTAINABILITY.
Financing Community-Based Health Interventions. Components of the Proposal for Funding. Components of the Budget. Continuing and Sustaining an Intervention.
12 IMPLEMENTATION PITFALLS.
Things Happen.
13 THE FUTURE OF COMMUNITY-BASED HEALTH INTERVENTIONS.
Adapting Methods of Intervention to Twenty-First Century Communities. A Challenge and an
Opportunity
of Public Health Practitioners. A Limitation of the New Technologies.
14 COMMUNITY-BASED HEALTH INTERVENTIONS IN PRACTICE.
Arthritis. Asthma. Adult Vaccinations. Alcohol Use. Cardiovascular Disease. Childhood Vaccinations. Injuries from Motor Vehicle Accidents. Sexual Assault and Relationship Violence. Smoking. Glossary. References. Index.
See More
Sally Guttmacher, PhD, is professor of Public Health in the Department of Nutrition, Food Studies and Public Health at New York University. Patricia J. Kelly, PhD, MPH, APRN, is professor at the University of Missouri, School of Nursing. Yumary Ruiz-Janecko, PhD, is a clinical assistant professor of Public Health at New York University.
See More
Learn more about