Not-for-Profit Budgeting and Financial Management, 4th Edition
ISBN: 978-0-470-57541-3
220 pages
June 2010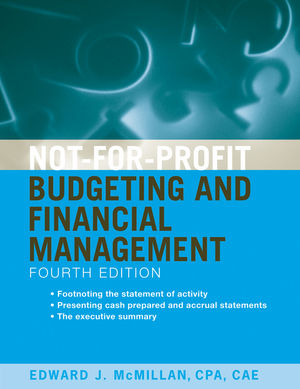 Take control of your organization's short- and long-term financial plan
Now fully revised, Not-for-Profit Budgeting and Financial Management, Second Edition, offers a financial planning system that is not only easy to use and monitor, but also ensures true fiscal accountability in the complex not-for-profit arena.
Adds three entirely new chapters on Footnoting the Statement of Activity, Presenting Cash Prepared and Accrual Statements on the same page, and The Importance of the Executive Summary
Fully updated with the latest financial advice to benefit your nonprofit
Explains how to separate controllable, semi-controllable, and fixed expenses
Reveals how you can prepare and present such top-notch budget documents that budgets will be approved the first time
Written in a nontechnical, understandable format, incorporating dozens of relevant forms and documents, this completely revised and expanded edition will enable your nonprofit organization to create and manage reasonable financial plans that fit their organization's needs.
See More
Preface.
Disclaimer.
Chapter: Budgeting and Financial Operation.
Chapter 2: Cash vs. Accrual Accounting.
Chapter 3: Basic Accounting and Financial Operations.
Chapter 4: Effective Use of Footnotes and Financial Ratio Calculations for the Statement of Financial Position.
Chapter 5: Controllable and Uncontrollable Expenses.
Chapter 6: Controllable, Semi-Controllable, and Fixed Expenses.
Chapter 7: Noncash Expenses.
Chapter 8: Effective Footnotes for the Statement of Activity.
Chapter 9: Natural and Functional Statements of Activity.
Chapter 10: Internal Financial Statements.
Chapter 11: Converting Accrual-Method Financial Statements to Cash-Method Financial Statements.
Chapter 12: Budgeting Philosophy.
Chapter 13: Continuous Budgeting System Overview.
Chapter 14: The Executive and the Budget Process.
Chapter 15: Executive Summary.
Chapter 16: Comparative Financial Statements.
Chapter 17: Expense Reduction Plans.
Chapter 18: The Monthly Budgeting Process.
Chapter 19: The Cash Flow Budget.
Chapter 20: Getting the Budget Approved.
Chapter 21: Suggested Format of Budget Documents for an Approving Body.
Chapter 22: The Role of the Budget Coordinator.
Chapter 23: Accounting and Budgeting for Fringe Benefits.
Chapter 24: The Capital Budget and Depreciation.
Chapter 25: Inventory Purchases and Calculation of Cost of Goods Sold.
Chapter 26: Accounting and Budgeting for Dues.
Chapter 27: Capital Assets: Lease-or-Buy Decisions.
Chapter 28: The Long-Range Plan.
Chapter 29: Financial Ratios.
Chapter 30: Zero-Based Budgeting.
Chapter 31: Putting It All Together.
Glossary.
Index.
See More
EDWARD MCMILLAN is a Certified Public Accountant and Certified Association Executive, and is a nationally recognized speaker on not-for-profit financial and management topics since 1992 for the United States Chamber of Commerce, the American Society of Association Executives, the American Institute of Certified Public Accountants, the American Chamber of Commerce Executives and the Destination Marketing Association International. He has written six books, including five for Wiley, as well as Guide to Fringe Benefits for Not-for-Profit Organizations, Complying with SFAS #116 and #117, and The Audit: A Novel. He is also the author of numerous articles appearing in such publications as Association Management, Leadership, and Dollars and Cents.
See More
Learn more about