Container Gardening For Dummies, 2nd Edition
ISBN: 978-0-470-57705-9
344 pages
February 2010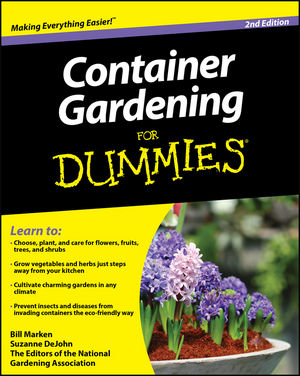 Learn to:
Choose, plant, and care for flowers, fruits, trees, and shrubs
Grow vegetables and herbs just steps away from your kitchen
Cultivate charming gardens in any climate
Prevent insects and diseases from invading containers the eco-friendly way
The easy way to get a green thumb in container gardening!
Want to spruce up your indoor or outdoor space with annuals, perennials, vegetables, and succulents? This updated edition of Container Gardening For Dummies gives you clear, concise step-by-step instructions for cultivating delightful gardens in everything from a redwood window box to a hanging basket to an old watering can. It also includes color photos to inspire your designs.

Getting the dirt on container gardening — discover the advantages of growing plants in containers and learn how to maximize your garden conditions to help plants thrive
Picking a pot to plant in — take a look around your living space and determine the best location and type of container for your garden
Enjoying a summer fling — get the lowdown on the best single-season flowers, vegetables, and bulbs for container growing
Putting down roots — find out which perennials, trees, shrubs, fruits, and berries give year-round impact
Designing and decorating — take advantage of ideas and inspiration for creating eye-catching container gardening displays
Open the book and find:
Things you need to know before planting
A quick primer on climate
What to look for in a soil mix
How to work with perennials and annuals
Information you need to help you choose plants
Why and when containers need water and fertilizer
Guidance on replanting, repotting, and pruning
Tips for preventing insect pests and diseases
Ways to liven up your space with trees, shrubs, and vines
See More
Introduction 1
Part I: Getting Started with Container Gardening 5
Chapter 1: Why Grow Plants in Containers? 7
Chapter 2: Considering Climate 17
Chapter 3: Choosing a Pot to Plant In 27
Chapter 4: Getting the Dirt on Soil Mixes 41
Chapter 5: Putting It All Together: Planting Your Container Garden 51
Part II: Enjoying a Summer Fling with Single-Season Containers 69
Chapter 6: A Short but Sweet Relationship with Annuals 71
Chapter 7: Adding Pizzazz with Colorful Annual Flowers 77
Chapter 8: Plant, Pick, Eat: Vegetables and Herbs 91
Chapter 9: Bulbs to Brighten Your Space 105
Part III: In It for the Long Haul: Permanent Plantings 117
Chapter 10: Pondering Permanent Plantings 119
Chapter 11: Picking and Potting Perennials 127
Chapter 12: Sprucing Up Your Space with Trees, Shrubs, and Vines 141
Chapter 13: Nurturing Fruits and Berries 159
Chapter 14: Indoor Container Gardening 173
Part IV: Keeping Your Plants Healthy 187
Chapter 15: Quenching Your Plants' Thirst 189
Chapter 16: Food for Thought: Fertilizing Your Plants 201
Chapter 17: Repotting Plants and Caring for the Containers They Call Home 209
Chapter 18: When Bad Things Happen: Pests and Diseases 221
Part V: Designing and Decorating 245
Chapter 19: Creating Eye-Catching Container Gardens 247
Chapter 20: Cultivating Specialty Plants in Containers 267
Part VI: The Part of Tens 281
Chapter 21: Ten Ways to Make Gardening More Accessible 283
Chapter 22: Ten-Plus Categories of Plants for Special Situations 287
Appendix: Additional Resources 293
Index 299
See More
Bill Marken is the author of the first edition of Container Gardening For Dummies. Suzanne DeJohn is an editor with the National Gardening Association, the leading garden-based educational nonprofit organization in the United States. NGA's programs and initiatives highlight the opportunities for plant-based education in schools, communities, and backyards across the country.
See More