E-book
Radically Transparent: Monitoring and Managing Reputations Online
ISBN: 978-0-470-57780-6
378 pages
August 2009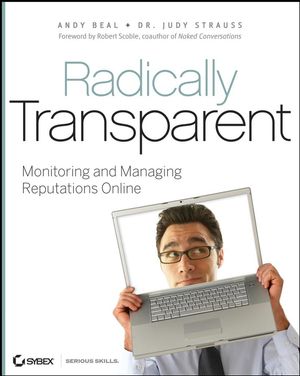 The explosion of social media blogs, social networking sites, and video sharing sites has ushered in a new era of digital transparency that puts the power to enhance or destroy a reputation in the hands of the consumer. This timely and practical book shows you how to harness the power of social media with crucial, proven tactics and strategies for every phase of online reputation management. Using step-by-step instruction and tested techniques, the expert authors unveil a detailed blueprint for building, managing, monitoring, and repairing your reputation.
See More
Foreword.
Introduction.
Part I: Understanding Your Online Reputation.
Chapter 1: Your World Is Now Radically Transparent.
Chapter 2: You Don't Own Your Company's Reputation.
Chapter 3: Developing Your Personal Brand.
Chapter 4: Navigating the New Rules of Engagement.
Part II: Building Your Radically Transparent Reputation.
Chapter 5: The Art of Generating Buzz.
Chapter 6: Managing Your Reputation with SEO.
Chapter 7: Using Multimedia Content to Engage Your Audience.
Chapter 8: Writing Engaging Text.
Chapter 9: The Power of Blogs.
Chapter 10: Social Networking.
Chapter 11: Your Online Activities: You Are What You Do.
Part III: Monitoring, Repairing, and Planning your Online Reputation.
Chapter 12: The Importance of Reputation Monitoring.
Chapter 13: Monitoring Your Online Reputation.
Chapter 14: Repairing Your Online Reputation.
Chapter 15: Seven-Step Action Plan.
Index.
See More
Andy Beal
is a consultant and one of the world's most respected experts in online reputation monitoring and management. He has worked with Motorola, Lowe's, Quicken Loans, NBC, GlaxoSmithKline, and SAS. Founder of the award-winning Marketing Pilgrim blog (marketingpilgrim.com), Beal has been featured in
Dow Jones
,
Washington Post
, and
BusinessWeek
. He is a frequent speaker at such trade shows as Search Engine Strategies and Direct Marketing Association, has published more than three dozen articles, and has been featured in
The Wall Street Journal
,
Washington Post
, and
BusinessWeek
.
Dr. Judy Strauss is a consultant, international speaker, former entrepreneur, and previous marketing director of two companies. She is an award-winning author of 11 books and numerous scholarly articles on internet marketing topics. She coauthored E-Marketing, the first textbook on internet marketing. She currently teaches e-marketing, communication, and strategy topics to MBA and undergraduate students at the University of Nevada, Reno. She has won numerous awards for teaching, writing, and entrepreneurial activities.
See More
Learn more about