E-book
The Power of Collaborative Solutions: Six Principles and Effective Tools for Building Healthy Communities
ISBN: 978-0-470-57958-9
320 pages
January 2010, Jossey-Bass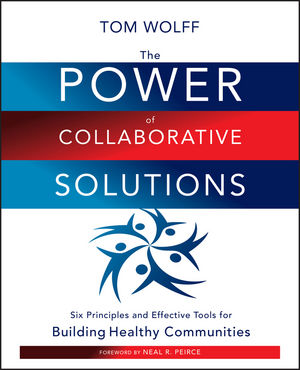 In this groundbreaking book, Tom Wolff spells out six proven principles for creating collaborative solutions for healthy communities. The Power of Collaborative Solutions addresses contemporary social problems by helping people of diverse circumstances and backgrounds work together to solve community challenges. Filled with clear principles, illustrative stories, and practical tools, this book shows how to make lasting change really happen.
Praise for The Power of Collaborative Solutions
"This is a truly transformative book and a must-read. Tom Wolff crafts a path to change that is at once visionary and achievable."—Meredith Minkler, professor of health and social behavior, University of California, Berkeley, and coauthor, Community-Based Participatory Research for Health (Jossey-Bass, 2008
"If you want to bring about sustained positive change in your community, read this book. The stories will inspire you, and the lessons will shine a light on your leadership path."—Tyler Norris, founding president, Community Initiatives
"Here you'll find not just theory, but also the hard-won, down-to-earth detail on how to make collaboration work where you live and act." —Bill Berkowitz, professor emeritus of psychology, University of Massachusetts Lowell
"Tom has a tremendous fount of knowledge, and he knows just what to do with it and how to help others use it. His kind and commonsensical manner means that his intellect is accessible."—Linda Bowen, executive director, Institute for Community Peace, Washington, D.C.
See More
Foreword.
Preface.
Acknowledgments.
The Author.
Chapter 1 Why Collaborative Solutions? How Our Helping Systems Are Failing Us.
Community Solutions Demand a New, Collaborative Approach.
How Our Traditional Community Problem-Solving Methods Fail.
What Does This Tell Us, and What Do We Do Next?
Chapter 2 Building Healthy Communities through Collaborative Solutions: An Overview of Six Key Principles.
1. Encourage True Collaboration as the Form of Exchange.
2. Engage the Full Diversity of the Community, Especially Those Most Directly Affected.
3. Practice Democracy and Promote Active Citizenship and Empowerment.
4. Employ an Ecological Approach That Builds on Community Strengths.
5. Take Action by Addressing Issues of Social Change and Power on the Basis of a Common Vision.
6. Engage Spirituality as Your Compass for Social Change.
Community Story: The Cleghorn Neighborhood Center.
Chapter 3 Encouraging True Collaboration.
Networking.
Coordination.
Cooperation.
Collaboration.
Learning to Collaborate: Risks, Resources, Rewards, and Responsibilities.
What If. . . .
Community Story: The North Quabbin Community Coalition.
Chapter 4 Engaging the Full Diversity of the Community.
Mini-Grants.
Leadership Development.
Community Outreach Workers.
Community Organizers.
Experiment with Simple Options to Engage Community Members.
Community Story: The Mayor's Task Force on Deinstitutionalization.
Chapter 5 Practicing Democracy.
How Much Participation Do We Want?
How Do We Encourage Democratic Participation?
More Ways to Support the Practice of Democracy.
Community Story: Valuing Our Children.
Chapter 6 Employing an Ecological Approach That Builds on Community Strengths.
Assets and Deficits.
Setting the Stage to Move from Assets to Action.
Healthy Communities: A Model Ecological Approach.
Healthy Communities in Action.
Community Stories: The Northern Berkshire Community Coalition and the Lower/Outer Cape Community Coalition.
Community Story: The Institute for Community Peace and the Santa Barbara Pro-Youth Coalition.
Chapter 7 Taking Action and Working for Social Change.
Key Factors for Coalitions in Successfully Creating Community Change.
Creating a Common Vision.
Community Action to Create Community Change.
Addressing Issues of Social Change and Power.
Addressing Issues of Social Change in Collaborative Efforts.
Power-Based Versus Relationship-Based Social Change.
Barack Obama's Election and the Future of Collaborative Solutions.
Community Story: Health Access Networks.
Chapter 8 Engaging Spirituality as Your Compass for Social Change.
What Really Works?
The Current Helping System: How It Is Stuck, and How We Can Free It.
Overcoming the Limitations with the Help of Spiritual Principles.
It's Profound, It's Not Easy . . . but It's Within Our Reach.
Community Story: Bringing It All Back to Earth: The Spiritual. Essence of a Regular Meeting of the North Quabbin Community. Coalition.
Conclusion.
Appendix Evaluation: Assessing Our Progress and Celebrating Our Success.
Questions an Evaluation Can Help Answer.
Community Participation in Evaluation.
Frameworks for Evaluating Coalitions.
Documentation and Evaluation in Action: Community Stories.
Conclusion.
References.
Index.
See More
Tom Wolff, Ph.D., is a community psychologist and expert committed to issues of social justice and building healthy communities through collaborative solutions. He is the founder of Tom Wolff & Associates and a fellow of the American Psychological Association. Wolff is a nationally recognized consultant on coalition building and community development, and he has a lifetime of experience training and consulting with individuals, organizations, and communities across North America and internationally.
See More