Manufacturing Best Practices: Optimizing Productivity and Product Quality
ISBN: 978-0-470-58214-5
201 pages
November 2010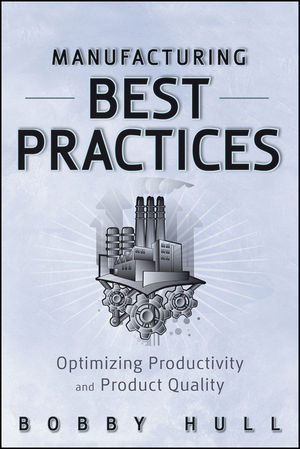 World-class tools for businesses to create their own manufacturing best practices
Providing best practices used throughout the manufacturing sector, Manufacturing Best Practices takes currently available manufacturing tools, such as six Sigma, Lean, ISO and Statistical Process Control (SPC), combined with real world experience, and shows how they can be used to create a culture or philosophy within an organization.
Shows that it is not the tools that make best practices, but rather the mindset that can be developed through the use of the tools
Provides best practices for manufacturers to pick those that are most applicable to their needs
Written for CEOs, CFOs, controllers, and line managers in the manufacturing sector
Manufacturing Best Practices closely examines the processes, protocols, and philosophies that are used in manufacturing so companies can create their own best practices scenario.
See More
Preface xi
Acknowledgments xvii
Chapter 1 Understanding Quality and Quality Requirements 1
The End Result 3
Quality 3
Quality Control 5
Quality Assurance 6
The Quality System 6
Quality Requirements and Specification Review 7
Quality Requirements 9
Final Thoughts 10
Chapter 2 Testing 11
Testing: What Is It? 11
Testing: Location, Technicians, and Training 12
Procedures 14
Final Thoughts 31
Chapter 3 Inspection and Data Handling 33
Inspection 34
Plans and Procedures 34
Data, Data, Everywhere! 43
Final Thoughts 48
Chapter 4 Calibration 49
Gauge Identification 51
Calibration Standards 53
Calibration Recall and Data Management System 54
Moving beyond the Simple Recall System 55
Out-of-Tolerance Conditions 56
Final Thoughts 58
Chapter 5 Corrective and Preventative Action and Error Proofing59
When Is Corrective Action Required? 61
Requirements for a Corrective Action System 62
Investigating and Resolving a Corrective Action Issue 63
Corrective Action Resolution 66
Error Proofing 67
Preventative Action 69
Final Thoughts 72
Chapter 6 Document Control: Ensuring Vital Information Is Available to Those Who Need It 73
Why Go to All This Effort? 74
Paper-Based Systems 75
Revision Control 76
Document Distribution 76
Uncontrolled Copies 79
Electronically Based Systems 80
Guidelines and Audits 81
Final Thoughts 82
Chapter 7 Process Control 83
How Do I Do It? 85
Identifying Key Process Variables 85
The Control Plan 87
Equipment Setup/Documentation and Verification 88
Process Capability 89
Monitoring 91
Final Thoughts 92
Chapter 8 Process Changes 93
Request Submission 96
External Communication of Changes 104
Final Thoughts 105
Chapter 9 Raw Materials, Services, and Suppliers 107
Sourcing: Raw Materials 108
Sourcing: Services 113
After Sourcing: The Start of a New Relationship 117
Final Thoughts 122
Chapter 10 Customers 123
The Start of a Beautiful Relationship 125
Accessibility 126
Contacts 127
Availability 128
Responsiveness 128
Follow-Up 130
Customer Care 130
Customer Satisfaction 133
Customer Recruitment and Retention 135
Final Thoughts 136
Chapter 11 Physical Facilities 137
Maintenance 138
The Work Area 140
Final Thoughts 151
Chapter 12 People 153
Education 155
Training 157
Mentoring 160
Empowerment 162
Employee Benefits 164
Final Thoughts 176
Conclusion 177
Appendix: Quality Requirements Checklist 179
About the Author 185
Index 187
See More
Bobby Hull is Corporate Systems Analyst at BGF Industries Inc., formerly known as Burlington Industries, Inc., and cofounder of Questworks Productions, a company specializing in computer training, Web site design, graphic design, staff development workshops, stress reduction workshops, quality control consulting, and auditing. In his analyst position, Hull focuses on designing and implementing quality control and business intelligence solutions for various divisions of BGF Industries, a multimillion-dollar textile company. Prior to this role, Hull spent over ten years as a senior quality engineer, coordinating all facets of the BGF quality control program, including the redesign of several quality subsystems to meet the requirements of ISO 9001:2000. During his more than thirty years with BGF Industries, Hull has performed in the capacity of Finishing Inspector, Lab Technician, Crew Leader, and Manager of their QC laboratory. Hull holds a Doctorate of Divinity from the American Institute of Holistic Theology, Birmingham, Alabama, and has completed course work in chemistry at the University of Richmond and in Fine Arts at Lynchburg College.
See More
More in this series