E-book
XBRL For Dummies
ISBN: 978-0-470-58320-3
436 pages
October 2009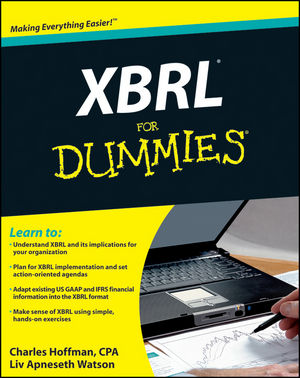 The perfect guide to help you understand XBRL-from the "father of XBRL"
What is XBRL and how can it help you streamline your business reporting? This plain-English guide from the "father of XBRL," Charles Hoffman, will tell you what it is, why it is, and how you can get on the bus with this new SEC-mandated business reporting standard for publicly-traded companies. A CPA, Hoffman is credited with the idea of applying XML data to financial reporting; XBRL is the language that resulted. Learn to prepare financial statements with XBRL, use it for strategic planning, move all relevant departments in your company to the same system, and more.
XBRL (eXtensible Business Reporting Language) is an XML-based open standard for accounting data; author Charles Hoffman is credited with the idea of applying XML data to financial reporting
Plan for XBRL implementation, set action-oriented agendas, and identify stakeholders and subject-matter experts within your organization
Learn to choose from and adapt existing XBRL taxonomies to comply with US GAAP and IFRS standards
Topics also include how to adapt your existing financial information into XBRL.
See More
Introduction.
Part I: The Very Least You Need to Know about XBRL.
Chapter 1: Wrapping Your Head Around XBRL.
Chapter 2: Taking to Heart the Essential Concepts of XBRL.
Chapter 3: Glancing at XBRL's Parts.
Chapter 4: An XBRL Primer.
Chapter 5: Pinning Down How XBRL Affects You.
Part II: Embracing XBRL for Classic Challenges and New Possibilities.
Chapter 6: Exchanging Business Information.
Chapter 7: Feeding the Business Information-Supply Chain.
Chapter 8: Seeing the Transformation of Business Information Exchange.
Part III: Successfully Pursuing and Executing an XBRL Project.
Chapter 9: Exploring the Common Uses of XBRL.
Chapter 10: Making Your Own Business Case for XBRL.
Chapter 11: Evaluating Different Approaches to Implementing XBRL.
Chapter 12: Considering How to Implement Your XBRL Solution.
Chapter 13: Complying with the SEC Mandate.
Part IV: Working with XBRL Taxonomies and Instances.
Chapter 14: Finding Tools and Services to Make XBRL Work.
Chapter 15: Creating and Using XBRL.
Chapter 16: Differentiating XBRL Modules.
Chapter 17: Digging Deeper into XBRL Taxonomies.
Chapter 18: Understanding the XBRL Instance.
Chapter 19: Predicting What XBRL Will Become.
Part V: The Part of Tens.
Chapter 20: Ten (or So) Ways to Flatten the XBRL Learning Curve.
Chapter 21: (Nearly) Ten Keys to Understanding How XBRL Works.
Chapter 22: Top Ten Technical Odds and Ends.
Index.
See More
Charles Hoffman
is considered the father of XBRL. He is coeditor of the US GAAP Taxonomy Architecture and was named one of the 100 most influential people in accounting by Accounting Technology.
Liv Apneseth Watson is among the founders of XBRL International and was vice chairman of XBRL International.
See More