E-book
Wedding Etiquette For Dummies
ISBN: 978-0-470-58352-4
288 pages
November 2009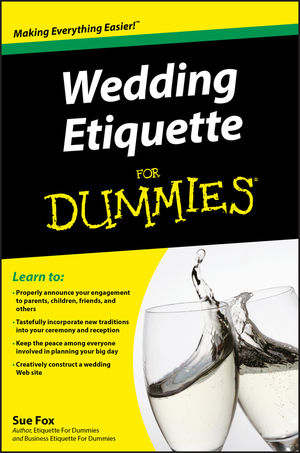 Your expert guide to the dos and don'ts of getting married
Your wedding should be fun, exciting, and worry-free-but most brides, grooms, and their families run into sticky situations or unique circumstances that surround etiquette. Now, there's a definitive guide that provides the solutionsfor all those dilemmas big and small.
Wedding Etiquette For Dummies provides sound information and guidance-whether it's deciding how to handle divorced parents, inform guests of where the couple is registered, or tastefully incorporate new traditions into your ceremony and reception. You get plenty of proven advice and tips for everything from who pays for the wedding and properly announcing the engagement to hosting events leading up to the wedding and dealing with destination wedding snags and pitfalls. You'll even see how to gracefully handle wedding cancellations and postponements.
The dos and don'ts of wedding etiquette for any bride, groom, relatives, or friends of the marrying couple
Tips for proper behavior during the engagement, ceremony, and reception
Advice on dealing with the wedding party and opinionated or pushy in-laws
Special considerations for second (or more) marriages and military, ethnic, and religious weddings
How to set up a tasteful, interactive wedding website and write the all important thank you note
Sue Fox is the author of Etiquette For Dummies, 2nd Edition and Business Etiquette For Dummies, 2nd Edition
Leaving no wedding dilemma uncovered, Wedding Etiquette For Dummies is your one-stop guide for having the wedding of your dreams without the stress!
See More
Introduction.
Part I: Engaging in Proper Wedding Etiquette from the Start.
Chapter 1: Incorporating Etiquette into Your Wedding.
Chapter 2: Announcing Your Engagement with Elegance.
Chapter 3: Tastefully Using Technology during Wedding Planning.
Chapter 4: Deciding on Finances and Planning Responsibilities Upfront.
Part II: The Main Event: Planning Your Ceremony and Reception.
Chapter 5: Checking Out Ceremony Styles.
Chapter 6: Nailing Down the Basics of Ceremony Protoco.
Chapter 7: Perfecting Your Reception Plans.
Part III: Working on Wedding Details with Your Manners Intact.
Chapter 8: Putting Together Your Wedding Party.
Chapter 9: Choosing Appropriate Wedding Attire and Doing So with Grace.
Chapter 10: Assembling the Guest List.
Chapter 11: Carefully Composing Your Invitations and Announcements.
Chapter 12: Registering for Gifts and Giving Your Own.
Chapter 13: Observing Etiquette Rules at Festivities before the Wedding.
Part IV: Behaving on the Big Day and Beyond.
Chapter 14: Minding Your Manners at the Ceremony.
Chapter 15: Celebrating with Class at the Reception.
Chapter 16: Acting Properly after the Wedding.
Part V: The Part of Tens.
Chapter 17: Ten Tips for Working with Your Vendors and Wedding Planner.
Chapter 18: Nearly Ten Guidelines for Getting Married the Second Time Around.
Index.
See More
Sue Fox is the author of Etiquette For Dummies and Business Etiquette For Dummies. She is the founder and president of The Etiquette Survival Group, a California-based professional development and publishing company.
See More