Textbook
Foodservice Manual for Health Care Institutions, 4th Edition
ISBN: 978-0-470-58374-6
592 pages
November 2012, ©2012, Jossey-Bass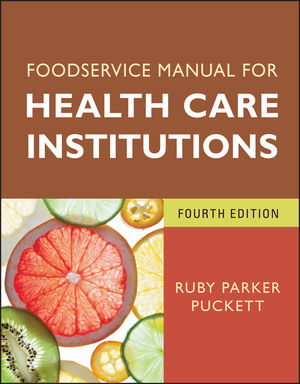 The thoroughly revised and updated fourth edition of Foodservice Manual for Health Care Institutions offers a review of the management and operation of health care foodservice departments. This edition of the book—which has become the standard in the field of institutional and health care foodservice—contains the most current data on the successful management of daily operations and includes information on a wide range of topics such as leadership, quality control, human resource management, product selection and purchasing, environmental issues, and financial management.
This new edition also contains information on the practical operation of the foodservice department that has been greatly expanded and updated to help institutions better meet the needs of the customer and comply with the regulatory agencies' standards.
Topics covered include:
Leadership and Management Skills
Marketing and Revenue-Generating Services
Quality Management and Improvement
Planning and Decision Making
Organization and Time Management
Team Building
Effective Communication
Human Resource Management
Management Information Systems
Financial Management
Environmental Issues and Sustainability
Microbial, Chemical, and Physical Hazards
HACCP, Food Regulations, Environmental Sanitation, and Pest Control
Safety, Security, and Emergency Preparedness
Menu Planning
Product Selection
Purchasing
Receiving, Storage, and Inventory Control
Food Production
Food Distribution and Service
Facility Design
Equipment Selection and Maintenance
Learning objectives, summary, key terms, and discussion questions included in each chapter help reinforce important topics and concepts. Forms, charts, checklists, formulas, policies, techniques, and references provide invaluable resources for operating in the ever-changing and challenging environment of the foodservice industry.
See More
Tables, Figures, and Exhibits iv
Foreword vii
Preface ix
Acknowledgments x
The Author xi
Introduction xiii
CHAPTER 1 Foodservice Industry: An Overview 1
PART ONE Management of the Foodservice Department 19
CHAPTER 2 Leadership: Managing for Change 21
CHAPTER 3 Marketing and Revenue-Generating Services 37
CHAPTER 4 Quality Management 51
CHAPTER 5 Planning and Decision Making 71
CHAPTER 6 Organization and Time Management 95
CHAPTER 7 Communication 127
CHAPTER 8 Human Resource Management: Laws for Employment and the Employment Process 145
CHAPTER 9 Human Resource Management: Other Needed Skills 169
CHAPTER 10 Management Information Systems 189
CHAPTER 11 Control Function and Financial Management 207
PART TWO Operation of the Foodservice Department 237
CHAPTER 12 Environmental Issues and Sustainability 239
CHAPTER 13 Microbial, Chemical, and Physical Hazards: Temperature Control 261
CHAPTER 14 HACCP, Health Inspections, Environmental Sanitation, Food Code, and Pest Control 285
CHAPTER 15 Safety, Security, and Emergency Preparedness 311
CHAPTER 16 Menu Planning 343
CHAPTER 17 Product Selection 367
CHAPTER 18 Purchasing 405
CHAPTER 19 Receiving, Storage, and Inventory Control 429
CHAPTER 20 Food Production 447
Appendix 20.1 A Culinary Glossary 486
CHAPTER 21 Distribution and Service 489
CHAPTER 22 Facility Design, Equipment Selection, and Maintenance 507
References 541
Index 553
See More
Ruby Parker Puckett, MA, FFCSI, is program director of dietary manager training in the division of continuing education at the University of Florida, Gainesville. She is president of Foodservice Management Consultants and president of the Foodservice Consultants Society International (FCSI) Educational Foundation.
See More
Learn more about