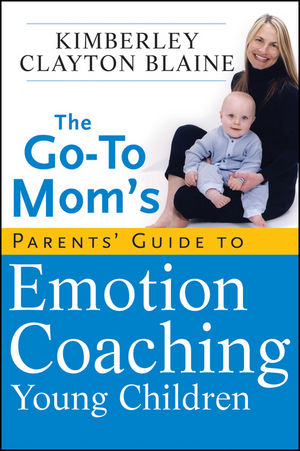 The Go-To Mom's Parents' Guide to Emotion Coaching Young Children
Buy this book from:
ISBN: 978-0-470-58497-2
240 pages
August 2010, Jossey-Bass
A new more empathic program for raising healthy, self-reliant children

From the producer of the popular on line The Go-To Mom.TV, comes a handy guide filled with practical tips that reject old-fashioned discipline and instead use empathy and emotion coaching, a more effective, open-hearted method of support and positive change. Blaine shows how to put in place life-changing solutions and access previously untapped resources. This book is written for parents who struggle to solve the day-to-day problems of raising kids. She offers emotion coaching solutions for dealing with tantrums, nightmares, hitting, bedtime, whining, bedwetting potty training, shyness, and anger.
Contains a method for emotion coaching that will help parents teach children how to be in charge of their own feelings
The parenting techniques presented are fun and easy to put in place
Includes a wealth of specific guidelines for dealing with the most common negative behaviors in children
Blaine includes an understanding of how parents can access their own parenting behavior (from the Control-Based Mom and the Hands-Off Mom) and how to achieve the middle road of Emotional Coaching.

Praise for The Go-To Mom's Parents' Guide to Emotion Coaching Young Children:

"Many mothers are confused and anxious—worried that they won't be able to navigate a successful path through the maze of advice, values, pressures, and needs that they face in being a parent. Kimberly Clayton Blaine is a reliable guide and her book will help women take a deep breath and find a satisfying way to be a good mother and still hold onto the best of who they are as people."
—James Garbarino, PhD is Professor Psychology at Loyola University Chicago and author of Raising Children in a Socially Toxic Environment

"The Go-To Mom's Guide offers parents concrete help. Kimberley Blaine reminds us that building strong relationships with our children is the cornerstone of humane and loving discipline and offers emotion coaching as an unique, effective, and peaceful, way to help our children and ourselves in times of conflict."
—Peggy O'Mara, Editor and Publisher, Mothering Magazine

"The Go-To Mom provides a personal readable resource for parents who want to emotion coach their children to become socially adept and compassionate.
—Marie Kanne Poulsen Ph.D, Professor of Pediatrics, USC Keck School of Medicine
More Information About this Book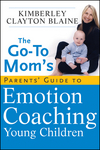 The Go-To Mom's Parents' Guide to Emotion Coaching Young Children
Buy this book from: