E-book
Alice in Wonderland and Philosophy: Curiouser and Curiouser
ISBN: 978-0-470-59027-0
240 pages
December 2009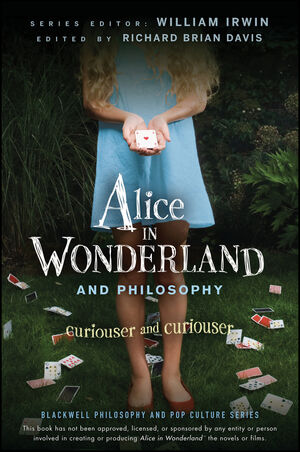 The perfect companion to Lewis Carroll's classic book and director Tim Burton's March 2010 remake of
Alice in Wonderland
Alice?s Adventures in Wonderland has fascinated children and adults alike for generations. Why does Lewis Carroll introduce us to such oddities as blue caterpillars who smoke hookahs, cats whose grins remain after their heads have faded away, and a White Queen who lives backwards and remembers forwards? Is it all just nonsense? Was Carroll under the influence? This book probes the deeper underlying meaning in the Alice books, and reveals a world rich with philosophical life lessons. Tapping into some of the greatest philosophical minds that ever lived?Aristotle, Hume, Hobbes, and Nietzsche?Alice in Wonderland and Philosophy explores life?s ultimate questions through the eyes of perhaps the most endearing heroine in all of literature.
Looks at compelling issues such as perception and reality as well as how logic fares in a world of lunacy, the Mad Hatter, clocks, and temporal passage
Offers new insights into favorite Alice in Wonderland characters and scenes, including the Mad Hatter and his tea party, the violent Queen of Hearts, and the grinning Cheshire Cat
Accessible and entertaining, Alice in Wonderland and Philosophy will enrich your experience of Alice's timeless adventures with new meaning and fun.
See More
ACKNOWLEDGMENTS: "It's My Own Invention"— Yeah, Right! ix
Introduction: You're Late for a Very Important Date 1
PART ONE "WAKE UP, ALICE DEAR"
1 Unruly Alice: A Feminist View of Some Adventures in Wonderland 7
Megan S. Lloyd
2 Jam Yesterday, Jam Tomorrow, but Never Jam Today: On Procrastination, Hiking, and . . . the Spice Girls? 19
Mark D. White
3 Nuclear Strategists in Wonderland 33
Ron Hirschbein
4 "You're Nothing but a Pack of Cards!": Alice Doesn't Have a Social Contract 47
Dennis Knepp
PART TWO "THAT'S LOGIC"
5 "Six Impossible Things before Breakfast" 61
George A. Dunn and Brian McDonald
6 Reasoning Down the Rabbit-Hole: Logical Lessons in Wonderland 79
David S. Brown
7 Three Ways of Getting It Wrong: Induction in Wonderland 93
Brendan Shea
8 Is There Such a Thing as a Language? 107
Daniel Whiting
PART THREE "WE'RE ALL MAD HERE"
9 Alice, Perception, and Reality: Jell-O Mistaken for Stones 125
Robert Arp
10 How Deep Does the Rabbit-Hole Go?: Drugs and Dreams, Perception and Reality 137
Scott F. Parker
11 Perspectivism and Tragedy: A Nietzschean Interpretation of Alice's Adventure 153
Rick Mayock
12 Wishing It Were Some Other Time: The Temporal Passage of Alice 167
Mark W. Westmoreland
PART FOUR "WHO IN THE WORLD AM I?"

13 Serious Nonsense 183
Charles Taliaferro and Elizabeth Olson
14 "Memory and Muchness": Alice and the Philosophy of Memory 197
Tyler Shores
CONTRIBUTORS: Pawns and Pieces: As Arranged before Commencement of Game 213
INDEX: "Down, Down, Down": What You Will Find at the Bottom 219
See More
RICHARD BRIAN DAVIS
is an associate professor of philosophy at Tyndale University College and the coeditor of
24 and Philosophy
.
WILLIAM IRWIN is a professor of philosophy at King's College in Wilkes-Barre, Pennsylvania. He originated the philosophy and popular culture genre of books as coeditor of the bestselling The Simpsons and Philosophy and has overseen recent titles, including Batman and Philosophy, House and Philosophy, and Watchmen and Philosophy.
See More
More in this series