Salesforce.com For Dummies, 4th Edition
ISBN: 978-0-470-59071-3
432 pages
October 2010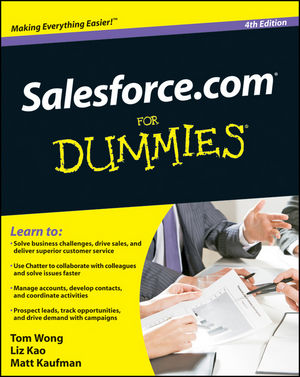 The ideal introductory reference on salesforce.com—now fully updated throughout!
As the global leader in on-demand customer relationship management (CRM), salesforce.com helps companies all over the world manage their sales, marketing, and customer service and support operations. Written by two salesforce.com insiders, this straightforward introduction clearly explains how to organize contacts, log activities with contacts, schedule business appointments, use forecasting tools to predict upcoming sales, make accurate projects based on past performance, and more.
Walks you through the benefits and capabilities of the world's most popular customer relationship management (CRM) software—salesforce.com
Covers the latest enhancements to salesforce.com and explains how to choose the right edition of salesforce.com to suit your business needs
Details how to personalize your system, manage accounts, develop contacts, manage activities, track products, calculate forecasts, drive demand, utilize service and support, and more
Addresses extending salesforce.com beyond CRM as well as migrating and managing your data
Get started solving common sales, marketing, client, and customer service challenges with salesforce.com—and make your business a force to be reckoned with!
See More
Introduction.
Part I: Salesforce Basics.
Chapter 1: Looking Over Salesforce.
Chapter 2: Navigating Salesforce.
Chapter 3: Personalizing Your System.
Part II: Keeping Track of Customer Relationships.
Chapter 4: Managing Accounts.
Chapter 5: Developing Contacts.
Chapter 6: Collaborating with Chatter.
Chapter 7: Managing Activities.
Chapter 8: Sending E-Mail.
Part III: Driving Sales with Sales Cloud.
Chapter 9: Prospecting Leads.
Chapter 10: Tracking Opportunities.
Chapter 11: Tracking Products, Price Books, and Quotes.
Chapter 12: Managing Your Partners.
Part IV: Optimizing Marketing with Sales Cloud.
Chapter 13: Driving Demand with Campaigns.
Chapter 14: Building Your Internet Marketing Channel.
Chapter 15: Driving Sales Effectiveness with Document Management.
Part V: Delighting Customers with Service Cloud.
Chapter 16: Performing Fast and Accurate Support.
Chapter 17: Managing Your Service Cloud 2 Solution.
Part VI: Measuring Overall Business Performance.
Chapter 18: Analyzing Data with Reports.
Chapter 19: Seeing the Big Picture with Dashboards.
Part VII: Designing the Solution with Force.com.
Chapter 20: Fine-Tuning the Confi guration.
Chapter 21: Customizing Salesforce with Force.com.
Chapter 22: Extending Salesforce beyond CRM with Custom Cloud.
Chapter 23: Migrating and Maintaining Your Data.
Part VIII: The Part of Tens.
Chapter 24: Ten Ways to Drive More Productivity.
Chapter 25: Ten Keys to a Successful Implementation.
Index.
See More
Tom Wong
is Vice President, Dreamforce, Customer Marketing Programs, at Salesforce.com and a leading authority on CRM.
Liz Kao is a salesforce.com consultant and Software as a Service expert who advises companies on their CRM needs.
Matt Kaufman is CEO of MK Partners, a leader in salesforce.com consulting for the public sector and nonprofit organizations.
See More