The Handbook of Transformative Learning: Theory, Research, and Practice
ISBN: 978-0-470-59072-0
624 pages
May 2012, Jossey-Bass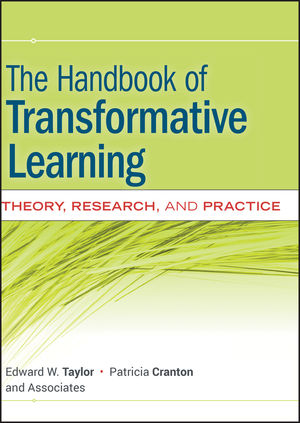 The Handbook of Transformative Learning provides a comprehensive and critical review of more than three decades of theory development, research, and practice in Transformative Learning (TL). It will help adult educators understand what transformative learning is, distinguish it from other forms of learning, and foster it in their practice. The book covers five broad areas: historical, theoretical, practical, research, and future perspective. It is   comprehensive, interdisciplinary, critical, reflective, and accessible to a wide audience of interested scholars, students, and practitioners. Co-edited by leading experts in the field with an advisory group of prominent authorities, this handbook is the leading resource for the field.
See More
About the Editors ix
About the Contributors xi
PART ONE: SETTING THE CONTEXT 1
1 Transformative Learning Theory: Seeking a More Unified Theory 3
Patricia Cranton and Edward W. Taylor
2 Themes and Variations of Transformational Learning: Interdisciplinary Perspectives on Forms That Transform 21
Elizabeth J. Tisdell
3 A Critical Review of Research on Transformative Learning Theory, 2006–2010 37
Edward W. Taylor and Melissa J. Snyder
4 Studying Transformative Learning: What Methodology? 56
Sharan B. Merriam and SeonJoo Kim
5 Learning to Think Like an Adult: Core Concepts of Transformation Theory 73
Jack Mezirow
PART TWO: EXPLORING THE THEORY OF TRANSFORMATIVE LEARNING: DIVERSE PERSPECTIVES 97
6 Mezirow's Theory of Transformative Learning from 1975 to Present 99
Lisa M. Baumgartner
7 Nurturing Soul Work: A Jungian Approach to Transformative Learning 116
John M. Dirkx
8 Critical Theory and Transformative Learning 131
Stephen D. Brookfield
9 Transformative Learning: A Developmental Perspective 147
Kathleen Taylor and Dean Elias
10 Deep Transformation: Forging a Planetary Worldview 162
Edmund O'Sullivan
11 Transformative Learning and the Challenges of Complexity 178
Michel Alhadeff-Jones
12 Transforming Transformative Learning Through Sustainability and the New Science 195
Elizabeth A. Lange
13 An Existential Approach to Transformative Learning 212
Peter Willis
PART THREE: TRANSFORMATIVE LEARNING: CULTURE, POSITIONALITY, AND INTERNATIONAL PERSPECTIVES 229
14 Cultural-Spiritual Perspective of Transformative Learning 231
Nadira K. Charaniya
15 Women and Transformative Learning 245
Leona M. English and Catherine J. Irving
16 Positionality and Transformative Learning: A Tale of Inclusion and Exclusion 260
Juanita Johnson-Bailey
17 Transformative Learning Theory: A Perspective from Africa 274
Peggy Gabo Ntseane
18 Transformative Learning in Europe: An Overview of the Theoretical Perspectives 289
Alexis Kokkos
19 International and Community-Based Transformative Learning 304
Olutoyin Mejiuni
PART FOUR: TRANSFORMATIVE LEARNING: CENTRAL CONCEPTS AND SETTINGS 321
20 Critical Reflection and Transformative Learning 323
Carolin Kreber
21 The Role of Experience in Transformative Learning 342
Dorothy MacKeracher
22 Group Work and Dialogue: Spaces and Processes for Transformative Learning in Relationships 355
Steven A. Schapiro, Ilene L. Wasserman, and Placida V. Gallegos
23 Transformative Learning in the Workplace: Leading Learning for Self and Organizational Change 373
Karen E. Watkins, Victoria J. Marsick, and Pierre G. Faller
24 Fostering Transformative Learning in Higher Education Settings 388
Carol E. Kasworm and Tuere A. Bowles
25 Fostering Transformative Learning Online 408
Regina O. Smith
PART FIVE: FOSTERING TRANSFORMATIVE LEARNING: PRACTICES AND ETHICS 423
26 Transformation as Embodied Narrative 425
M. Carolyn Clark
27 Learner-Centered Teaching and Transformative Learning 439
Maryellen Weimer
28 Storytelling and Transformative Learning 455
Jo A. Tyler and Ann L. Swartz
29 Transformative Learning Through Artistic Expression: Getting Out of Our Heads 471
Randee Lipson Lawrence
30 Fiction and Film and Transformative Learning 486
Christine Jarvis
31 Learning to Be What We Know: The Pivotal Role of Presentational Knowing in Transformative Learning 503
Elizabeth Kasl and Lyle Yorks
32 Evaluating Transformative Learning 520
Patricia Cranton and Chad Hoggan
33 Educator as Change Agent: Ethics of Transformative Learning 536
Dorothy Ettling
PART SIX: REFLECTING ON THE FUTURE OF TRANSFORMATIVE LEARNING 553
34 Reflecting Back and Looking Forward 555
Edward W. Taylor and Patricia Cranton
Name Index 575
Subject Index 588
See More
Edward W. Taylor is a professor of adult education at Penn State University at Harrisburg. He is the coeditor, with Jack Mezirow, of Transformative Learning in Practice.
Patricia Cranton is a retired professor of adult education, most recently from Penn State University at Harrisburg. Her recent books include Planning Instruction for Adult Learners and Understanding and Promoting Transformative Learning.
See More
Learn more about