Why Don't Students Like School?: A Cognitive Scientist Answers Questions About How the Mind Works and What It Means for the Classroom
ISBN: 978-0-470-59196-3
240 pages
March 2010, Jossey-Bass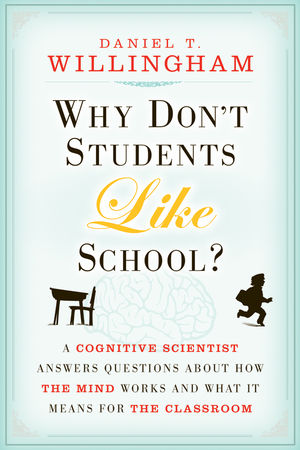 Easy-to-apply, scientifically-based approaches for engaging students in the classroom
Cognitive scientist Dan Willingham focuses his acclaimed research on the biological and cognitive basis of learning. His book will help teachers improve their practice by explaining how they and their students think and learn. It reveals-the importance of story, emotion, memory, context, and routine in building knowledge and creating lasting learning experiences.
Nine, easy-to-understand principles with clear applications for the classroom
Includes surprising findings, such as that intelligence is malleable, and that you cannot develop "thinking skills" without facts
How an understanding of the brain's workings can help teachers hone their teaching skills
"Mr. Willingham's answers apply just as well outside the classroom. Corporate trainers, marketers and, not least, parents -anyone who cares about how we learn-should find his book valuable reading."
—Wall Street Journal
See More
Acknowledgments v
The Author ix
Introduction 1
CHAPTER 1 Why Don't Students Like School? 3
CHAPTER 2 How Can I Teach Students the Skills They Need When Standardized Tests Require Only Facts? 25
CHAPTER 3 Why Do Students Remember Everything That's on Television and Forget Everything I Say? 53
CHAPTER 4 Why Is It So Hard for Students to Understand Abstract Ideas? 87
CHAPTER 5 Is Drilling Worth It?  107
CHAPTER 6 What's the Secret to Getting Students to Think Like Real Scientists, Mathematicians, and Historians? 127
CHAPTER 7 How Should I Adjust My Teaching for Different Types of Learners? 147
CHAPTER 8 How Can I Help Slow Learners? 169
CHAPTER 9 What About My Mind? 189
Conclusion 207
End Notes 214
Index 217
Credit Lines 225
See More
Daniel T. Willingham is professor of psychology at the University of Virginia, where he has taught since 1992. He writes the popular Ask the Cognitive Scientist column for American Educator magazine.
See More
Author with expert credentials.  Unlike most brain-learning authors on the market, Willingham is not a mere synthesizer of the research.  He has actually done the research.
Strong education platform.  Author has a regular column in the American Educator (circ: 850,000) and is closely allied with E.D. Hirsch's Core Knowledge Foundation.
Need-to-Know Content:  While backed by scientific evidence, the information is practical and can be put to use by classroom teachers.
See More
Daniel T. Willingham
Visit author Daniel T. Willingham's site for more information about his ongoing work.
See More
Instructors Resources
Request a print evaluation copy
Contact us

See More
See Less
Students Resources
See More
See Less
Learn more about