Health and Fitness Portable Collection
ISBN: 978-0-470-59219-9
576 pages
November 2009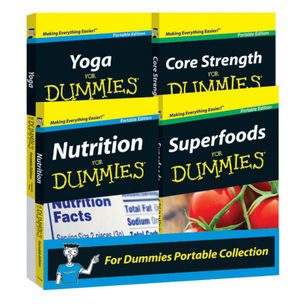 This bundle collection contains 4 'portable' minibooks:
Nutrition For Dummies--120 pages covering how to manage your diet so you can get the most bang (nutrients) for your buck (calories) and gives you the skinny on how to put together a healthy shopping list, how to prepare foods that are good for the body and the soul.
SuperFoods For Dummies--120 pages introducing readers to a complete list of superfoods including: fruits, vegetables, proteins, nuts, and herbs that are considered 'super foods,' and gives readers all of the tools they need to incorporate these natural wonders into their diets.
Yoga For Dummies--120 pages provides people with the tips and techniques they need to practice yoga, whether they are veterans of the program or beginners just starting to learn the basics.
Core Strength For Dummies--120 pages of workouts designed to work the different core muscles that stabilize the spine and pelvis and run the entire length of the torso.
See More