Understanding and Supporting Adult Learners: A Guide for Colleges and Universities
ISBN: 978-0-470-59254-0
240 pages
July 2010, Jossey-Bass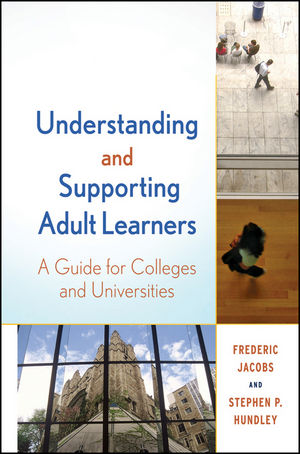 This book is designed to help raise awareness about the diversity of issues adult learners face in their enrollment and participation in higher education. It will equip faculty, administrators, and others with the analytical and practical skills to make sound decisions relative to adult learners, and provide techniques and frameworks for assessing, implementing, and evaluating practices within the institution—at the classroom, department, school, and campus levels—to nurture and support responsiveness to adult learners.
See More
The Authors.
Preface.
Chapter 1: Understanding the Context for Adult Learners in Higher Education.
Chapter 2: Profiles of Student Issues Related to Adult Learners.
Chapter 3: Profiles of Faculty Issues Related to Adult Learners.
Chapter 4: Profiles of Institutional Issues Related to Adult Learners.
Chapter 5: Profiles of Policy Issues Related to Adults Learners.
Chapter 6: Analyzing and Improving College and University. Environments for Adult Learners.
References.
Index.
See More
Frederic Jacobs is professor of education at American University in Washington, D.C. His research and teaching interests include the role, function, and impact of higher education; theory and practice in adult learning; public policy and education; and quantitative research.
Stephen P. Hundley is associate dean for academic affairs and undergraduate programs and associate professor of organizational leadership in the Purdue School of Engineering and Technology at Indiana University–Purdue University Indianapolis. His research and teaching interests include organizational effectiveness, human resource management, and higher education administration.
See More
Learn more about