E-book
The Most Successful Small Business in The World: The Ten Principles
ISBN: 978-0-470-59432-2
256 pages
December 2009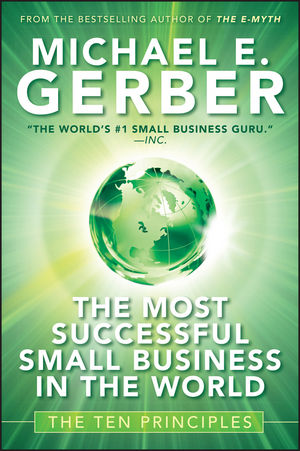 "Gerber's books never disappoint. These Ten Principles help you dig in to create newer, bigger ideas during our deeply troubled times, ultimately producing a great renewal—of mind, of body, of spirit, and leading to a new operating system where anything is possible and growth is built into the culture."
—Stephen M. R. Covey, author of the New York Times and#1 Wall Street Journal bestseller The Speed of Trust
"This book doesn't just describe great business principles—it MAKES business history. Your economic survival hinges on you reading this book!"
—Jack Canfield, coauthor of the New York Times #1 bestselling Chicken Soup for the Soul® series and author of The Success Principles
"Gerber is the master in giving us the essence. Every business begins small, then grows and endures in accordance with its founding principles. His new book scores a perfect 10!"
—Denis Waitley, author of The Psychology of Winning
"New books recycle old ideas. This one is brand-new thinking for our deeply troubled times. Gerber takes on the tough issues of the day, and provides liberating insight and compelling principles on creating small business success in any economic or political environment."
—Dr. Ivan Misner, New York Times bestselling author and founder of BNI
"Entrepreneurship has been the high road to success and satisfaction for 200 years. In this book, Michael shows you how to start and build your own business better and more meaningfully than you ever thought possible. Good Luck!"
—Brian Tracy, bestselling author of The Psychology of Achievement
See More
Foreword by (
Rabbi Levi Cunin).
A Brief Introduction.
Chapter 1 The First Principle.
Chapter 2 The Second Principle.
Chapter 3 The Third Principle.
Chapter 4 The Fourth Principle.
Chapter 5 The Fifth Principle.
Chapter 6 The Sixth Principle.
Chapter 7 The Seventh Principle.
Chapter 8 The Eighth Principle.
Chapter 9 The Ninth Principle.
Chapter 10 The Tenth Principle.
Epilogue: Concerning Success.
An Invitation from the Author.
Resources.
See More
Michael E. Gerber
is the author of thirteen business books, including the mega-bestseller
The E-Myth Revisited
. Mr. Gerber's revolutionary perspective has become the gold standard for small business development throughout the world, becoming what Inc. Magazine calls "the world's #1 small business guru," and one of
BusinessWeek's
bestselling authors of past decades. Gerber's passion and genius for understanding the plight of the individual entrepreneur is the crux of his tremendous appeal and success, and has formed the core value of his brand as it has evolved over three decades.
Gerber's extraordinary work has achieved stunning results by transforming more than 65,000 businesses in over 145 countries and 29 languages, and is used in 118 universities in the world. For more information, please visitwww.MichaelEGerber.com.
See More