E-book
The Most Successful Small Business in The World: The Ten Principles
ISBN: 978-0-470-59432-2
192 pages
December 2009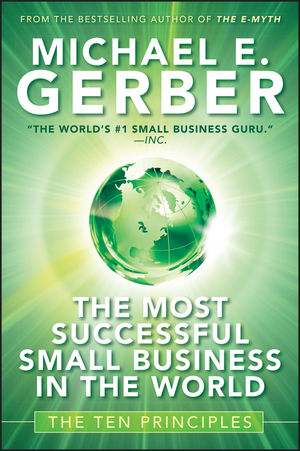 A unique guide for the crucial start-up phase of a business
So much attention goes to business practice and operation, yet the majority of ventures still fail. One area often overlooked is preparation. Too few entrepreneurs ask themselves, what are you supposed to do before you start your start-up?
The Most Successful Small Business in The World gives you Michael E. Gerber's unique approach to thinking about the meaning of your company by applying his ten critical steps; a process you must go through long before you ever open your door. With these simple principles, based on expert Michael Gerber's years spent helping countless entrepreneurs, you'll take the essential first steps to lay the groundwork for building what Michael E. Gerber calls The Most Successful Small Business In the World!
Author Michael Gerber has coached, taught, or trained more than 60,000 small businesses in 145 countries
Free Webinar with Gerber for book purchasers
Gerber's Ten Principles cover everything from defining the meaning of your company, teaching you how to think about systems, the importance of differentiation, perfecting the people within your business, acquiring clients, and more
If you're ready to make your business dream more than just a reality, and resolve to do something bigger than you ever imagined, The Most Successful Small Business In The World will provide you with a stunningly original process for thinking yourself through it. Yes, you too can create The Most Successful Small Business In The World...Michael E. Gerber will show you exactly how to do it.
See More
Foreword By Rabbi Levi Cunin xiv
A Brief Introduction xix
Chapter 1 The First Principle 1
Chapter 2 The Second Principle 12
Chapter 3 The Third Principle 24
Chapter 4 The Fourth Principle 48
Chapter 5 The Fifth Principle 62
Chapter 6 The Sixth Principle 82
Chapter 7 The Seventh Principle 98
Chapter 8 The Eighth Principle 108
Chapter 9 The Ninth Principle 122
Chapter 10 The Tenth Principle 130
Epilogue Concerning Success 144
An Invitation from the Author 153
Resources 155
See More
MICHAEL E. GERBER is the author of thirteen business books, including the mega-bestseller The E-Myth Revisited. Mr. Gerber's revolutionary perspective has become the gold standard for small business development throughout the world, becoming what Inc. Magazine calls "the world's #1 small business guru," and one of BusinessWeek's bestselling authors of past decades. Gerber's passion and genius for understanding the plight of the individual entrepreneur is the crux of his tremendous appeal and success, and has formed the core value of his brand as it has evolved over three decades.
Gerber's extraordinary work has achieved stunning results by transforming more than 65,000 businesses in over 145 countries and 29 languages, and is used in 118 universities in the world. For more information, please visit www.MichaelEGerber.com.
See More