Advanced Materials for Sustainable Developments: Ceramic Engineering and Science Proceedings, Volume 31, Issue 9
ISBN: 978-0-470-59474-2
150 pages
October 2010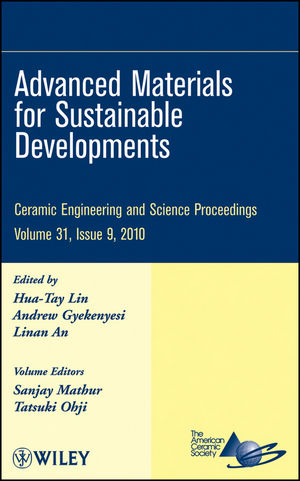 Contributions from three symposia that were part of the 34th International Conference on Advanced Ceramics and Composites (ICACC), in
Daytona Beach, FL
, January 24-29, 2010 are presented in this volume. The broad range of topics is captured by the symposia titles, which are listed as follows: International Symposium on Ceramics for Electric Energy Generation, Storage, and Distribution (debuted in 2010); Thermal Management Materials and Technologies (debuted in 2010); and lastly, and Advanced Sensor Technology, Developments and Applications (debuted in 2010). These new symposia emerged during this ICACC meeting due to community growth and interest, and thus each of these subject areas were established as stand-alone symposia. 
The current volume represents 15 contributions from the above listed symposia that embody the latest developments in engineering ceramics for energy technologies, thermal management utilizing either highly conductive or insulating materials, as well as advances regarding the utilization of ceramics for sensors.  
See More
Preface.
Introduction.
Dye-Sensitized Solar Cell Based on Anodic Ti02 Nanotubes Produced from Anodization in Fluoride-Free Electrolyte (Narges F. Fahim and Tohru Sekino).
Self-Propagating High-Temperature Synthesis of Calcium Cobaltate Thermoelectric Powders (Sidney Lin, Jiri Selig, Dan F. Smith, Hua-Tay Lin, and Hsin Wang).
Effect of Rare-Earth Doping on Thermoelectric Properties of Porous SiC Synthesized by Silicon Carbonization Technique (Yusuke Yamamoto, Hiroshi Mabuchi, and Toshiyuki Matsui).
Powder Synthesis, Characterization and Sintering Behavior of Lithium Titanate (Srinivasan Ramanathan).
Processing of Titania Nanoceramics Via Conventional Sintering, Two-Step Sintering and Two-Step Sintering Assisted by Phase Transformation (Zohreh Razavi Hesabi and Mehdi Mazaheri).
Strength of N- and P-Type Skutterudites (A. A. Wereszczak, M. E. Ragan, K. T. Strong, Jr., P. J. Ritt, H. Wang, J. R. Salvador, and J. Yang).
Graphite and Ceramic Coated Particles for the HTR (Heinz Nabielek and Mark Mitchell).
Development and Characterization of High Conductivity Graphite Foams for Thermal Management Applications (A. L. Gyekenyesi, M. Singh, C. E. Smith, P. G. Stansberry, M. K. Alam, and D. L. Vrable).
Integration of Graphite Foams to Titanium for Thermal Management Applications (M. Singh, Rajiv Asthana, C. E. Smith, and A. L. Gyekenyesi).
Fabrication of Novel Heat Insulator using Porous Ceramics Materials (Kazuma Kugimiya, Mitsue Ogawa, and Hideaki Matsubara).
Detection and Classification of Gaseous Compounds by Solid Electrolyte Cyclic Voltammetry Sensors (Grzegorz Jasinski).
Wireless Chemical Sensor for Combustion Species at High Temperatures using 4H-SiC (Geunsik Lim and Aravinda Kar).
High Temperature Acoustic Wave Gas Sensor using Langasite Crystal Resonator (Hongbin Cheng, Lifeng Qin, and Qing-Ming Wang).
Synthesis of (La,Nd):Y2O3 and (La,Yb):Y2O3 Laser Ceramics and Their Optical Properties (Yihua Huang and Dongliang Jiang).
Metal Oxide Nanoelectrodes for Environmental Sensors—ZnO Rods and Particulate Films (Yoshitake Masuda, Dewei Chu, Xiulan Hu, Tatsuki Ohji, Kazumi Kato, Masako Ajimi, Makoto Bekki, and Shuji Sonezaki).
Author Index.
See More
"The current volume represents 15 contributions from the above listed symposia that embody the latest developments in engineering ceramics for energy technologies, thermal management utilizing either highly conductive or insulating materials, as well as advances regarding the utilization of ceramics for sensors." (PR-Inside.com, 28 February 2011)
See More
More in this series